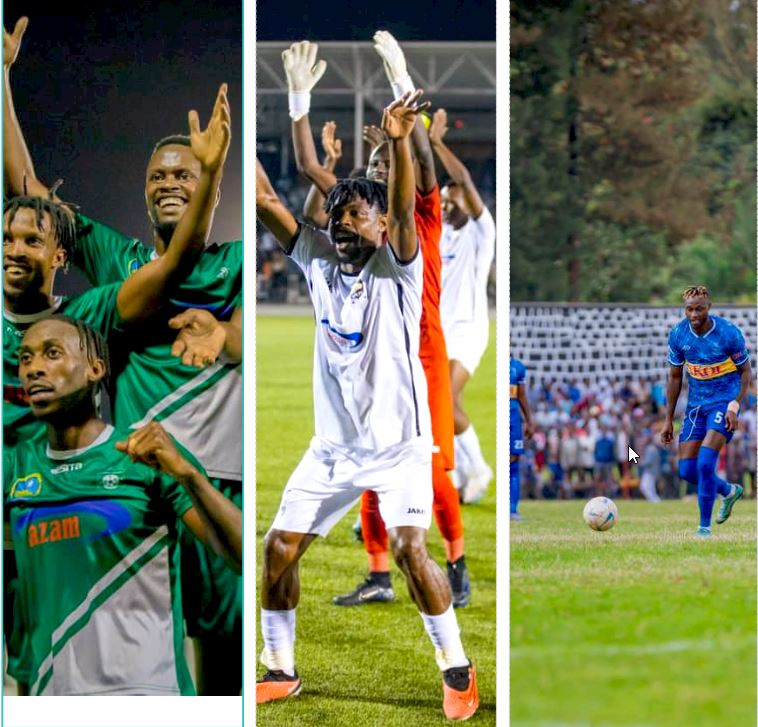 Three days of matchday 7 matches were filled with some roller-coaster moments, with Kiyovu Sports' terrible condition being disclosed, while Thierry Froger pulled his job from the danger zone.
Here are KT Press's five talking points from eight eventful matches of Rwanda Premier League Day 7:
Koukoras' dissatisfied, though their win
Despite the fact that Kiyovu Sports defeated Marines 2-1, Petros Koukouras asserted that he is not satisfied and happy with the messy situation in the club as he opened up about the tough working conditions, he is enduring at the Mumena-based side.
Yves Mugunga and Brian Kalumba's goals clinched all three points for Kiyovu Sports, but the club head coach was sorrowful because of the club's financial predicaments, stating that he had never faced such conditions in his life. The Greek gaffer revealed that his players don't have anywhere to live, and they have not been paid their salaries for months.
He also hit out at the club's inconstant training as they don't have a constant pitch to train at.
"Sometimes we train, sometimes we don't train. Sometimes the training is good, sometimes the training is not good. I'm not sure of how long we can keep going like this," Koukouras said.
"I appreciate their (club's representatives) efforts, but we are behind in the schedule and the pressure is piling up for the players. Their efforts don't bring food to our table, so we need solutions."
Froger escaped dismissal
Victor Mbaoma's stoppage-time winner against Mukura rescued Thierry Froger from being fired as he had tasted a sacking warning following APR's upsetting results.
There were more questions about the French coach, despite the fact that his side was still undefeated in the league. However, a shocking elimination from the CAF Champions League and a draw with Bugesera were enough to escalate concerns about Froger's future at APR.
The hard-fought triumph also lifted the reigning champion to second position with 14 points from six league matches. APR will travel to Gisenyi to face off against Etincelles in their matchday 8 contest before hosting the Rwandan derby.
Gorilla still can't win a game
Gorilla FC are registering an unprecedented drawing streak in Rwanda Premier League as they played out a 2-2 stalemate against Bugesera to mark their six draws from seven games, having lost once in the league, 1-0 to Kiyovu Sports.
Bugesera's Stephen Bonny and Ani Alijah saw their goals cancelled out by Simeon Iradukunda and Cedric Mavugo's goals to make that happen.
It's fair to say that Moussa Gatera's team have had poor form thus far this season compared to their last season's performance. The Kigali-based side will return to league action, squaring off against in-form Amagaju on October 21.
Wade shows no consistency
Rayon Sports interim head coach Mohamed Wade failed to demonstrate consistency after his side suffered a devastating 1-0 loss to Musanze at Ubworoherane Stadium.
The Mauritanian coach had managed to win his first-ever match in charge of Rayon Sports, beating Musanze Etoile de l'Est 2-1 at Kigali Pele Stadium on Wednesday.
After this defeat, Rayon Sports fans left Ubworoherane Stadium fuming as they claimed that Prince Rudasingwa's late goal, which was ruled out for fouling Musanze goalkeeper, should have been allowed, slamming refereeing of the match.
This Musanze's spirited victory saw the Musanze district-based team stay at the top of the table with 16 points from seven league games. Rayon Sports dropped to sixth place with nine points from six games.
Amagaju are here to stay
Amagaju delivered a significant message that they are in the top tier to stay and challenge as they defeated Gasogi United 1-0 on Saturday.
Their talisman Abdul Rahman Rukundo stepped in again, netting a 44th-minute wonderful freekick to propel his side to a crucial victory and register his fourth league goal of the season.
Amars Niyongabo's side sit in third position with 13 points from seven league games as they gear up to take on Gorilla in their matchday 8 contest at Huye Stadium.
Day 7 full results:
APR 1-0 Mukura VS
Bugesera 2-2 Gorilla
Gasogi United 0-1 Amagaju
Sunrise 0-1 Etincelles
Kiyovu Sports 2-1 Marines
AS Kigali 0-1 Police
Etoile de l'Est 0-1 Muhazi United
Musanze 1-0 Rayon Sports