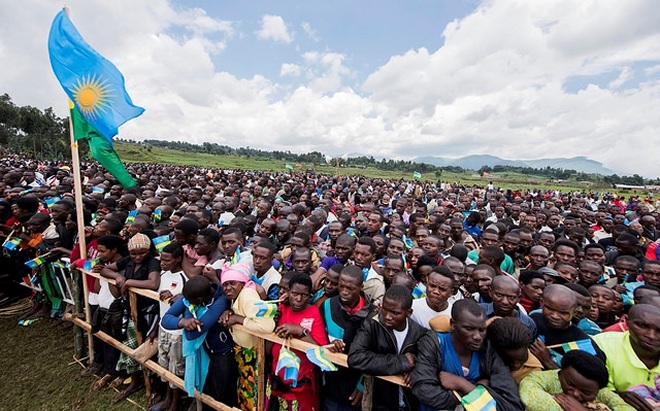 President Paul Kagame has ordered the misery endured for five years by 75 families waiting for compensation from the national electricity utility (EWSA), be put to an end immediately.
If not, Kagame said, the families should inform him right away. "Take the minister's number, call her if the issue is not resolved in one week," he said, referring the residents to the Minister in the President's Office, Venantia Tugireyezu.
Five years ago, hundreds of families in Mudende and Busasamana sectors of Rubavu district in Northern Province were expropriated as EWSA rolled-out electricity in the district.
Some families were compensated, and others were not.
The residents who were not compensated say they made several attempts to claim for their compensation until they gave up.
Officials explained that the remaining 75 families had not provided full details or provided wrong details thus making it difficult to process their compensation.
"Otherwise, the funds are there," infrastructure Minister, James Musoni told the President, when asked to explain.
But residents say they provided all the requested details long ago and the funds have not yet been wired to their bank accounts.
"When can they get the funds?" Kagame asked Minister Musoni. "Within in one week, Your Excellency," Musoni responded.
"You heard? The funds will be available in one week," the President reassured the residents, attracting wild applause.
The case surfaced this Friday during the second day of the President's Citizens Outreach Program, where he is visiting the province to interact with residents on development and social welfare.
Interactions involved residents asking the President on commitments and promises he made. They also gave testimonies of success stories. Other complained about poor service delivery.
This is usually an opportune moment for both the president and the residents. Not for the local leaders and senior government officials.
Thousands of residents brave scorching sun or a downpour in return for a chat with the President.
Rubavu residents tramped grass as they took advantageous positions to get a clear view of the President.
It all went down in two ways; an opportunity to express gratefulness for Kagame's leadership, which they said has helped improve their lives and also a chance to air out frustrations and concerns they experience with local leaders; with hope he holds them accountable.
A traumatized 70-year old Augustin Nyabushanja Bucyana narrated two painful experiences. After the genocide, he return to Rwanda from DR Congo and settled in Rubavu district. He had sold all his properties in DR Congo and invested in Rwanda. Apparently, he then went to USA and lived there for some time. Then he had issues with his wife and divorced.
Bucyana told the President that his ex-wife connived with local leaders and police officers to grab his properties.  When he returned, he narrated, "Mr President they even locked me up at a police station." They also beat him up.
As he spoke, the President interrupted and asked Bucyana to pose a bit. "Do you remember the name of the Police Officer?" the President asked. "Yes Mr President,"  Bucyana responded. "He is called Jean Marie Vianney Ngabo."
At first, the President hesitated to believe the story. "Do our Police beat up people? I don't think so, you must not be telling us everything, are you not hiding something?" the President wondered.
Bucyana took a deep breath and narrated his story again in detail. "I see," Kagame responded. "Your case will be handled and solved," he said and ordered the Police to investigate the case as mater of priority.
But before Bucyane left, he brought up another case. Apparently he has been battling a case with Fina Bank for years. It was June 24, 2009 when Bucyana deposited $6000 on his account and headed to Uganda to purchase a vehicle.
When he arrived in Uganda, where Fina Bank has a branch, someone else with similar names had withdrawn the money with the help of the bank's employee, who later resigned.
The bank does not deny the transaction.
Bucyana sue the bank. The bank lost the case and was forced to refund the money plus damages. Instead of paying, the bank appealed in a commercial court and won the case.
In a mysterious twist, Bucyana's lawyer declined to defend him. He lost the case.
President Kagame ordered the case be investigated by interpol. "We have partnership with Ugandan police, this case should be handled."
Bucyana hand over the microphone with pleasure, with belief that finally he is going to get justice.
When the President though cases were over, another disgruntled gentleman took the floor.
The family of late Matayo Ngirira, who was a minister in Habyariman's government in the 80s, is fighting a case with government to reclaim back a piece of land that was used to settled over 170 families who returned from exile in 1995.
During the land sharing policy after the 1994 genocide against the Tustsi, Matayo Ngirira's unoccupied chunk of land (almost 80 hectares) was cut into pieces and distributed amongst the hundreds of returnees, mainly from DR Congo.
Most of the returnees had fled Rwanda in 1959. Their former homes had also been occupied. It was agreed then that any Rwandan with massive chunks of land, including government, share with other Rwandans. It is under this policy that Matayo Ngirira's was distributed.
His family sued the government and won the case.
Resettling 173 the already established families became a cumbersome task. All of them have since built houses, cultivated the land and have other properties on the land.
The district offered Matayo Ngirira's family a different and equal size piece of land. They turn it down and demanded the settled families vacate their land. The families refused.
At one point, district authorities showed up with police and tried to force the hundreds of families to leave. The families agreed to defend themselves. They drew a line and warned the authorities to dare cross it.
And the three parties failed to reach an amicable settlement. Now Matayo Ngirira's family needs the President's intervention.
Kagame listened to the narration of the case and tasked Local Government Minister Francis Kaboneka and other concerned institutions to look into the mater and have it solved indefinitely.
Meanwhile, after the public gathering, late in the evening the President met over 800 opinion leaders from all sectors of the district, including religious leaders with whom he discussed several matters including religious tolerance.
"It is our role as the state to ensure that no religion is ever used as a reason to harm others," Kagame said. "No religion should be used to justify killing those with different beliefs."
He winds up his tour tomorrow.