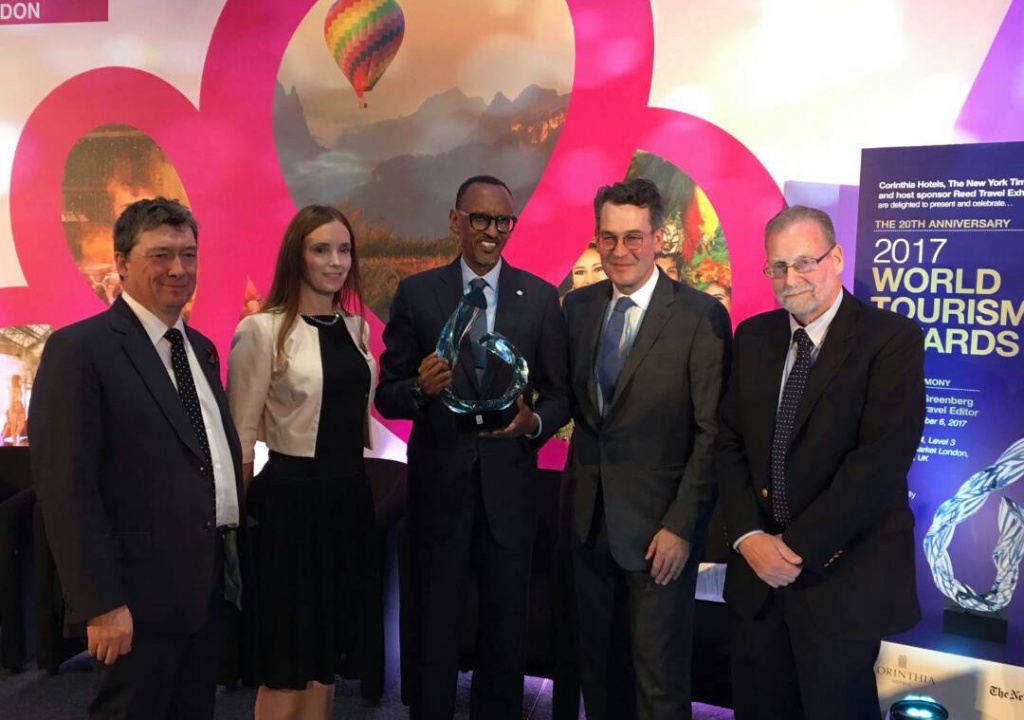 President Paul Kagame this evening received the World Tourism Award in recognition for his visionary leadership in sustainable tourism wildlife conservation.
The President, who received the award in London, United Kingdom, attributed it to relentless efforts by Rwandans in promoting tourism.
"On behalf of the people of Rwanda I thank you for this award which recognises Rwanda's efforts to promote sustainable tourism," the President said.
The World Tourism Awards recognise individuals, companies, organisations, destinations and attractions for outstanding initiatives related to travel and tourism industry, and in fostering sustainable tourism and developing programs that give back to local communities.
Rwanda has seen tremendous strides in the sector – with ambitious targets to fetch $800 million next year, according to Rwanda Development Board (RDB).
Speaking in recognition of the award, Kagame said, "We have been working hard to protect our natural environment while building the infrastructure for our visitors and citizens."
According to Kagame, "Growth in this industry has proven to be a driver of shared prosperity because we ensure that Rwandans benefit directly."
Government has initiated a 10% share of all benefits from tourism revenues to surrounding communities – a policy that has significantly reduced the number of poachers to National Parks.
As a result, Kagame said, "This is why for example former poachers are today the most dedicated protectors of wildlife."
Kagame said Rwanda has set the bar high and wants to take tourism to the next level.
For instance, he told participants, "We are also finding ways to multiply Rwanda's connections with the rest of the world which is what this award represents."
He said that by doing so, heavy investment has been made by creating RwandAir – the national carrier to connect Rwanda with the rest of the world.
"It is getting easier to travel to Africa. RwandAir now flies to 24 destinations on the continent and beyond including London," Kagame said adding that "This is a story that is being repeated across the continent as Africans increasingly take charge of our future."
The President said that good results such as those in tourism have been possible because "Rwanda have made a mindset shift from dependence to dignity self-reliance."
Kagame congratulated the Bradford Group on the 20th anniversary of the World Tourism Awards.
The event, which 20th since its inception, was hosted by Reed Travel Expo and co-sponsored by Corinthia Hotels United Airlines and The New York Times.