Joseph Areruya has won Tour du Rwanda 2017 after staging an impressive performance in the last eight days of the most challenging cycling race in Africa.
Areruya cycling for South African team Dimension Data Qhubeka just had to cycle to team instructions on the final day to avoid any unwanted surprises as he held a 38-seconds-lead over Eritrean rider and Qhubeka teammate Eyob Metkel.
The South African team dominated the Tour winning three of the eight stages and scooped the best team title and will go out to the European circuit riding with high confidence.
"I entered this race with an aim of winning and I thank God for my dream is in reality now. I dedicate this trophy to my family and all Rwandans especially those who were on the streets supporting me," the excited Areruya said.
"I can never get anything to reward my father but only God can reward him best because he is the one who introduced me to this sport," he added.
Like father like son, Gahemba Jean Marie Vianney, the father to Areruya said he is more than proud of his son for he has broken the record and managed to achieve what he did not when he was still in the cycling sport.
"I did cycling in my past years but never got a chance to win Tour du Rwanda, am happy that my son has managed to win. I am overwhelmed with joy and no words can really explain the happiness I have right now," Areruya's father said.
"I started training him when he was still young and I am happy that he is succeeding. I am proud of him, and I expect to see him in Tour du France because he is able," Gahemba added.

There was more celebration for Rwanda especially those from the eastern part of the country for Valens Ndayisenga who won the final stage in Kigali and Areruya Joseph the winner of Tour du Rwanda are born from there.
Eyob metkel and Joseph Areruya for the team dimension data for Qhubeka made an impressive collaboration until the end of the race.
These two have been seen working hand in hand to maintain the yellow jersey throughout the race, and even when it looked tough, they decided to hold each other.
Since 2014, Rwandans have dominated the annual competition.  In 2014, Valens Ndayisenga, who then was riding for Team Rwanda Kalisimbi, made history becoming the first Rwandan to win the annual race since it became part of UCI Africa 2.2 tour and in 2015, Jean Bosco Nsengimana, also riding for Kalisimbi claimed it.
Last year, Ndayisenga, riding for South Africa's Dimension Data for Qhubeka, triumphed and in the process, became the first rider to win it more than once since it became an international race in 2009
The 2017 Tour du Rwanda has covered a total distance of 819km, and for the second consecutive year, it has gone in all the four provinces of the country and Kigali.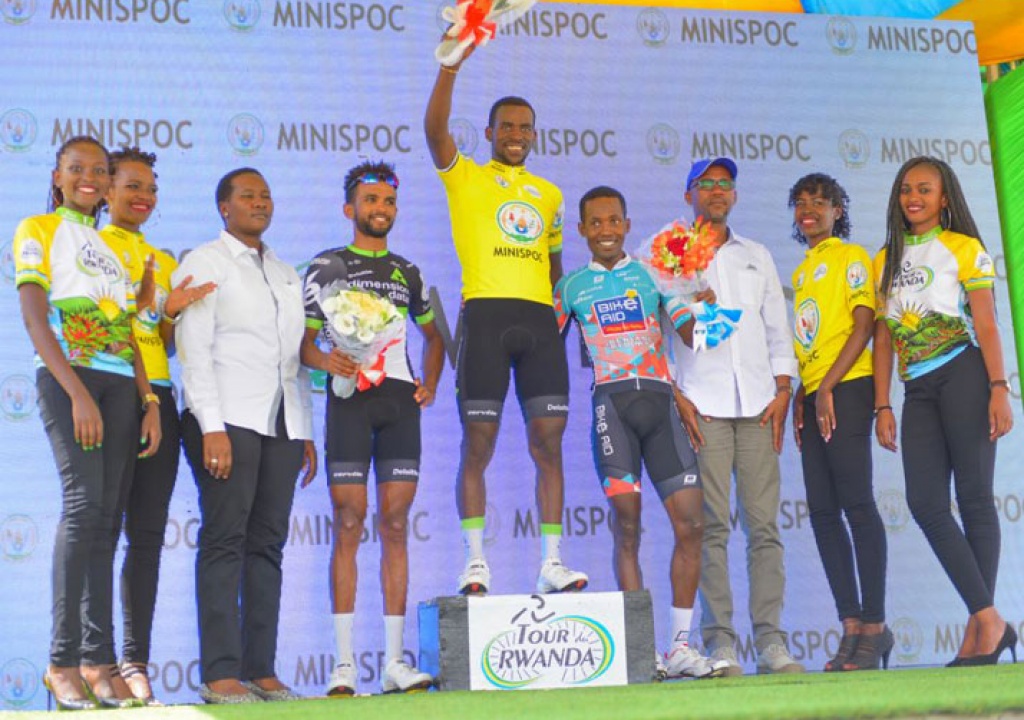 The top 5 cyclists in Tour du Rwanda 2017
Areruya Joseph
Eyob metkel
Suleiman Kangagi
Jean Bosco Nsengimana
Patrick Byukusenga