At exactly 1pm on Friday, December 22, 2017, a black Carina E vehicle arrived at the Rwanda Police headquarters in Kacyiru in the capital Kigali.
A driver and his co-driver got out, but the car's back doors remained closed for about 30 seconds.
Later on, the driver opened the doors. Inside the car was a lightskinned middle aged man – clad in a blue and white checked shirt and Khaki Trousers.
Seemingly in a lot of pain, the man would periodically scream, he screamed as he was lifted out of the vehicle. In a careful exercise, the driver lifted him and placed him in a wheelchair and strolled to a nearby room.
This was the state in which Fidele Gatsinzi, a Rwandan who recently went missing after his trip to Uganda to see his son at Mukono Christian University was.
The Genesis of his arrest
In an interview with KT Press, Gatsinzi narrated the whole ordeal – right from how he was picked by the Rwanda National Congress (RNC) and Ugandan intelligence operatives, how he was held incommunicado for 12 days under what he called 'extreme torture', and how he survived death attempts until Friday morning around 2am, when he was ferried to Katuna border connecting Rwanda and Uganda in the northern part of the country.
It all started when Gatsinzi called one of his friends and consulted him about his travel to see his son in Uganda.
"My friend told me it was normal to travel to Uganda, despite what has been happening to Rwandans living there," Gatsinzi, seated in a wheelchair told KT Press in a very faint tone.
"I first drove my car, but later left the car in Mbarara and proceeded to Kampla. I arrived there late in the evening. The following morning, I went with my brother's daughter to Mukono Christian University to visit my son. We never spent much time there, since my son had exams.
I told him that I was still around and would come back anytime. I went back to the hotel and slept," Gatsinzi says.
It was all fine the following morning, on December 9, and Gatsinzi decided to go to an uptown mall, Capital Shoppers – to buy a few items after a night at Eight Winx Hotel – a 3-minute walk from Ntinda Mosque in Uganda's capital Kampala.
On his way back to the hotel, at a nearby carwashing bay, Gatsinzi found himself sandwiched by two men. He says the two were Mukombozi while the other one was Kayumba Rugema.
"Mukombozi passed by and told me to turn back and greet a man called Kayumba Rugema. I asked him if he could not instead come to me. In a few minutes, I was whisked into a CMI (Chieftaincy of Military Intelligence) car driven by RNC operatives. They blindfolded me, drove me around for some hours and later handed me to CMI," Gatsinzi narrated.
For some time, Gatsinzi who was blindfolded, could not trace where he was. But later that same day, in the middle of the night, he realised that he was at Mbuya barracks detention centre.
"They took everything from me, undressed me, tied my arms and legs and beat me up until I could not make a sound. They left me on a very cold floor and my body could not bear it anymore," Narrates Gatsinzi.
"I spent a night near an old man who already looked dead," Gatsinzi, told KT Press.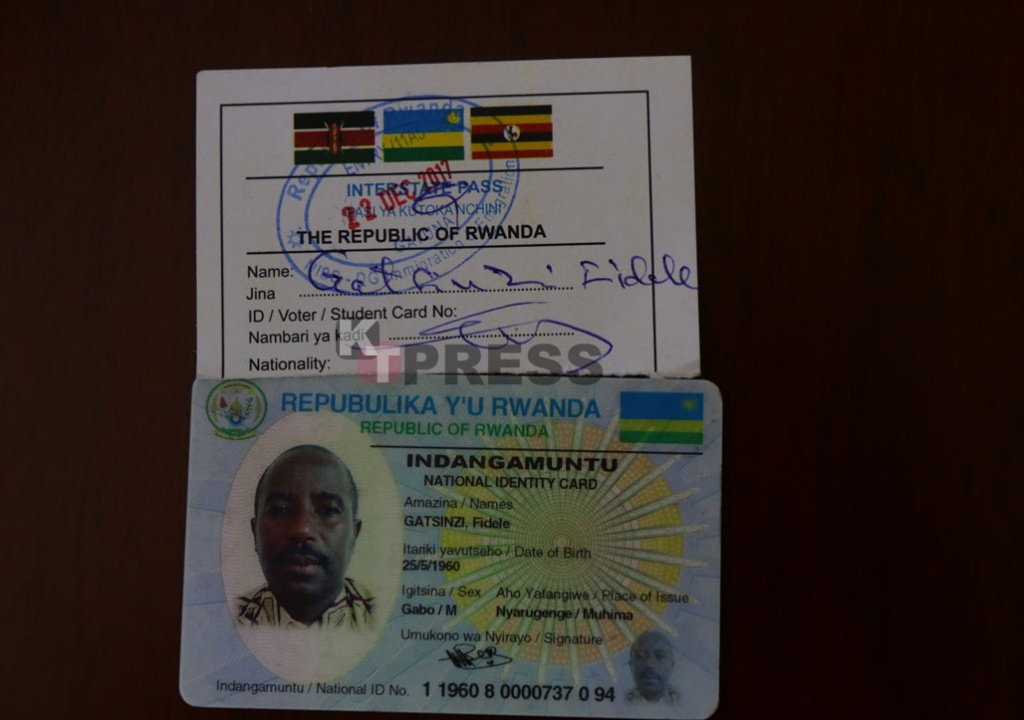 For the following days, Gatsinzi said, he was subjected to intense pressure to confess crimes of espionage. This, he told journalists, was done amidst extreme torture.
"I was beaten up several times at Mbuya barracks and was forced to drink my own urine. Whenever every CMI operative came to interrogate me, he could leave me suffocating after several kicks in the ribs, back and the entire body," he said.
At some point, he said, "CMI and RNC operatives took me to several rooms and said they were going to slaughter me. I had surrendered myself to death. I saw death coming every other day," he says.
After several days in different detentions, Gatsinzi said, he was driven to Mbarara through to Katuna while blindfolded.
"They made three stopovers, threatening it was my last moment to live. But after different arguments, I could hear them deciding to drive further," Gatsinzi said.
While in Mbarara, Gatsinzi was given chance to see. "I found myself in a big group of Rwandans but later learned that they were RNC agents. Minutes later, I was again blindfolded and was driven off. I survived death three times during the travel to Katuna," he says.
For the entire 12 days, Gatsinzi never got chance to brush his teeth or take shower. "Everything was about torture," he said.
Around 2AM this morning, Gatsinzi was driven straight to Rwandan border in Katuna. He was later handed over to Rwandan authorities with a small paper signed by the border manager at Ugandan immigration office.
The letter, which KT Press obtained from Gatsinzi, read: "The above mentioned subject is Rwandan national ID: 1146080000737194 who was found in Uganda without valid travel documents. Referred to you for further management."
While at Police headquarters, an arrangement was made to take Gatsinzi to the hospital for treatment.