Another Rwandan national has been deported from Uganda after three weeks of torture from the Chieftaincy of Military Intelligence (CMI).
Emmanuel Rwemayire 44, a Rwandan retailer who has an electronics shop in Mbarara, a town located about four hours drive from Rwanda was picked by Rwandan security officers at the border where he was abandoned by CMI.
Once in Kigali on Tuesday, Rwemayire narrated how he spent three weeks of torture.
On January 4th, unknown people in Uganda military uniform stormed Rwemayire's house at 8pm only to find that he was away. They compelled his son to call him, pretending that there was a very big problem he must come and solve.
"I was so much worried. Unfortunately, they did not allow my son to explain further, instead they cut off the phone right away," Rwemayire said.
"I felt frightened and I requested my neighbor to go and find out what was going on."
When the neighbor reached out to his home, CMI agents had left but warned that they would come back.
He was informed that they tried to break the door of Rwemayire's room but they failed.
The son advised his father to stay away to evade arrest. He declined owing to his confidence that he did not have any bad record that would take him to jail.
"I went back home the very night and barely 10 minutes after I had reached, the same people resurfaced," Rwemayire narrates.
"They were two armed men and one of them called 'Emma called out to me to open the door' in Luganda.
I opened the door and he came in the house while his colleague stayed out."
The men confiscated Rwemayire's phone and passport and told him to dress up quickly and follow them. He complied.
"When we got out one grabbed my left hand and another my right and we walked to their car where three other CMI operatives were waiting for me, including one I used to meet in Mbarara: a one Major  Mushambo."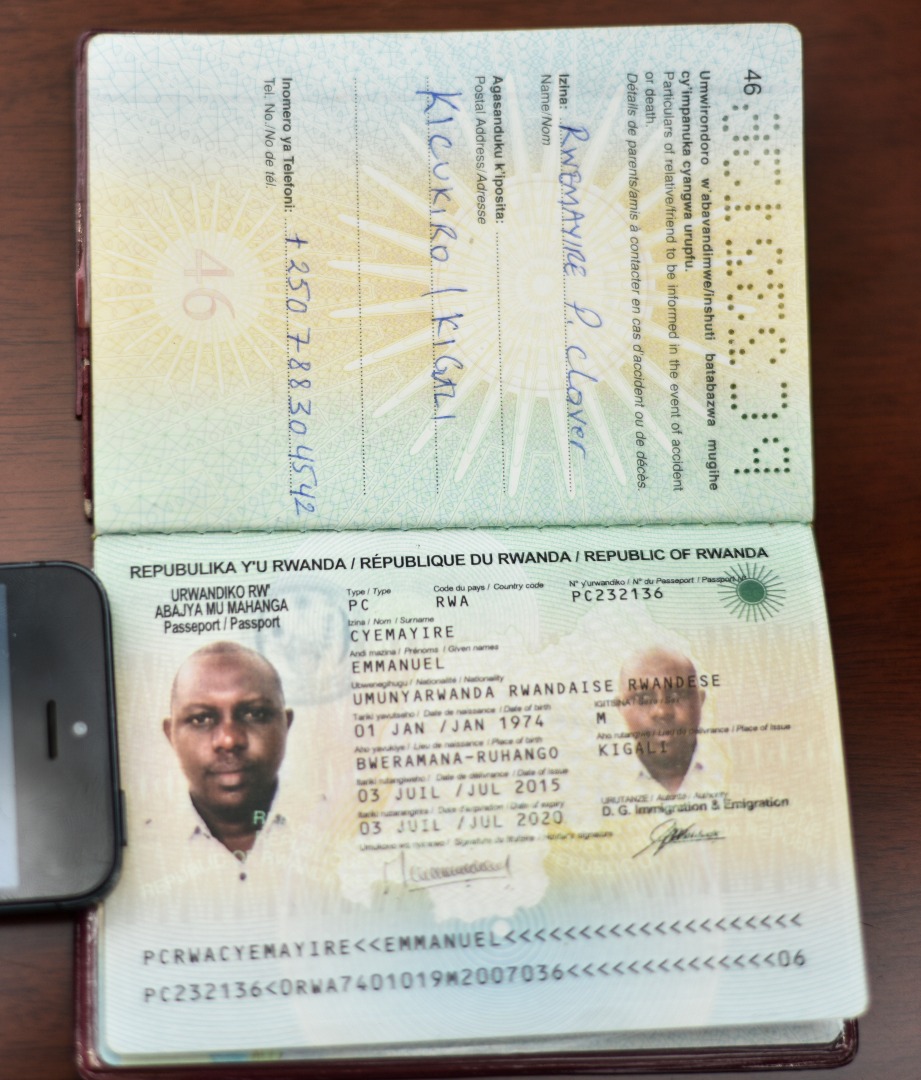 The CMI agents immediately covered Rwemayire's face, put him in their car and headed to Makenke Military Barracks.
On the way to Makenke, Maj Mushambo went interrogating him asking him when and how he got to Uganda and the purpose of his movements between Rwanda and Uganda as he was checking stamps in his passport.
He also asked him his bank accounts and balance.
"When we got in the barracks, they confined me in an isolated room with stagnant water until10am in the morning when they took me to their offices for interrogation."
To his surprise, Rwemayire found two pastors involved in his case.
He spent another day in jail before he was ferried to Kampala for more interrogation.
"In Kampala, I spent 8 days with all my legs and arms tied up. I was severely beaten with CMI asking me if I knew why they were torturing me," Rwemayire narrates.
His answer was always that he did not know why he was undergoing such torture.
After denying collaboration with any military personnel, telling them that his family does not have any acquaintances in Rwandan military, they asked him if he knew someone called Pastor Deo Nyirigira to which he confessed knowledge.
"He is my pastor," Rwemayire told them.
"They asked me if there was anything wrong between me and him and I told them that nothing wrong since I even pay well my offerings."
They later asked him if he knew someone called Felix Mwizerwa and he also admitted he knows him since he is Pastor Nyirigira's son.
Pastor Deo Nyirigira is senior pastor of Agape Church in Mbarara.
In the beginning of this month local media reported that was the mastermind in orchestrating Cyemayire's arrest and using his church to recruit for RNC militia ganging against Rwanda Government.
During the interrogation, Cyemayire said he was also forced to reveal people he collaborates with in Rwanda Embassy in Kampala and he denied of having any contacts there.
The next day he was again interrogated from 9.00 am to 6.00 pm on his identification, education, his relatives and acquaintances in Rwanda and their contacts.
In Kampala, he was asked why he was living in Uganda and he explained to them that he went there for business and he was doing it legally since he has a trading license.
"They went on asking me why I frequently travel to Rwanda and this was the biggest issue since they were checking my passport," he said.
Apparently, Rwemayire has a large family in Rwanda including his mother who is very old.
"We shall release you any time, but the last decision to release you will come from our boss! Be patient and wait," CMI agents told him.
Rwemayire becomes the 7th Rwandan to be deported from Uganda in a row.