Rwandans at home, in the diaspora, friends of Rwanda and international organizations have come together to pay tribute to the over a million Tutsi that were killed during the 1994 Genocide against Tutsi.
Between April 7th and July 3rd, 1994 more than one million Tutsi were killed in a Genocide that was planned and executed by the then ruling government.
The Genocide against Tutsi was stopped by the Rwanda Patriotic Front (RPF) Inkotanyi.
As Kwibuka24 starts, in Rwanda and abroad, walk to remember events have been organized in different parts of the country.
In various localities people converged at designated areas where speakers elaborated on Genocide preparation, execution, and denial on one side.
On another side, however, throughout the day they will also discuss Rwanda's resilience 24 years after the Genocide.
This resilience part of Kwibuka is always completed by the Genocide survivors who narrate their stories on how far they have come and their expectations in a peaceful country that has pledged to "Genocide Never Again."
In Musanze district, thousands converged at Muhoza Genocide memorial where the bishop of Ruhengeri Catholic Church, Vincent Harorimana led a prayer.
In Nyagatare district, mourners gathered at Gakirage to commemorate the Genocide where strangers joined interahamwe to wipe out the Tutsi.
In Gakirage, French and Congolese soldiers (FARDC) walked from Muvumba area. They had gone to support the Rwanda government soldiers to fight RPF, but when the killings started, they also joined.
Meanwhile, in areas bordering DRC, the genocidal government, in some cases allowed the Tutsi to flee to the then Zaire, but Interahamwe pursued and killed them once they  had crossed Lake Kivu.
Thus, in Rubavu district, the commemoration comprised of the the walk to remember to the corridor they used to reach Zaire, currently DRC.
In Muganza sector, Rusizi district, mourners gathered at a memorial located at Cement factory-Cimerwa, to pay tribute to thousands of Tutsi that were killed from Cimerwa compound and sourrounding areas.
In this area, Burundians were part of the massacres. They have never been brought to book up to now.
In various areas of the country, mourners were disrupted by April torrential rains, but they proceeded afterwards.
The April wet weather is a reminder the Tutsi suffered a lot from the cold while hiding in the bushes across the country.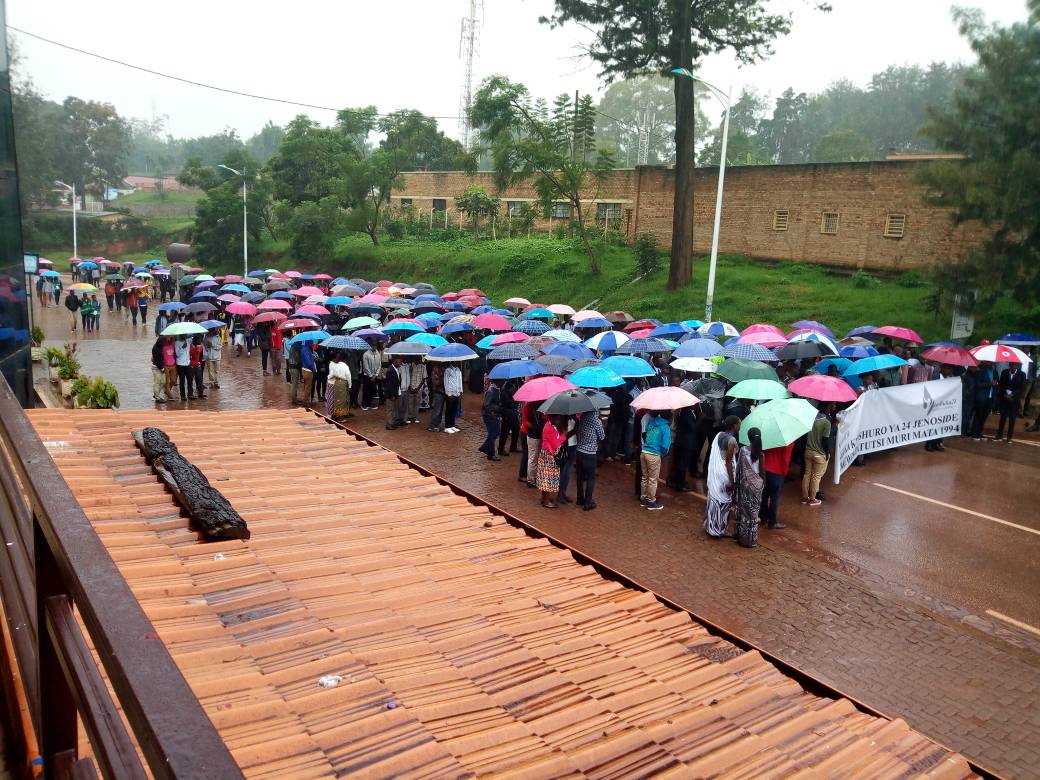 In Huye district also, mourners commemorated under heavy rain at Huye stadium.
In this region, particulary, Genocide was carried out at University of Rwanda where intellectuals and politicians came together against the coleagues and students.
Pauline Nyiramasuhuko, the then minister of family promotion promoted rape as a Genocide tool in this area. She was helped out by her son Shalom Ntahobari. Both are serving jail sentence in Arusha, Tanzania.
Butare was home to then President Sindikubwabo Theodore. He cined the term "work" which meant t killing and called upon Interahamwe to "work"
According to Mayor Kayiranga Eugene Muzuka, they are considering contracting writers to record the district history duringthe Genocide.