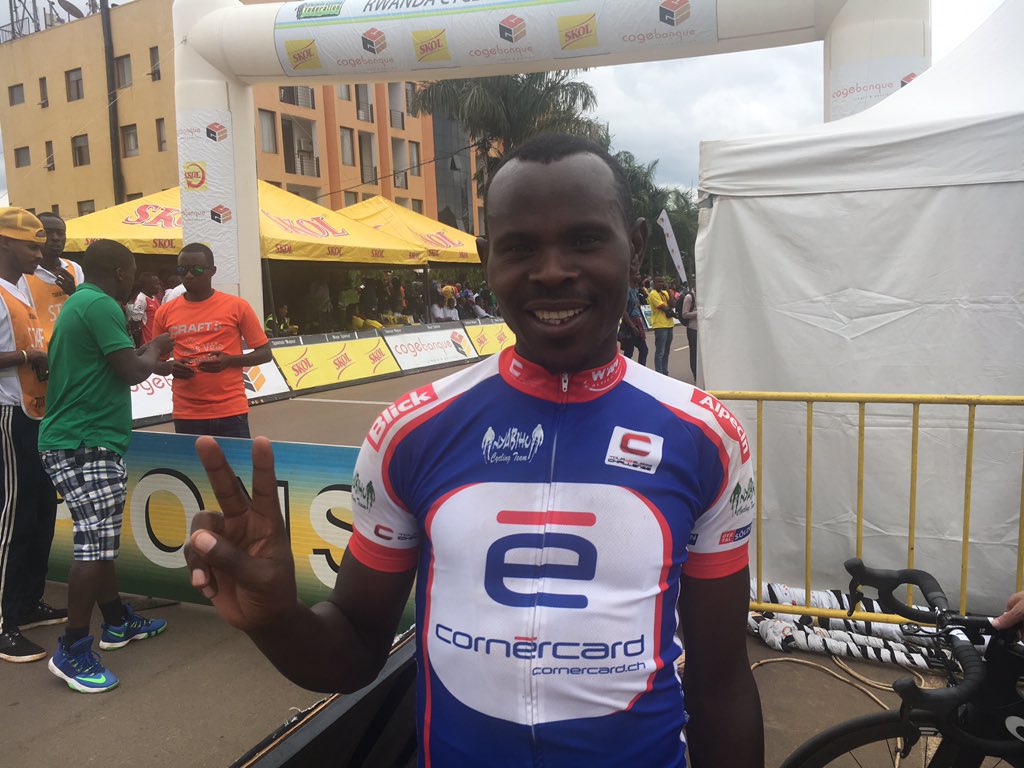 Nyabihu cycling club rider Gasore Hategeka was crowned the overall winner of the 2018 Rwanda Cycling Cup Series on Saturday.
The final race which climaxed the 2018 edition of the Rwanda Cycling Cup attracted some of the foreign-based and local riders namely; Valens Ndayisenga who was riding for Les Amiss Sportifs after his contract with French side POC de Lumiere expired, Areruya Joseph (Delko Marseille Province, France), Mugisha Samuel (Team Dimension Data, Italy), Didier Munyaneza, the 2017 winner and Jean Bosco Nsengimana, the 2015 Tour du Rwanda winner among others.
However, Gasore defied odds to become the first rider to win Rwanda Cycling Cup twice after winning it in 2016. Team Dimension Data rider and reigning Tour du Rwanda champion Samuel Mugisha won the final race which covered 105.400km from Stade Amahoro to Nyamata and back.
Gasore finished a distant 14th, clocking 4h10'32 to secure additional points which saw him finish overall top on the Rwanda Cycling Cup standings with 155 points.
The 31-year old rider pocked Rwf. 250, 000 as cash prize following his title victory.
Mugisha won the race the men's elite and U-23 category which covered 159.3km from Amahoro Stadium to Nyamata and back in 4h00'01.
Twizerane Mathieu from Huye CCA came in second slot in 4h00'02 while NdayisengaValens came in third slot after clocking 4h00'41.
The junior category riders covered 105.400km was claimed by Gahemba Barnabe from Les Amis Sportifs in 02h43'40, Niyonshuti Jean Pierre from Fly club clocked 02h43'45 while Mugisha Albert from Amis Sportifs finished third in 02h43'45.
In the women category, Tuyishimire Jacqueline led a 1-2-3 for Benediction cycling club as she clocked 3h00'55 to win the race. Her compartiot Nzayisenga Valentine clocked 3h05'33 to finish second while Ingabire Diane came third in 3h06'26.
Besides Gasore, Nzayisenga Valentine from Benediction club won the overall women category and pocked Rwf. 150,000, Muhoza Eric from Les Amis Sportifs won the junior boys category to pocket Rwf. 150,000 while Mugisha Moise from Fly club won the U-23 category to pocket Rwf. 150,000 respectively.
In the teams' rankings, Nyabihu cycling club finish on top of standings to bag Rwf. 400,000 while Benediction came ranked second and pocketed Rwf. 300,000.  Huye Cycling Club for All, Les Amis Sportifs and Fly Club finished in third, fourth and fifth positions respectively.
The Rwanda Cycling Federation (FERWACY) president Aimable Bayingana said, "We want to thank all our sponsors and partners, and everyone who played a part in making the 2018 Rwanda Cycling Cup a success. Looking forward to working with you again,"
The annual domestic cycling championship, which was in its fourth edition, was organized by Rwanda Cycling Federation in partnership with Skol brewery and Cogebank.
Rwanda Cycling Cup 2018 Series
Final Race Results
Elite Men & U-23 Category (Top 5)
1. Mugisha Samuel 4h00'01"
2. Twizerane Mathieu (Huye CCA) 4h00'02"
3. Ndayisenga Valens (Les Amis Sportifs) 4h00'41"
4. Nsengimana Bosco (Benediction) 4h00'55"
5. Hakiruwizeye Samuel (Cycling Club for All) 4h02'00"
Junior Race (Top 3)
1. Gahemba Barnabe (Les Amis Sportifs) 02h43'40"
2. Niyonshuti Jean Pierre (Fly Club) 02h43'45"
3. Mugisha Albert (Les Amis Sportifs) 02h43'45"
Women Results (Top 3)
1. Tuyishimire Jacqueline (Benediction) 3h00'55"
2. Nzayisenga Valentine (Benediction) 3h05'33"
3. Ingabire Diane (Benediction) 3h06'26"