Dream Taekwondo Club defied odds to take the 7th Rwanda National Taekwondo Championship which was held over the weekend at Amahoro Indoo Stadium.
The Gatenga-based club edged Dream Fighters Taekwondo Club and sixteen other clubs to win the national title in both junior (boys & girls) and male categories respectively.
Dream Taekwondo Club lifted all the categories and was followed in second spot by Dream Fighters while Police Taekwondo Club took third spot.
Gatari Garnier, Uwase Dianne, Dushimimana and Isingizwe Fidelite took the Male -33kg, Female -33kg, Male -37kg and female +37kg categories.
Police Taekwondo club also staged some positive performances as they claimed seven gold, seven silver and four bronze medals respectively.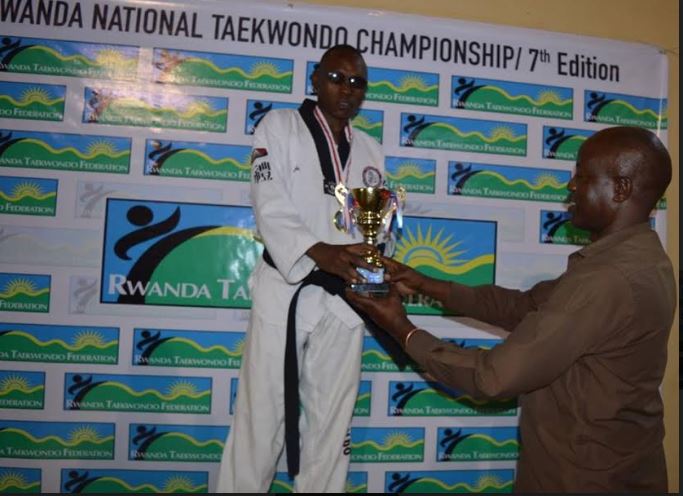 Among the gold medalists include Benon Kayitare, the national team captain, who defeated his fellow clubs member Emmanuel Kwibuka, in the finals. Kayitare also won silver in skills demonstration.
Delphine Uwababyeyi also scooped gold after seeing off Raisa Umurerwa of Dream Club in finals. The Police men team claimed the top spot in the senior category although Police Club came third in the general classification.
According to Alain Bagire Irene, category winners will represent Rwanda at this year's ANOCA games which will be held in Rwanda from April 2-6, 2019.
Cadets Category
Male -33 Kg
1st Place – Gatari Garnier (Dream Taekwondo Club)
2nd Place – Benimana Thierry (Dream Taekwondo Club)
3rd Place – Muhire Dieu Donne (Urban Taekwondo Club)
 Female -33 Kg
1st Place – Uwase Diane (Dream Taekwondo Club)
2nd Place – Ishimwe Confiance (Dream Fighters)
3rd Place – Gasaro Lydia (Dream Fighters)
Male -37 Kg
1st Place- Dushimimana (Dream Fighters Taekwondo Club)
2nd Place- Cyiza Bashir (Dream Fighters Taekwondo Club)
3rd Place- Niyibizi Hudayi (Special Line Up)
 Female +37 Kg
1st Place – Isingizwe Fidelite (Dream Taekwondo Club)
2nd Place – Kayisinga Valentine (Better World Taekwondo Club)
3rd Place – Ishimwe Confiance (Special Line Up)
 Male -44 Kg
1st Place- Twizeyimana Marc (Dream Taekwondo Club)
2nd Place -Ishimwe Elysee (Unity Taekwondo Club)
3rd Place- Kwizera Christa (Lion Power Taekwondo Club)
 Male -47 Kg
1st Place – Harindintwari Clement (Special Line Up)
2nd Place – Shyaka Hakim (Trinity Taekwondo Club)
3rd Place –Muhayimana Clovis (Dream Fighters)
 Male +47 Kg
1st Place – Hakizimana Eric (IYF)
2nd Place – Niyomugabo Jean De Dieu (Trinity Taekwondo Club)
3rd Place – Hagenimana Janvier (IYF)
 Female -49 Kg
1st Place – Sifa Niyonkuru (KOTA, Kigali Olympic Taekwondo Academy)
2nd Place – Utuje Ortence (KITA, Kigali International Taaekwondo Academy)
3rd Place – Ingabire Florence (IYF)
 Seniors
Female -54 Kg
1st Place – Kayitare Benoit (Police Taekwondo Team)
2nd Place – Kwibuka Emmanuel (Police Taekwondo Club)
3rd Place – Ndayisenga Clement (Dream Fighters Taekwondo Club)
 Female -53 Kg
1st Place – Uwababyeyi  Delphine (Police Taekwondo Team)
2nd Place – Murerwa Raissa (Dream Taekwondo Team)
3rd Place – Tuyishime Sonia (Dream Fighters Taekwondo)
 Female -57 Kg
1st Place- Benimana Yvonne (Dream Taekwondo Club)
2nd Place – Uwayo Clarisse (Police Taekwondo Team)
3rd Place – Cyiza Angelique (Police Taekwondo Club)
 Female +57 Kg
1st Place – Umutesi Adeline (Dream Fighters Taekwondo Academy)
2nd Place – Akimana Beatrice (Dream Taekwondo Club)
 Male -58 Kg
1st Place – Sekanyambo Jean Paul (Police Taekwondo Team)
2nd Place – Niyingize Jean De Dieu (Dream Taekwondo Club)
3rd Place – Rukundo Abouba (Kigali Justice)
 Male -63 Kg
1st Place – Byiringiro Ibrahim (Police Taekwondo Club)
2nd Place – Muzungu Fabrice (Dream Fighters)
3rd Place – Manzi Fabrice (Special Line Up)
 Male -68 kg
1st Place – Nizeyimana Xavio (Police Taekwondo Team)
2nd Place – Tuyisenge Badrou (Police Taekwondo Team)
3rd Place – Mugabe Robert (Urban Taekwondo Club
 Male -74 Kg
1st Place – Munyakazi Vincent (Police Taekwondo Team)
2nd Place – Kayitare Benoit (Police Taekwondo Club)
3rd Place – Uwitonze Fabien (Police Taekwondo Team)
 Male -80 Kg
1st Place – Twizeyimana Mussa (Dream Taekwondo)
2nd Place – Mwemezi Cedric (Police Taekwondo Team)
3rd Place -Ndashimiye Eric (Unity Taekwondo Club)
 Male -87 Kg: 1st Place – Nkusi Yvan
 Para – Taekwondo
Male K41: 1st Place Ishimwe Christian (Dream Taekwondo Club)
 Female K42
1st Place Ntakirutimana Ester (KITA, Kigali International Taekwondo Academy)
2nd Place Uwayo Clarisse (Police Taekwondo Team)          
 Male K44
1st Place Niringiyimana Jean Pierre (Nyamata Taekwondo Club)
2nd Place Nishimwe Maurice (Kirehe Taekwondo Club)
3rd Place Iradukunda Joseph (Urban Taekwondo Club)