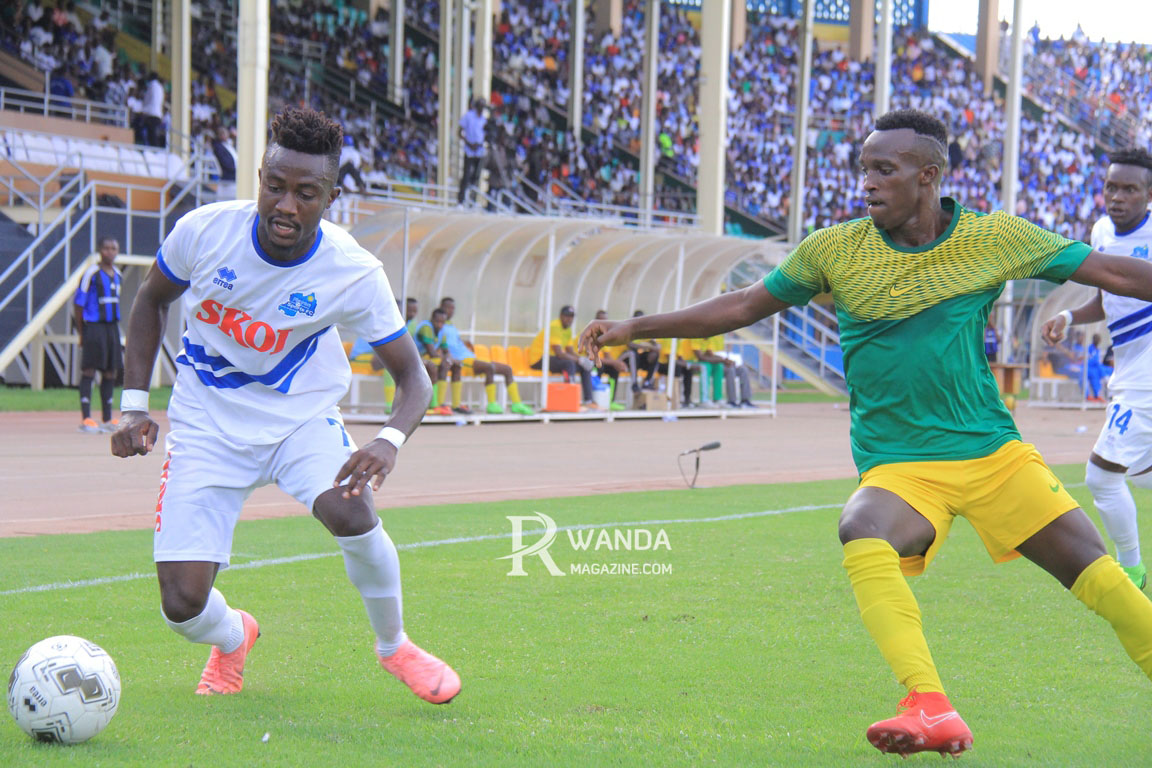 Eighteen clubs have begun their battle for the 2019 Peace Cup title today when they compete in the first round scheduled to be staged on Wednesday and Thursday respectively.
However, Sunrise FC has given an automatic bye to Espoir FC following their withdrawal from the annual competition citing financial constraints.
Of the remaining 18 clubs, four matches are staged on Tuesday with Hope FC hosting Gasogu United in Rutsiro; AS Kigali will be hosting reigning league champions Rayon Sports FC at Stade de Kigali; Interforce Fc will also be hosting Intare Fc at Mumena stadium while Mukura VS will be at home hosting Unity FC at Huye Stadium.
Rayon Sports FC skipper Thierry Manzi told KT Sports that, 'Rayon Sports is in high spirits, after lifting the league title, our mission is to secure a double and that means winning the Peace Cup title as well,'
'We have a tough game against AS Kigali and we will go into this game all out as we seek to win the away game and hope to finish the game at home in the return leg,' added Manzi.
Should Rayon win the 2019 Peace Cup title, it will be the club's first time to clinch the domestic double.
On Wenesday, Police Fc will be away to Gicumbi Fc in Gicumbi, Bugesera FC will be away to Vision Fc at Mumena stadium; APR Fc face Rwamagana City FC, all aiming for this silverware to realize their chance of competing in CAF Interclubs competition next season; Etoile de l'est will be hosting SC Kiyovu in Ngoma while Marines Fc will be hosting Etincelles FC in a Rubau District derby which will be held at Stade Umuganda.
The return legs will be played on June 7 and 8 respectively.
After the first round, winners will proceed to play in the 1/16th round which will attract the five winners plus the best eight losers.
Espoir FC has already sealed a ticket to the 1/16th round following the withdrawal of Sunrise FC.
The draw for the 1/16th round will be held on June 8, 2019.
The winner of the 2019 Peace Cup Competition on July 4, 2019 will represent Rwanda at the 2019/2020 CAF Interclubs Competitions slated to start in August, 2019.
 Peace Cup 2019 Competition
June 4, 2019
Hope FC vs Gasogi United (Rustiro United, 15h00)
AS Kigali vs Rayon Sports FC (Stade de Kigali, 15h00)
Mukura VS vs Unity SC (Stade Huye, 15h00)
Interforce FC vs Intare FC (Stade Mumena, 15h00)
Sunrise FC vs Espoir FC (Sunrise Fc withdrew, Espoir FC qualifies to next round)
June 5, 2019
Gicumbi FC vs Police FC (Gicumbi, 15h00)
Vision FC vs Bugesera FC (Stade Mumena, 15h00)
APR FC vs Rwamagana City FC (Stade de Kigali, 15h00)
Etoile de l'est FC vs SC Kiyovu (Stade Ngoma, 15h00)
Marines FC vs Etincelles FC (Stade Umuganda, 15h00)