Not even perching birds could wake up for the job early morning on Wednesday, October 9, before a bus carrying journalists departed Rwanda Development Board offices in the capital Kigali – heading to Musanze district in the Northern Province.
As early as 4am, the bus' engine had already started warming – ready to leave in the next 30minutes.
Journalists who arrived 5 minutes to 5am, would only have the last option – to use public transport to catch up.
RDB bus had already vanished. The tightly-arranged schedule to Kinigi – at the foothills of the Volcanoes National Park, had a message.
The Rwanda Development Board (RDB) Chief Executive Officer Clare Akamanzi was already at the field. She wanted to encounter with the early bird tourists before they hike to trek the rare mountain Gorillas in the Mist.
She succeeded. As early as 7am, Akamanzi, accompanied by the Governor of Northern Province Jean Marie Vianney Gatabazi and other RDB officials, held an interractive session with 127 tourists in Kinigi.
According to RDB CEO, the early morning interaction with tourists was "to share why Rwanda remains a very safe country."
"It is our singular goal and priority to ensure tourists are safe and have exceptional experience," Akamanzi said shortly after meeting tourists.
Last Saturday, assailants attacked and killed residents in Kinigi and its neighbourhood – sending fears that the security around the Volcanoes National Park could have been infiltrated.
Security organs, however, swiftly calmed the situation – after killing 19 of the assailants who attacked and killed residents using traditional weapons.
"What happened was unfortunate but I really want to thank our security organs because they were very very quick to put things back in order," Akamanzi said during a later meeting with Hoteliers and security organs in the Province.
For her 15 years in service and 10 years at RDB in particular, Akamanzi said, "It is the first time I talk about Security. This means that what happened (Kinigi attack) was an isolated case. It means our country is secure," she said.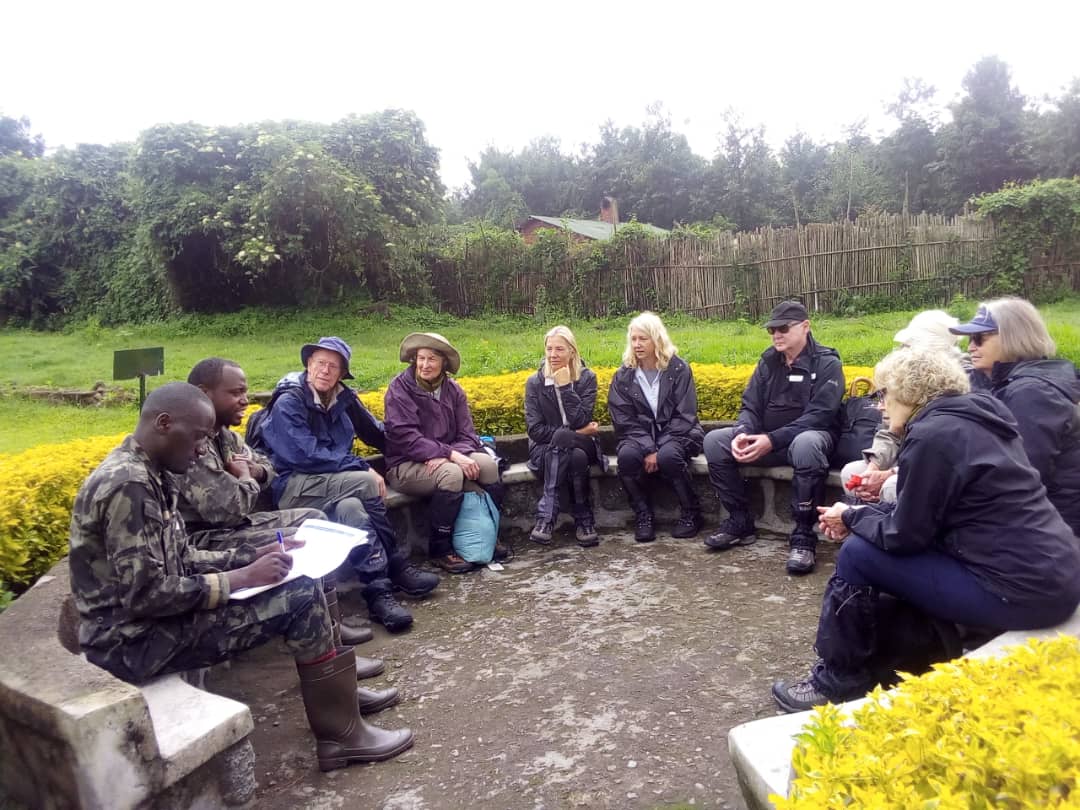 The attack, however, could not disrupt an influx of tourists to the area, according to Akamanzi.
For instance, she said, over the last 4 days – the day the attacks were conducted, "we welcomed more than 600 visitors of gorillas and golden monkeys."
Volcanoes National Park – home to rare Gorillas, remains one of Rwanda's cash cow.
Available figures from Rwanda Development Board indicate that in 2018, RDB sold 15,132 gorilla permits worth $ 19.2 million – representing a 25% increase compared to 2017.
In 2016, before the increase in the permit price, RDB sold 22,219 permits worth $15 million.
In May 2017, Rwanda Development Board increased price of Gorilla Permits to $1,500 for all visitors, nationals inclusive.
Previously, the tariffs were $750 per person for non-nationals, $375 for foreign residents and only Rwf 30,000 for Rwandan citizens.
The country's investments body added a new exclusive package for tourists who wish to book an entire family of gorillas, to $15,000, including an exclusive personalized tour guide services.
Hot customers for Rwanda's tourism services remain high-end US tourist visits which have grown by 114% according to Virtuoso – a luxury agency network.
According to the agency's latest data, Rwanda was among the top 10 countries that have experienced significant increases by percentage in year-over-year bookings among American travelers.
According to the agency, a US visitor spends an average of $12,000 during their stay in Rwanda, making them the most lucrative source market.
They are followed by Chinese nationals who spend an average of $1,084, ranking 10th.
As revenues from tourism significantly increase, communities around the parks have also experienced a hike in the revenue sharing scheme where the government give them 10% of tourism revenues.
According to RDB, this year, using the park revenues in 2018, Rwf1.4 billion was distributed to the program – up from Rwf 741 million in 2017.
At least Rwf5.2 billion has been distributed to the surrounding communities since 2005.
Meanwhile, in 2018, Rwanda hosted 1.711 million visitors with visitor arrivals increasing by 8% compared to 2017.
Akagera National Park in the Eastern part of the country was the most visited park with 51, 724 visits in 2018 – representing an increase of 17% since 2017.
Nyungwe National Park in the Western Province received 15, 665 visitors in 2018, up by 9% compared to the previous year.
According to RDB, overall park revenues reached over $ 21,153,292 in 2018.
Photos: Roger M. Rutindukanamurego