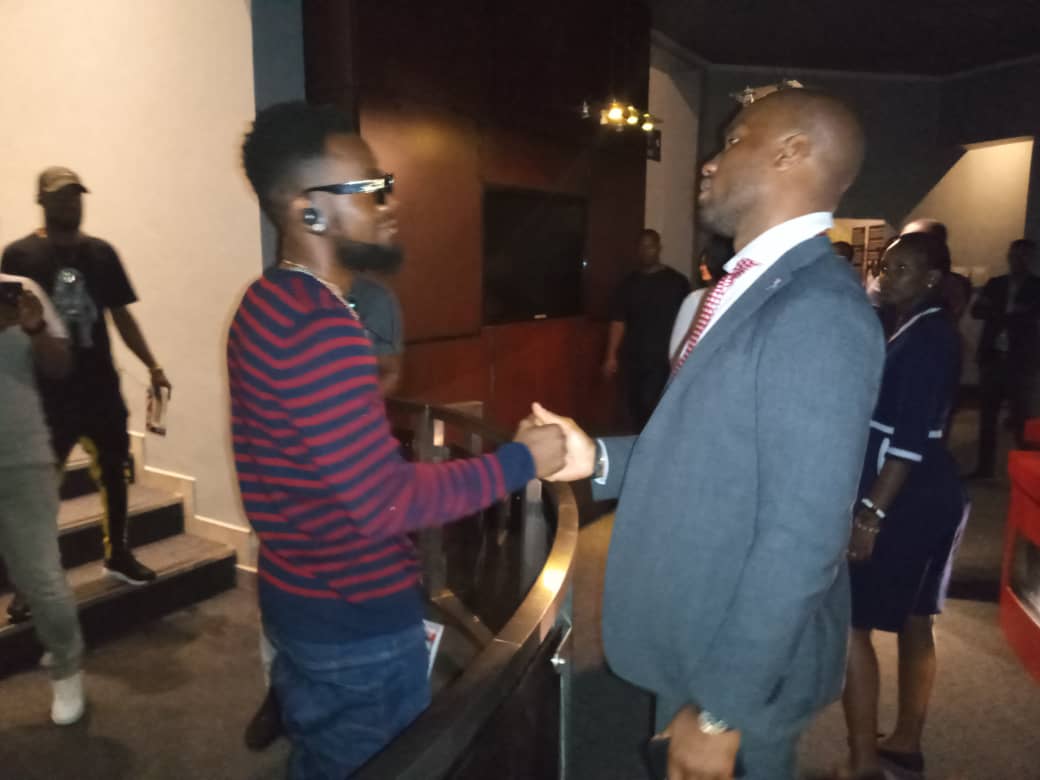 From Didier Drogba to David Luiz, Naomi Campbell and Ne-Yo, there seems to be one common factor that makes superstars leave Rwanda with unforgettable memories.
This year alone, scores of global icons have visited Rwanda and left with stories to tell, some even recalling their visit some months later, relieving some of the memories on social media.
It is not often that superstars endorse countries, given their immense marketing value, worth millions of dollars, very often opting to visit countries in the most private arrangement, leaving the country without a single photo leaking to the press.
Rwanda in recent months, ever since the Visit Rwanda initiative was launched, has seen a number of stars coming around to visit and leave mesmerised -mainly by mountain gorillas and everything else they see or do during their visits.
Last week, Tennis superstar Maria Sharapova was in Rwanda. The tennis star used Twitter to share her memories, which included trekking the mountain gorillas and meeting President Paul Kagame and his family.
"It's was an honour meeting you, President Kagame and spending time with your family. #Rwanda, you are so special," the former world number one tweeted, completing the Twitter with the emoji of the Rwandan flag.
Earlier, Sharapova had shared another tweet talking about an early morning trek through the rainforest downpour to see the Silverback Gorillas in Volcanoes National Park, in the Northern Province.
The Russian U.S-based tennis star also took time off to visit local communities in the Northern Province, distributing a few footballs and playing soccer with local children.
She is not the first to visit and share experiences and unforgettable memories from Rwanda. Below KT Press recalls the celebrities who have visited Rwanda this year and went on to relive their memories on social media, endorsing Rwanda in one way or another.
David Luiz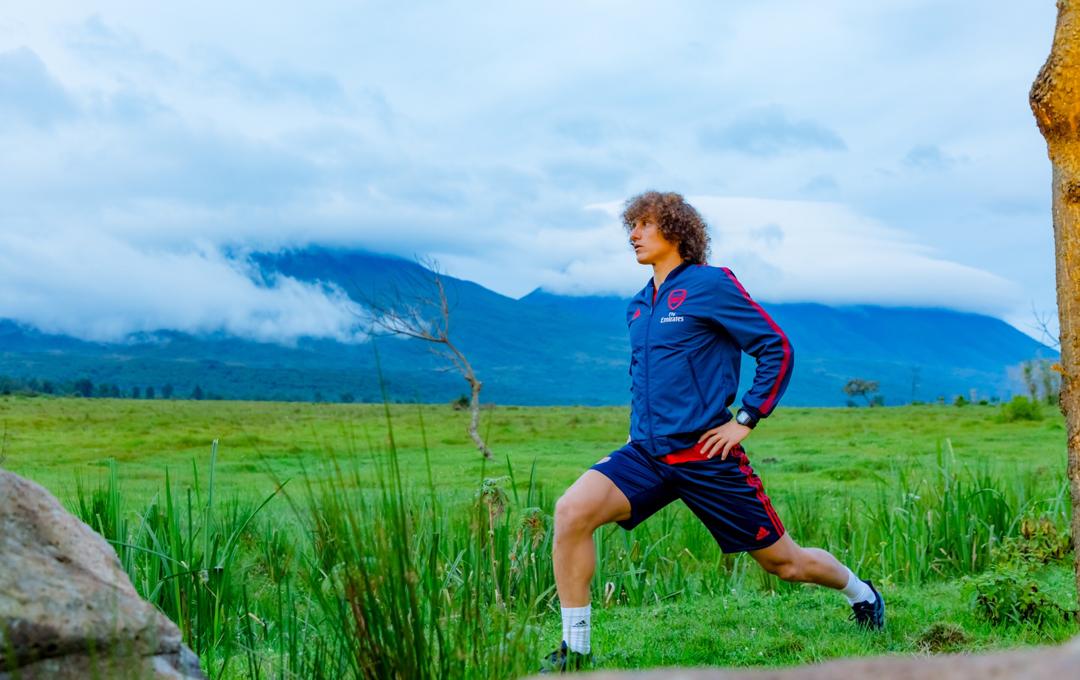 Perhaps the visit by Arsenal defender David Luiz in October was the most documented among the most recent visits. The Brazilian footballer used his social media platforms to share his experiences trekking the gorillas up the mountains and meeting President Kagame.
Luiz, whose two-day visit was part of the 'Visit Rwanda' partnership Rwanda has with Arsenal, enjoyed his time in Rwanda, using his Twitter and Instagram to share videos and pictures from his visit. He was accompanied by his mother and fiancée.
He visited the Kigali Genocide Memorial, where he paid respects to the victims of the 1994 genocide against the Tutsi, met President Kagame at Village Urugwiro, presenting him with a jersey, before heading to Singita Kwitonda Lodge in the Northern Province.
There, he planted a tree as part of efforts to reforest areas surrounding the stunning Volcanoes National Park before he entered the park to track the gorillas. He also attended a national league football match at Kigali Regional Stadium and met Arsenal fans in the country.
"It has been incredible to learn about this wonderful country and experience the welcoming spirit of the Rwandan people,"
"I came with the curiosity to learn about the country, considering what it went through 25 years ago. I have to say I was inspired by how fast it has moved forward and how it has become a progressive, fast-growing nation with so many amazing things to see and do," Luiz said.
It was no wonder that when he scored his second goal for Arsenal against Crystal Palace on October 27, his chest thumping celebration was inspired by mountain gorillas and he said he was dedicating the goal to 'his friends', the gorillas.
Naomi Campbell
She was among the namers of 25 baby gorillas this year on September 6 in Kinigi during the 15th edition of Kwita Izina ceremony.
The British supermodel could not hide her excitement, documenting every activity she took part in. In her final video, she described Rwanda as God's country.
She shared her experience meeting Gashora Girls Academy and Greenhills Academy students she described as "the brightest Rwandan girls in science and technology". She also visited Nyungwe National Park.
Among other experiences, she shared her memories from Kwita Izina, including meeting President Kagame, who she said "is a man who has dedicated his life to the protection, preservation and prosperity of his country and its communities."
Though they are both British superstars, Naomi Campbell shared her excitement meeting former Arsenal captain and legend Tony Adams with whom she took a selfie. She also shared her experience trekking the gorillas.
"Rwanda, I love you. Thank you to everyone who made this trip so special," she tweeted.
Didier Drogba
With a touch of humour and inspiring stories, Didier Drogba clearly left a mark during his October visit to attend the Youth Conneckt Africa Summit. The Ivorian football legend and former Chelsea striker visited Rwanda 10 years after his first visit in 2009.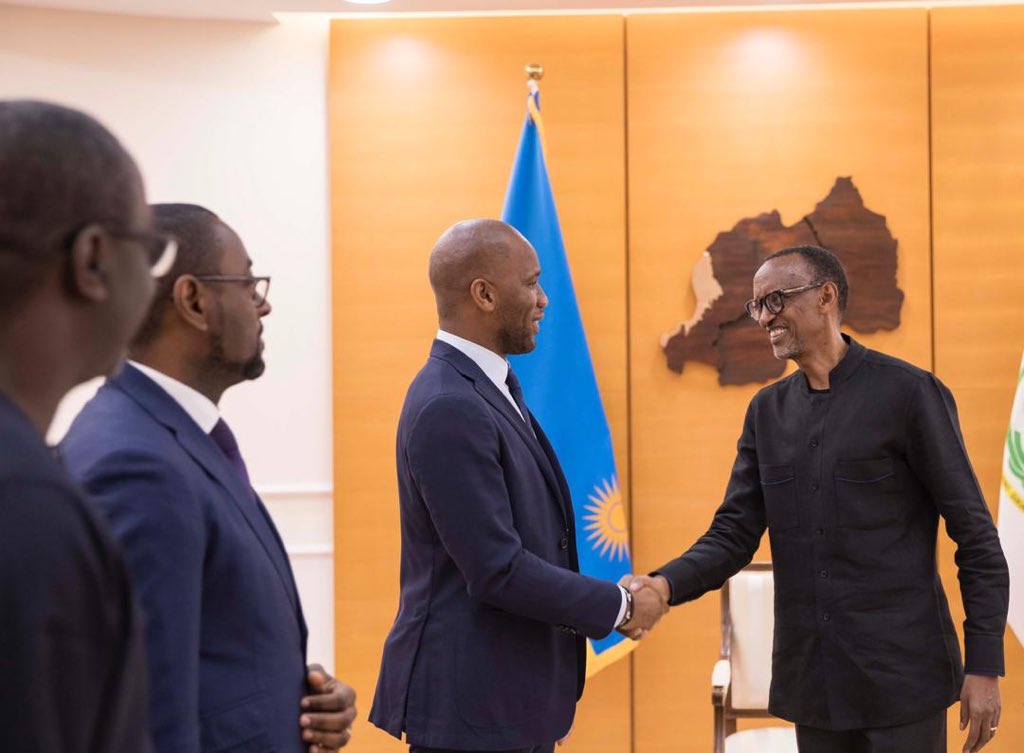 While he didn't post much on his social media, the football legend was in awe of the transformation Rwanda has made in 10 years, saying that he has always encouraged his home country which was ravaged by years of political instability to follow Rwanda's footsteps in rebuilding.
"What an honour to have been able to address the Youths of our continent at #youthconnekt 2019 to speak about how to transform passion into profit. Thank you Kigali for having me, you've been great to me," Drogba posted on Instagram, sharing a video recapping the many activities he was involved in.
His emotions could be summed up in the message he left in the visitor's book at Kigali Genocide Memorial Centre.
"Time has passed since 2009 when I visited this country for the very first time. Coming back at this place of pilgrimage is an obligation, not only to pay tribute to the victims of the Genocide but also use my status to educate the youth of Africa and whole world about the consequences of such an act."
"Ten years later, due to the determination of Rwandan citizen, this country has become a model of integration, tolerance and development. I am proud to come back here in Rwanda where I feel at home." He wrote in French.
Patoranking
The Nigerian dancehall star could not hide his love for Rwanda and for President Kagame. The singer was in the country at the same time with Didier Drogba to attend the Youth Connekt Africa Summit.
The 'Suh different' singer said that he had never attended a gathering of the sort where the youth exhibited lots of optimism, all his life.
"Thank You Rwanda! God Bless Rwanda! God Bless Africa..Youth Connekt Africa Summit 2019 Was a Success," he posted. It didn't stop there, he added "I Love This Man Right here PaulKagame. True African Father, True African Leader….#Africa" he posted, sharing photos taken by our own Plaisir Muzogeye.
He visited the Kigali Genocide Memorial Centre with Drogba, indicating in the guest book, that it was painful for him to even to write something.
"So much tears inside and outside. Thank God we found love," he wrote and in Big characters, he said; "LOVE LIVES HERE. RWANDA LIVES HERE".
Ne-Yo
American RnB superstar Shaffer Chimere Smith, known by the stage name Ne-Yo was also in Rwanda for Kwita Izina. He named his baby gorilla 'Biracyaza' before holding the very first concert at Kigali Arena.
The singer who had spent more than two months without tweeting took to his Twitter and shared his experience.
"To the beautiful people of #kigali #rwanda thank you so much for the love and hospitality. My trip was AMAZING and I promise to let the world know RWANDA IS LIT!!!!! Much love to my baby gorilla #Biracyaza! Daddy loves you," he tweeted sharing an emoji of a gorilla and a heart.
Tony Adams
Days after leaving Rwanda, Arsenal legend Tony Adams continued to tweet about his experience in Rwanda, particularly his experience with the mountain gorillas.
Adams had a busy week in Rwanda, right from his visits to the Volcanoes National Park to see gorillas, to meet and greet session with Rwandans especially Arsenal FC fans, to different places across the country. "Impromptu stop at Rwanda's oldest stadium in Rwinkwavu and met these super kids," he tweeted with a short video playing with kids.
Idris Elba & Ellen DeGeneres
Though these two haven't been around this year, in March they did share their experience visiting Rwanda. Ellen was last year, maybe Idris Elba came but kept it private (of course he has even been to Rwanda before) but while appearing on the show, he mentioned how beautiful Rwanda is.
The 46-year old actor spoke about his experience trekking mountain gorillas in Rwanda, and reflected on his role in the 2005 movie "Sometimes in April" about the 1994 Genocide against the Tutsi.
"I went to Rwanda. I went to Rwanda and did what your wife did— I went up into the jungle and saw the gorillas and that is so moving. It is one of the best experiences of my life," Idris told Ellen.
"It is life changing, right?" she asked, "completely," he added. Ellen herself, who is currently building a conservation campus in the Northern Province, shared her own experience with the 'gentle and incredible' mountain gorillas.
"I am so glad that you did that and I mean the country, talk about the happiest people, the friendliest people, a clean country. It is amazing," she added.
Diamond Platinumz
Though he has been to Rwanda several times, Diamond Platinumz latest visit this year in August had an effect on him, thanks to the magnificent Kigali Arena.
The Bongo flava star was spellbound by the 10, 000-seater facility, vowing to ask President John Magufuli to build one which would be used for entertainment purposes.
Louis Van Gaal
Last but not least, veteran football coach Luis Van Gaal was also in the country to name a baby gorilla but he did share his views on Rwanda's reconstruction and conservation efforts. The former Manchester United and Barcelona coach also shared his unforgettable memories with mountain gorillas.
What RDB says
When stars like Sharapova visit and leave behind positive feedback, it has massive value for the country and can be endorsement not only for other stars to visit, but also people who look up to them and may consider visiting too.
"It is always fantastic hosting special guests like Maria Sharapova in Rwanda and we are glad she enjoyed every moment of her stay," says Belise Kariza, the Chief Tourism Officer at Rwanda Development Board (RDB).
"Rwanda is a must-see travel destination and we are happy the celebrities we have hosted over the past couple of months have experienced the best the country has to offer, from world-class hospitality options to once in a lifetime experiences like trekking the endangered mountain gorilla,"
She said Rwanda attaches value to such visits, as majority of them have to return in future or support different development and humanitarian initiatives.
"We look forward to seeing them in Rwanda again, and welcoming more tourists from around the world to our beautiful country. Positive feedback from a celebrity can be taken into a Destination Endorsement context and is a great marketing tool for a destination," Kariza says.