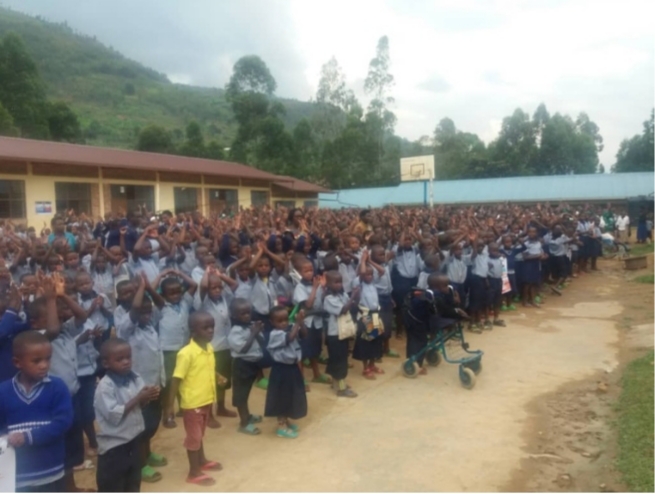 Yvonne Nkaka Uwicyeza is the fourth child in a family of five children. She was born with a vision impairment – making her not able to clearly see like other children in her family.
She can partially see things and people but in order to visualize, she has to strain one of her eyes(the left eye) and get too close to the script or the nearer object to be able to read or see it clearly.
With this kind of handicap, she would have to stay at home and be hidden in the house for the rest of her life, and possibly never get married.
But she was lucky to have a supporting family which, at the age of 6 years, sent her to a specialised education school of  Gatagara in Rwamagana district, Eastern Province, where there is a special offer for only the blind students.
At the secondary level, she joined Groupe Scolaire Gahini which was a general school with inclusive education where she pursed languages – English Kinyarwanda and French subjects, along other four students with various disabilities.
"It was not easy to study among other students but I was lucky the teacher had Braille teaching aid which enabled me and others with similar blindness problems to be able to read and study like others," she said.
For both primary and secondary education, Uwicyeza says that the only challenge she encountered was lack of proper infrastructure like Braille teaching and visual aids, foot paths and toilets for the disabled.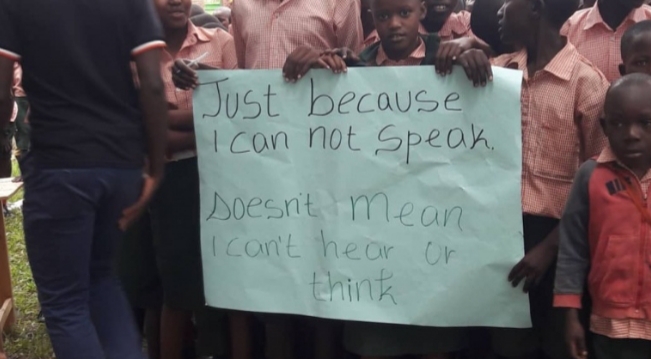 Now 25 years and in her final year at the University of Rwanda's School of Journalism, Uwicyeza has pursued her education under the hardest conditions but determination to graduate and pursue a career in journalism after spending a three months field internship at Kigali Today's Radio station (KTRadio).
At the former KTradio studios in Nyarutarama, Uwicyeza was among the first disabled persons to work with a group of able persons, and though the infrastructure was not built to accommodate and include disabled persons, she always got assistance to walk her into the studio after coming off the moto taxi that brought her every day.
"I got the best experience working at the radio and people were accommodating. This inspired me to love the media careers and pursue it after I graduate," she says.
Uwicyeza is just one of the few lucky Rwandan children among Persons living With Disability (PWDs) who have been blessed to have some hope to pursue an education, despite the challenges of limited infrastructure for the disabled in the school system.
In Rwanda, there are several kinds of disabilities which include physical disability, visual impairment, Deaf- and- dumb mental disability and mixed disabilities.
To understand the current services given to these people, on November 28, 2019, Rwanda Governance Board (RGB) released a research of service delivery to persons with disabilities which showed that despite government and donor community efforts to support People Living With Disabilities (PWD), there was a need to have an informed approach, with statistics on needs at hand.
In the research conducted in 11 districts across the country, 23 Schools (18 Ordinary Schools, 4 Special Schools and 1 Rehabilitation center indicated that out of 11 districts assessed, of a total 3,034 ordinary schools, only 40 schools fulfill inclusive requirements while 2994 don't.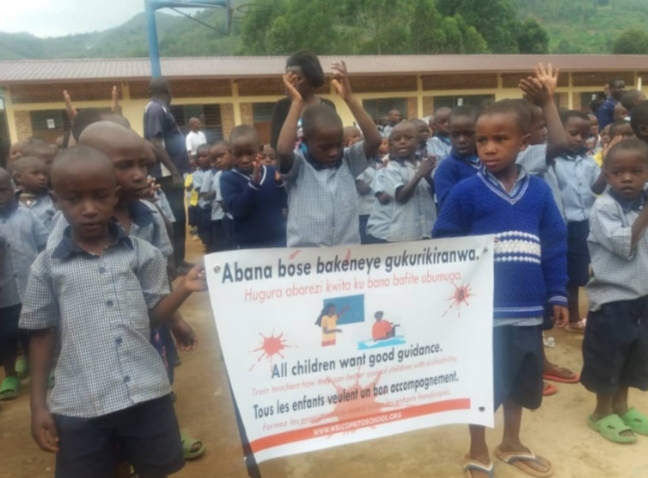 This means that in the 23 schools assessed, there is a total student population of 24, 324 of which 1,063 are students with disabilities and 431 are in specialized schools while 632 are in ordinary schools.
To show the weight of how much inclusivity is needed, the report showed that perception of PWDs on the facilitation of students with disabilities during exams had 72.7% dissatisfaction on how exams are done.
"We need a revision in the way PWDs are examined. Though they get extra examination time, the way they do exams are prepared for normal children and even during marking exercise we need a sign on the exam papers so that the examiner can know they are dealing with a special case," said Romalis Niyomugabo, the Chairperson of PWDs in Rwanda.
Though in some ways, the PWDs children miraculously succeed in school, the National Council for Persons With disabilities and inclusive education experts said that government should consider a new way of building schools that are inclusive.
The RGB research findings also showed that there were only eight specialized schools, and inclusive education was still low.
A large number of schools from primary to tertiary education had not fully adopted or integrated inclusive education programs in the systems.
The research showed that only 3 schools (HVP Gatagara Rwamagana, Deaf People training center (Musanze), HVP Gatagara Nyanza) comply with all criteria for inclusiveness of equipment and infrastructure, and 9 out of 18 ordinary schools do not comply with any of the criteria of inclusiveness.
"Starting next year we would like to have a rule that all school classroom construction tenders should be offered to enterprises who can present a quotation that shows how they will build inclusive schools," Oswald Tuyizere, the Director General at the National Council of Persons with Disabilities (NCPD) which implements PWDs policies says.
To ensure this takes a step, NCPD says that they have already advocated and managed to have officials in charge of PWDs in each of 30 districts, plus one in charge of overseeing infrastructure for PWDs on new construction projects.
"We will soon have an evaluation of their activities to access how much has been done, and currently we are running a campaign to sensitize the private sector and communities countrywide," Tuyizere said.
With the kind of situation, the Rwanda Governance Board (RGB) is now calling for a new and fresh assessment of the needs for the disabled persons in the service sector, especially in education, health and the job market.
"To be sincere we don't have a national database on the categories of disabled persons and their needs, and this is the first assignment we need to do in order to have proper planning and investments in areas of need," said Dr Usta Kaitesi, the RGB Chief Executive Officer.
According to the organization for journalists in promotion of persons with disability (ROJAPED) and NCPD there is still more work to be done and the new research findings will be additional to what has been done using donor funding.
"We are now referred to as persons not animals as it was before but there is still more work to be done," said Niyomugabo, the Chairperson of PWDs in Rwanda.
To get there, PWDs recommend a serious engagement with different partners to mobilize resources (Financial, human and material) to address existing and emerging needs of PWDs, establish a regular categorization system and intensify sensitization but also enforce the law against stigmatizing PWDs.