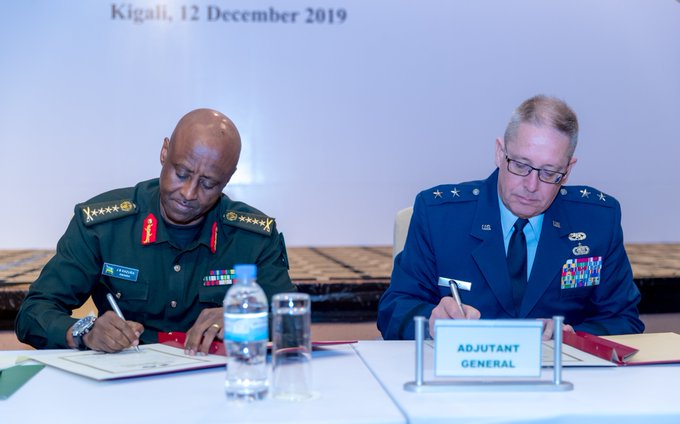 Rwanda Defence Force (RDF) and Nebraska National Guard have signed an agreement which will enable the two parties to collaborate in sustainable peace and development activities.
The Nebraska Army National Guard is a group of Army National Guard units in the U.S. state of Nebraska. It is part of the United States National Guard which is composed of reserve components of the United States Armed Forces – Navy, Air force and Marines.
The partnership agreement was signed on Thursday, December 12, between Chief of Defence Staff, General Jean Bosco Kazura and Maj. Gen. Daryl L. Bohac, the Nebraska National Guard Adjutant General.
This formalizes Rwanda and Nebraska as the newest partners in the Department of Defence's State Partnership Program (SPP).
In the partnership, Nebraska National Guard will lay the foundation for a long-term relationship by sharing expertise in emergency and disaster response, as well as strengthening cooperation in peacekeeping operations and readiness.
Nebraska, is home of Famous Nebraskan Philanthropist–Howard Buffet who has invested in Rwanda's agriculture development. It is also home to 200 Rwandan students in Nebraska University.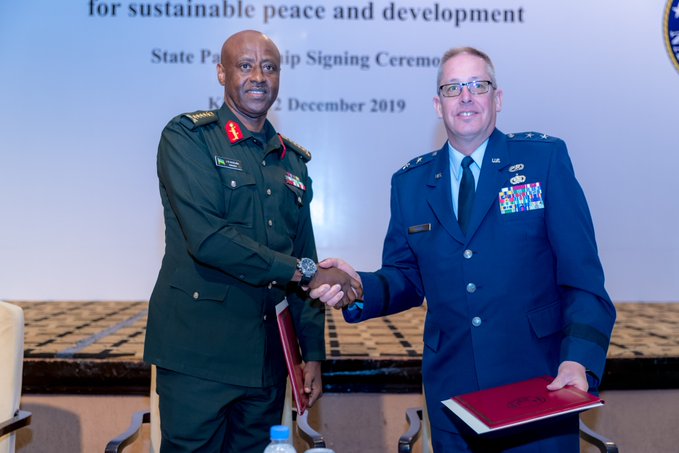 General Bohac revealed that initially in the partnership, they will support Rwanda with technical support for engineering, logistics, aviation and development of the enlisted soldiers.
"We are the ones who invited Rwanda in this partnership and we want to learn how they have managed to maintain a very good peacekeeping operation of which we don't have in the US," said Gen Bohac.
Rwanda is currently globally ranked the 3rd biggest peacekeeping contributor with 5,361 troops serving in peacekeeping forces in five operations under the United Nations (UN).
In the deal, Rwanda is looking at getting support in the area of emergency response services which is a shared common factor affecting both communities.
Nebraska, just like Rwanda, is prone to natural disasters such as floods.
Recently in March 2019, the Nebraska National Guard was called to intervene in a major flood disaster which killed at least three people and caused at least $3 billion in damages of property and infrastructure.
The United States Ambassador to Rwanda, Peter Vrooman, said that the partnership will enable the US to learn from the Rwandan experience of implementing ambitious goals which he described as a 'nation that punches beyond its weight'.
On behalf of Rwanda Ministry of Defence, General Kazura said that the partnership is a result of each party needing each other and it will drive the longstanding partnership of the US government and Rwanda to another level.
"We can only make this partnership successful if we put our efforts together and look at the future of our countries and the people of this world. We have the means, determination which can enable us to make a better peaceful world," Kazura said.
This partnership covers different aspects beyond the military cooperation and also covers areas of the social and economic aspects of Rwanda and Nebraska, of which General Kazura said is there is need to go beyond the military operations.
"If we don't go beyond military, then we cannot achieve good results in making this world better. It has been clear everywhere that if we go for the military aspect alone, we cannot achieve what we need. But if we go for the root causes of the problem, we shall leave this a better world," Kazura said.