President Paul Kagame has called on leaders of the Great Lakes Region to engage in collaborative efforts to maintain security and public health challenges currently facing the region.
Kagame was addressing the 8th virtual Summit of the International Conference on the Great Lakes Region (ICGLR) on November 20, 2020 attended by, among others, President Denis Sassou Nguesso of the Republic of Congo and chairman of ICGLR, Evariste Ndayishimiye of Burundi, Felix Antoine Tshisekedi of the Democratic Republic of Congo(DRC) and the United Nations (UN) Secretary General, Antonio Guterres.
Other in attendance included ICGLR Executive Secretary, Ambassador Zachary Muburi-Muita and regional member states represented by their respective ambassadors.
Kagame said that there has been progress towards eliminating illegal armed groups that destabilize the region but remarked that much remains to be done, needing a collaborative approach in regional cooperation as the best way for the region to attain its objectives.
"A collaborative and harmonised approach is the best way to deal with the security and public health challenges facing the Great Lakes," President Kagame told the 8th ICGLR Summit, which was preceded by security recommendations from regional Ministers of Defense.
Kagame said that it is past time to uproot these groups once and for all and peace is a precondition for development and prosperity of the region.
In the same manner, Kagame asked the regional leaders not to give refuge to genocide fugitives. "They must be brought to justice," Kagame said.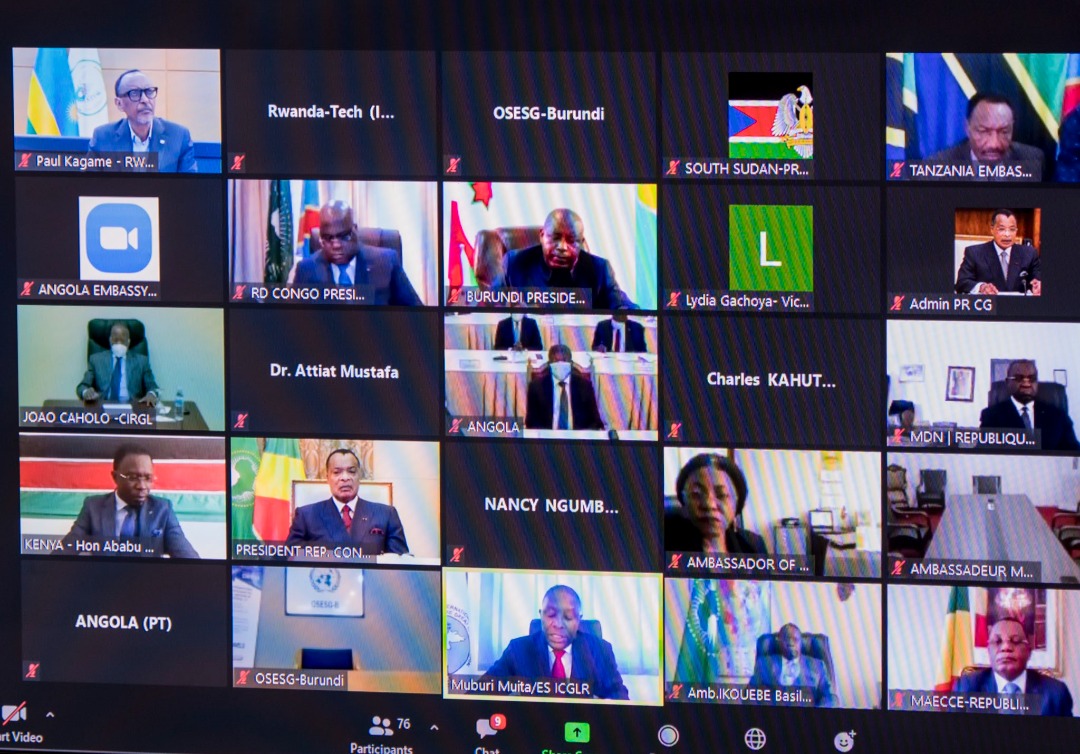 Kagame's remarks come at a time when through joint security and military operations, Rwanda's judiciary is currently prosecuting a handful of members of illegal armed groups who have manned their operations based within its neighboring countries such as DR Congo and Burundi.
Regional health was also among issues discussed especially on the challenge of Covid-19 pandemic, of which the UN SG, Antonio Guterres hailed the resilience of the ICGLR countries in these times of a global pandemic and pledged to support all peace and development efforts in the sub-region.
The 8th ICGLR Summit members also took a minute of silence to pay respect to the fallen Burundian President, Pierre Nkurunziza, who passed away June 8, 2020 before handing over power to his successor General Ndayishimiye.