Peacekeeping Rules May Have to Change to Avoid What Happened in Rwanda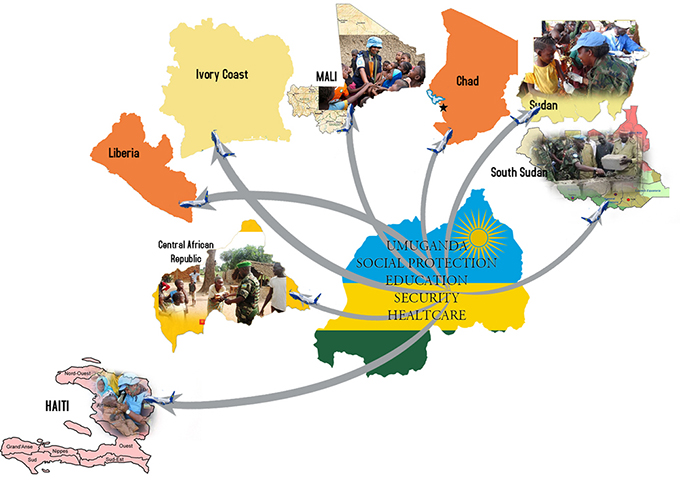 While South Africans were piecing themselves together after stamping out apartheid, up north in 1994, Rwanda was tearing apart in a deadly genocide against Tutsi.
Sixteen days into the mass slaughter of Tutsi, the United Nations decided to cut down by 90% peacekeeping troops in Rwanda. Over a million lives were lost in next  hundred days.
The world was just watching. Rwanda Patriotic Front rebels took it upon themselves and stopped the genocide and defeated genocidal forces and its notorious Interahamwe militia.
At the time, South Africa's leader Nelson Mandela branded Rwanda a 'troubled sister country'.  All five permanent members of the UN Security Council refused to refer to 'genocide' what was happening in Rwanda.
"We –Africa – are ready to contribute what we can to help end the genocide taking place in Rwanda and bring peace to that troubled sister country," Mandela said on June 13, 1994 at the Organisation of African Unity (OAU) summit in Tunisia.
As if what happened in Rwanda was not scary enough, ten years after a similar scenario propped up in the Darfur region of Sudan: horse riding Arab militias (Janjaweed) were attacking their  black African neighbours.
In just weeks, 10,000 of them had been killed and over a million displaced. Once again the world was silent and debate was whether what was happening should be referred to genocide. No country wanted to intervene.
"We are irritated because people are dying and we have been through this same situation of turmoil," Rwanda government said in 2004 announcing it was getting ready to deploy about 145 troops.
But Rwanda made it clear that its troops would not go to Darfur to just protect UN observers when the Sudanese minority people are being killed by the Janjaweed militia. The first contingent of Rwandan troops arrived in Darfur in 2005 and have since stabilised this part of Sudan.
KT Press takes you through the journey of how Rwanda exports PEACE to troubled countries.
Order returns to Darfur
Twelve years down the road, in September last year the Qatar Emir Sheikh Tamim bin Hamad Al Thani and Chadian president Idriss Deby landed in El Fasher, the capital of Darfur for signing of a between the warring parties. Despite the brutal conflict raging in other places, with regular attacks on civilian camps, Rwanda has suffered the highest number of casualties among its troops as they repeatedly battle militias to protect the desperate Darfurians. Today, 31,264 Rwandan peacekeepers have rotated from Darfur, while 2,424 are currently on mission, according to the latest statistics of the Rwanda Defense Forces (RDF), as part of the 19,000 UN/AU peacekeeping forces.
In a research published in June 2016 by the International Refugee Rights Initiative (IRRI), villagers in locations protected by Rwanda troops have moving testimony. One interviewee from Himaidia IDP camp, Central Darfur said, "They are not equal. Rwandan forces are better… [others] are scared of Janjaweed."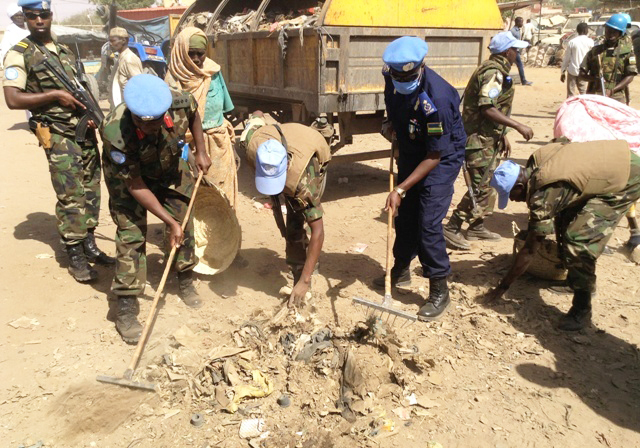 The enthusiasm for Rwandan troops is not shared with troops from other countries on the force. Inevitably, therefore, there was a sense, not only of frustration that UNAMID was not doing more, but of desperation that the little protection they are providing could also be lost: "No one on the earth cares if we survive except God and sometimes UNAMID," said one from Zalinga Khamsa Dagaig IDP camp, Central Darfur.
The study says a proactive commander with trained and equipped troops can do much more than one who is fearful of engagement, either due to contradictory directives from home, or as a result of being inadequately trained or equipped. From the perspective of Darfuris, these differences were seen largely along national lines.
Rwandan peacekeepers have done more than just keeping peace. Through Quick Impact Projects, the RDF peacekeepers introduced aggressive peacekeeping and engaged in health, infrastructure development (schools, markets) water and sanitation projects in order to improve the living conditions of local residents.
Rwandan female peacekeepers in Darfur have protected vulnerable women and girls in situations of conflict and engaged in activities aimed at fostering conflict resolution mechanisms which have directly impacted lives in Darfur. By imitating Rwanda's home grown and post conflict initiatives, the country's peacekeepers in Darfur have helped people in Darfur rebuild their lives.
On May 20th, Rwandan Peacekeepers under UNAMID inaugurated and handed over GUBBA pre-school constructed for Darfur community.  The school which can accommodate over 200 Children is located at El Nasrudar village in El-Fasher Town.
Abdallah Mukhitar Habis Representative of El-fasher community said that have got what seemed to be impossible in the past; "We know that educating children contribute a lot in building a good society," he said as local residents witnessed Rwandan peacekeepers handing over the school.
South Sudan: Helping rebuild a new state
In 2011, when South Sudan became independent after breaking away from Sudan, tension erupted within the world's youngest country.   In 2012, Rwanda peacekeepers including soldiers and police equipped with aircraft deployed under United Nations Mission in South Sudan (UNMISS).
Two years later, the Rwandan peacekeepers had secured land for construction of schools. One of them in Bari Payam, then Kapuri – near Juba city the capital of South Sudan –  Children in the area were studying under trees.
Rwanda peacekeepers organise umuganda to build schools for vulnerable communities where they are deployed. After building schools, the peacekeepers hand them over to the local community, with school books.
On May 19th, UN Mission in South Sudan decorated Rwandan Peacekeepers (Rwanbatt2) based in Malakal with UN service medals.
The UN has so far decorated 9,016 Rwandan peacekeepers in South Sudan. Currently, around 2200 police and military peacekeepers are serving in South Sudan.
"As recently as this month, Rwanbatt2 troops deployed at short notice in Aburoc on the west bank of the River Nile – in support of our humanitarian partners efforts to provide aid to over 20,000 displaced people. Your battalion has been commended for swift deployment to Aburoc which immediately saw a return of humanitarian staff in the area," Paul Egunsola the Mission Chief of Staff said.
From Brink of destruction: Case of Central African Republic
In March 2013, Central African Republic descended into a deadly civil war after a military coup that deposed President François Bozizé.
However, when Rebel leader Michel Djotodia had been installed as first Muslim leader of the majority Christian nation, he disbanded the Seleka rebel movement. But the rebels refused to demobilise and terrorised the entire country- government forces could not stop them.
Months of brutal massacres, rapes and looting followed, with locals forming Christian vigilante groups in response to the atrocities. African Union troops deployed in CAR but violence continued.
When Rwandan troops deployed its 800 troops in January 2014, they first pacified the country by disarming militia and shooting those that refused to hand over their guns. By December 2014, the number of AU peacekeepers had reached 4,000.
Rwandan peacekeepers were tasked with escorting former Seleka militants out of Kasai military camp in Bangui, on their way to another camp outside the city.
When rebel leader Djotodia was forced out and replaced by Catherine Samba-Panza, Rwandan troops were given a mandate to provide full protection to the CAR interim leader and then to the newly elected president Faustin Archange Touadera.
"We went through terrible situations together, but I did not lose confidence anytime because I felt that I was being protected by a disciplined, professional and well-motivated Force," said Panza in one of her statements about Rwandan peacekeepers.
Pope Francis and former French president Hollande were protected by Rwanda contingent while in the country.
As far as the Americas
Several thousand miles away in the Americas, Haiti was destroyed by a massive earthquake in 2010- this wasn't a civil war but mother nature had struck killing more than 100,000 Haitians and displacing 3million others.
Rwanda sent 169 police peacekeepers to serve under the UN Stabilization Mission in Haiti (MINUSTAH). They have been very instrumental in implementation of the development plan of the Haitian national police and also contributing to the maintenance of a secure and stable environment.
"You served with dignity, dedication and hard work and it is a pride to the UN, Moustafa Benlamlin Deputy Special Representative of the Secretary-General (DSRSG) in Haiti, said while decorating Rwandan police peacekeepers last year.
The police contingent in Haiti are also fond of conducting community works such as rehabilitating roads, supporting orphans and responding to disasters like floods, which has built a strong relationship between them and the Haitians.
On top of these missions, the Rwanda National Police successfully completed missions in Western countries like Liberia, Ivory Coast and Chad.
Rwanda is leading a campaign to encourage peace keeping contributing countries to exhibit high level of professionalism.
Kigali Principles
'Never again' the world said after the Holocaust. And after the Cambodian genocide in the 1970s. And then again after 1994 genocide against Tutsi. And then, just a year later, after the Srebrenica massacre in Bosnia. Then came Darfur.
"How many more times will we look back wondering, with varying degrees of incomprehension, horror, anger and shame, how we could have let it all happen?," wonders Garreth Evans, former head of the International Crisis Group (ICG), back in 2004.
It is these same questions Rwanda keeps asking and as a result the global community developed a set of eighteen pledges for the effective implementation of the protection of civilians in UN peacekeeping, the so called Kigali Principles on the Protection of Civilians.
The principles resulted from a High-level International Conference on the Protection of Civilians held in Rwanda 2015 May 28-29th.The Kigali Principles address the most relevant aspects of peacekeeping, including assessment and planning, force generation, training and equipping personnel, performance and accountability. Today, most nations have signed on.
"When lives are at stake, nothing matters than saving them. Protection of Civilians must be the central purpose of Peacekeeping," said President Paul Kagame in address at the Kigali conference.
But Rwanda wants changes in rules of engagement.
"Unnecessary caveats remain an impediment in peacekeeping operations," Gen. Patrick Nyamvumba Rwanda's Chief of Defense Staff said in December last year at the U.S Institute of Peace in Washington.
Additional Reporting by KT Press Team