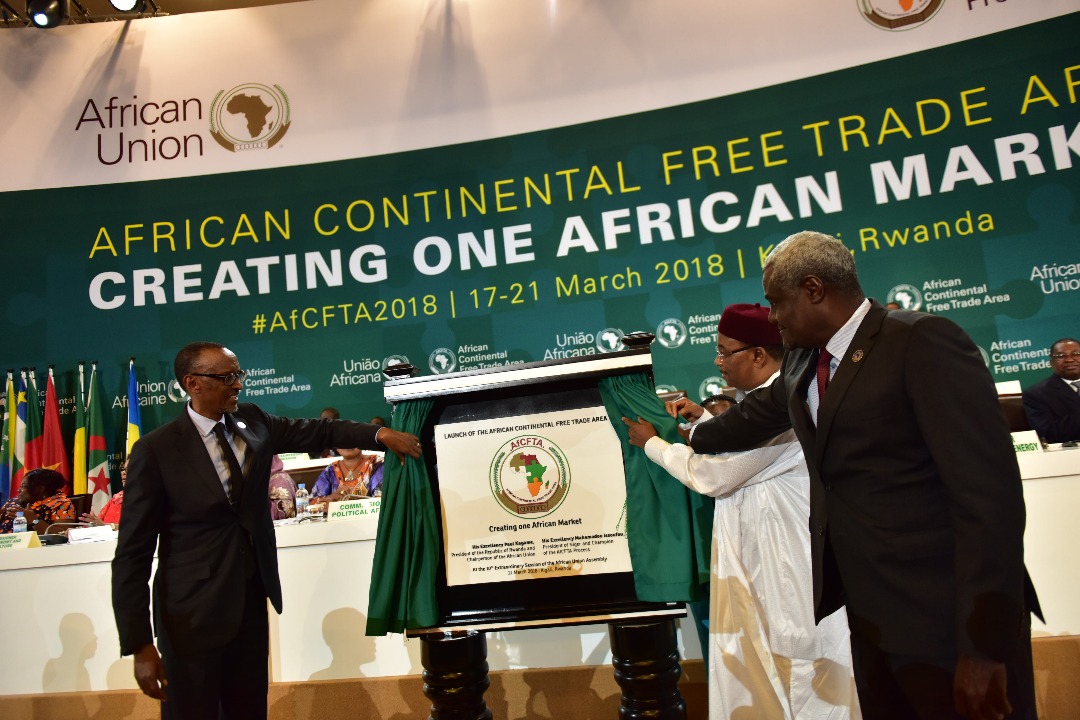 Trading amongst countries in the African Continental Free Trade Area (AfCFTA) will officially kick start its activities tomorrow January 1, 2021.
An Extraordinary Summit of the African Union (AU) on the AfCFTA which took place virtually on 5 December 2020 approved the start of trading under the AfCFTA Agreement as 1 January 2021. 
The initiation of the One Africa agreement has come a long way. The 18th Ordinary Session of the Assembly of Heads of State and Government of the AU, held in Addis Ababa, Ethiopia in January 2012 adopted a decision to establish a Continental Free Trade Area by an indicative date of 2017. 
This deadline was, however, not met. 
Two years ago, President Paul Kagame of Rwanda and a few other presidents and Think Tank led other African leaders to sell the idea of a continental free trade project where Africans are basically encouraged to open their borders and airspaces to do business with each other as a way of breaking trade barriers on the continent.
The AfFCTA agreement deal was finally penned in Kigali city in March 2018 and taken up by majority of African countries including Africa's economic giants South Africa and Nigeria – who are among the latest signatories to the deal after a year of negotiations.
Fruits of these efforts have witnessed out of the 55 AU member states, only Eritrea as the only country yet to join but to date, 34 countries have both signed and deposited their instruments of AfCFTA ratification with the African Union Commission (AUC) Chairperson. 
Some of these men who have worked to see the One and United Free Africa Trade opportunity come to pass is Carlos Lopes, a professor at the Nelson Mandela School of Public Governance, University of Cape Town and referred as one of the men Championing Africa's transformation.
With a few hours to the 2021 AfCFTA dateline, Lopes said this moment cannot come to pass without recognizing how important this deal is.
"I don't surrender easily to symbols; but, tomorrow, the official beginning of the AfCFTA deserves. I devoted too much of my own energy to this to let this date just pass; even though I know it is only symbolic. A lot of work ahead, Happy 2021!," Lopes said on Twitter.
Indeed signing is one thing and action is another journey, according to President Paul Kagame and President of Niger, Issoufou Mahamadou, a stalwart renowned for his staunch support, and as inspirational driving force behind the AfCFTA- who was honored with a special "Champion of the AfCFTA" Award recently at the virtual AfCFTA Business Forum on December 5, 2020.
At the forum, Kagame said that AfCFTA was a new chapter written down for Africa's story of integration though this was setback by the Covid-19 crisis.
Kagame told African leaders that this is the time to act again as a block.
"The pandemic has delayed the start of trading but we must stay on course. This collaborative action is now more important than ever, to rebuild economies and strengthen Africa's resilience to future shocks. So let's get on with it," President Kagame said.
With the work ahead needed to ensure the success of the agreement, the AU believes that AfCFTA will also be a drive for the AU Agenda 2063 which places great importance on the role that trade plays in developing economies and recognises that trade is a powerful engine for economic growth and development. 
Within this framework, the AU has developed continental frameworks and flagship projects aimed at adding value to Africa's commodities, reducing and removing barriers to intra-African trade and creating a larger market for African goods and services amongst its population of over one billion people.