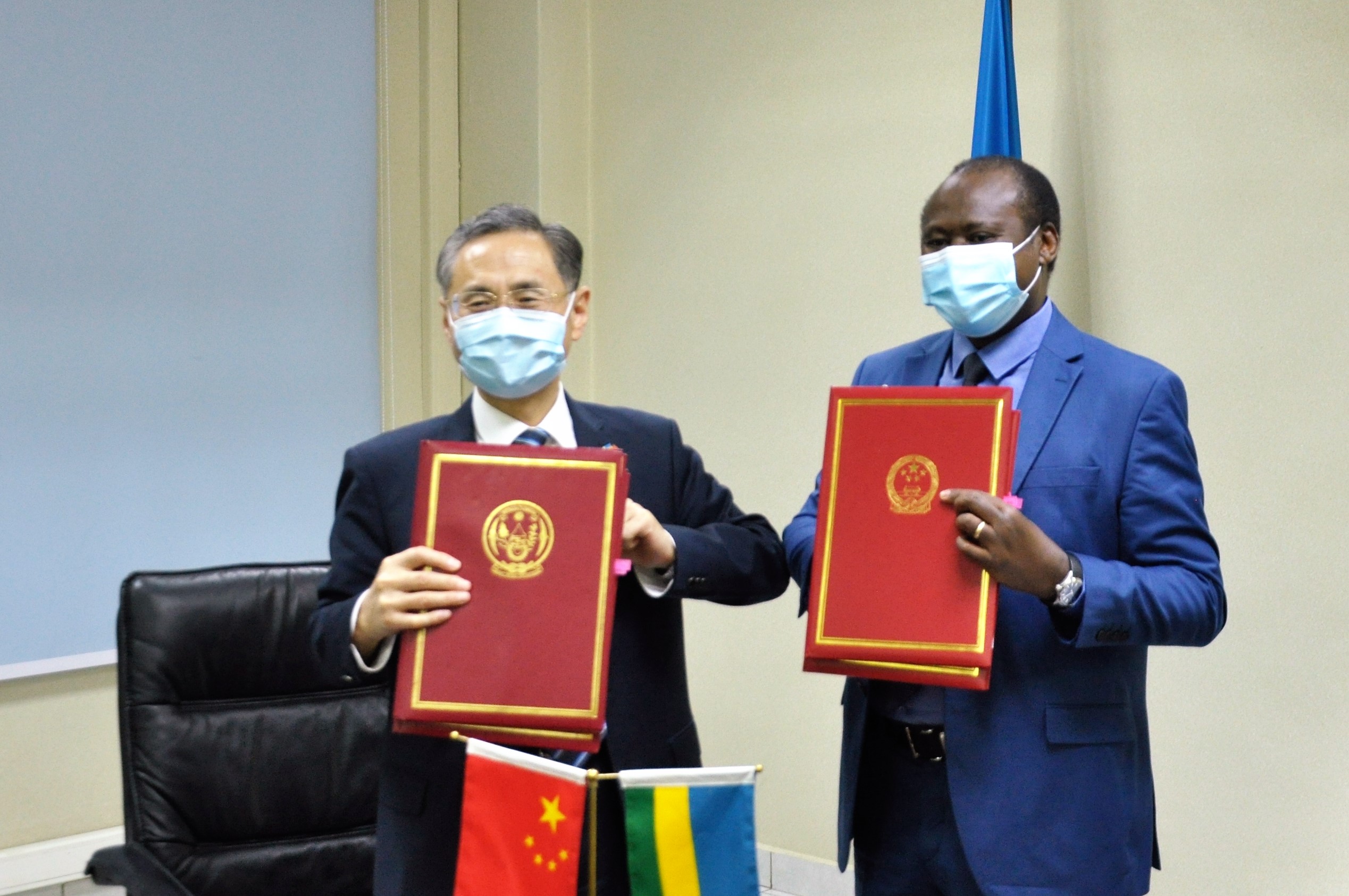 Rwanda and the People's Republic of China this Friday signed an economic and technical cooperation grant and a debt cancellation agreement to cushion Rwanda's economy through the impact of the COVID-19 pandemic.
The grant agreement worth Renminbi (RMB) Yuan 400 million (approximately $60 million) and a debt cancellation agreement worth RMB Yuan 40 million (approximately $6 million) were signed by Dr. Uzziel Ndagijimana, Rwanda's Minister of Finance and Economic Planning and Rao Hongwei, the Ambassador of China to Rwanda.
Minister Ndagijimana said the debt cancellation will free Rwanda of the economic growth burden that has been caused by COVID-19 pandemic, a period that is challenging many African economies including Rwanda.
On the grant, the minister said the RMB Yuan 400million is significant and will be used for a priority project to be agreed upon.
The People's Republic of China supports Rwanda in major sectors of development, mainly: transport, agriculture, health, education and energy.
Ambassador Hongwei said Rwanda and China are time-tested friends and since Chinese President XI Jinping's historic visit to Rwanda in 2018, the bilateral relationship between both nations has reached a record high and the comprehensive cooperation especially in the economic sector which has been tremendously diversified and intensified.
"China hopes, by extending the new financial support, to make contribution to Rwanda's all-round transformation and recovery from the malign impact of the COVID-19 pandemic.
Hongwei said signing of the two agreements also fully demonstrates China's profound friendship with and strong support to Rwanda.
This year 2021 marks the 50th anniversary of the establishment of diplomatic relations between China and Rwanda.
Hongwei said in this year of major new opportunities and challenges, China is ready to work with Rwandan friends to forge new opportunities out of crises, make new advances amid changes, and build an even more glorious tomorrow for the China-Rwanda relation.
Rwanda's recently revised its budget for 2020/21 showing a recurrent expenditure as expected to be raised by Rwf2.4 billion from Rwf1, 583.0 billion to Rwf1, 595.4 billion while its capital expenditure is expected to rise by Rwf37.6 billion, from Rwf1, 298.5 billion to Rwf1, 336.1 billion.
The budget shows total expenditure being raised from Rwf3, 245.7 billion to Rwf3, 464.8 billion showing a net increase of Rwf219.1 billion while net lending increased by Rwf165.2 billion from Rwf306.5 billion to Rwf471.7 billion.
This increase will be allocated to Economic Recovery Fund as the continued effort of Government to support Businesses affected by COVID-19 pandemic outbreak.