The Secretary General of the Commonwealth Patricia Scotland is in Rwanda to assess how far preparations for the Commonwealth Heads of Government Meeting (CHOGM 2021) are, less than four months to the meeting scheduled from June 21, in Kigali, Rwanda.
The Commonwealth official on Thursday met with the Minister of Foreign Affairs and Cooperation, Dr. Vincent Biruta to discuss the progress as well as other global issues of interest such as the COVID-19 pandemic as well as the climate action initiative.
"Honoured to be back in #Rwanda. This morning, I received an update on Rwanda's preparedness to host #CHOGM2021 later this year from
@RwandaMFA, honourable @Vbiruta and his team," Scotland tweeted.
"Minister @Vbiruta meets with @PScotlandCSG, Secretary-General of the @commonwealthsec who is in #Rwanda for a 3-day visit to discuss #CHOGM2021 preparations as well as other issues of global interest including #COVID19 and #ClimateAction." the Ministry tweeted.
Rwanda will be hosting the meeting after it was rescheduled from last year due t0 the outbreak of the Covid-19 pandemic. In February, in an article published in the Commonwealth Voices Magazine, Dr Biruta said that Rwanda was ready to welcome the world in June, expressing hope that the pandemic will have subsided and allow the meeting to go on without any challenges.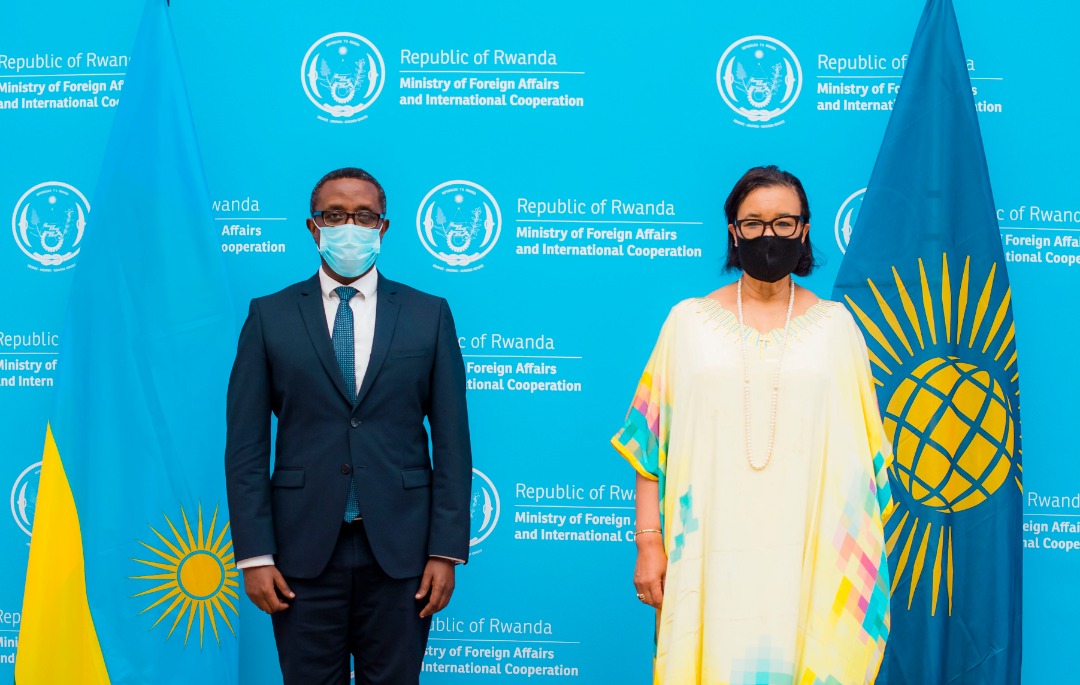 "As we continue to strengthen our capabilities, be reassured that we will host you in a safe environment, in respect of all World Health Organisation recommendations," he said, adding that the accelerated international response and efforts to vaccinate populations in globally will pave way for the hosting of a safe and clean summit.
Dr. Biruta said CHOGM 2021 will be a good opportunity to discuss global issues such as the equitable distribution of the COVID-19 vaccine, climate change and many other issues.
Rwanda has been hailed for preparing well ahead of the summit amidst the challenges brought about by the pandemic. The Senior Director of Governance and Peace at the Commonwealth Secretariat, Luis G. Franceschi, who was in Rwanda in February, said that Rwanda was on track to host the summit.
"Today we visited the CHOGM 2021 sites. We are very impressed with how the preparations are coming along and are pleased to see that Rwanda & Africa couldn't be more prepared," Franceschi tweeted on February 25.
Rwanda will host the 26th edition of CHOGM under the theme "Delivering a common future: connecting, innovating, transforming." Key issues to be discussed include climate action and global responses to pandemic.
The biennial summit brings together English speaking countries and former colonies of Britain. Rwanda is the youngest member of the Commonwealth, having joined the organization in 2009 upon application.