On December 15, 1981, a girl was born to join two siblings in a family which would grow to seven children, including five girls in Nyaruguru district, Rusenge sector and they called her Epiphanie Nyirabarame.
She subscribed to her family's misery until 1989 when she took a decision that one day she would sail through the ocean of poverty and defy the odds.
One good day of 1989, she was listening to the only Radio of her time, Radio Rwanda, and by just coincidence, the Sports' presenter was airing a documentary about a famous local athlete, her name Mukamurenzi Marcianna.
The latter inspired her, and she resolved not to do the least, but to achieve better than her. She started exercising, without a coach, without a manager at her Primary school, and quickly, her teachers realized that a rare talent was emerging from their school.
They started encouraging her, and those that were able to foresee, advised that the sky was a limit for Nyirabarame.
They informed her of any inter-school competition, and she outshined her colleagues big time to an extent they started believing that none would do better than the little Nyirabarame. This encouraged the young athlete.
In all this however, the family did not believe in her, nor did they allow her a chance to easily follow her dream, they used to give her hard times because none before her in the family, had ever done athletics.
"When I found that they would kill my talent, I begged to join my sister in Kamonyi district, Southern Province in 1996 hoping that she would be the bridge to my dream, but her husband was the most hostile of all," she recalls.
"I will never forget how my brother-in-law refused me to register for a local competition, while reminding me that my task was not to run, but to look after his children," Nyirabarame recalls.
Her sister on her side, was concerned that with exercises of athletes that transform the body of a girl, Nyirabarame would not get married.
She still pushed and whenever she had an opportunity to participate in a competition, victory belonged to her and she could dedicate the prize to those that were discouraging her.
In 1996, the Ministry of Health announced the STOP SIDA competition at National level. Organisers at her Gitarama provincial level swore not to participate, unless Nyirabarame was part of it. They went to find her, and she was convinced to participate.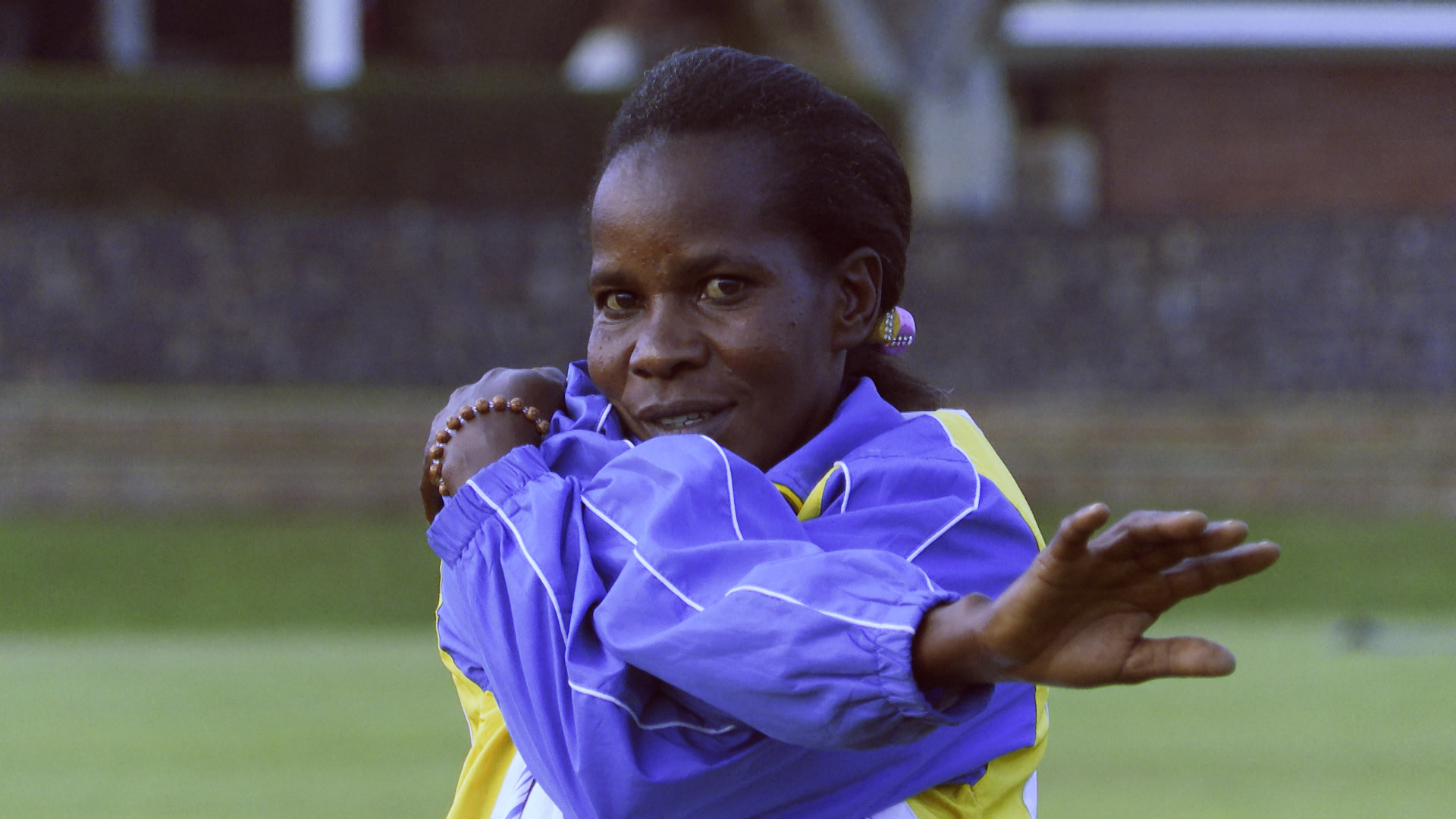 Nyirabarame did half marathon and set the record high.
"The second athlete came ten minutes behind me. This was rewarding. I used the cash prize to support my family in Nyaruguru," she said.
Due to poverty, Nyirabarame was until then practicing her sport bare legs which some organizers did not tolerate.
"Everyone was surprised to see a girl running bare feet. I felt that it didn't matter to me because that was my life after all. I was better off running without shoes and before the competition I would talk to organizers about my case and they would let me do, which always motivated me to win," she said.
In 1998, Nyirabarame joined a club, the New Athletic Star (NAS). The team officials first tried to convince her parents to release her but failed. Nyirabarame made a second attempt and they released her.
"I thank NAS officials who made me what I am now," Nyirabarame said.
In 1999, she started to participate in regional competition, case of Burundi where she won gold medal and won many more accolades to attract the attention of APR Athletic Club in 2002 which sent her in competitions in Democratic Republic of Congo and Cameroon.
In 2002, Nyirabarame made Rwanda proud after winning third gold medal in the women marathon in the Francophone games, in Beirut.
In 2004, she participated in Summer Olympics in Athens, where she finished fifty-fourth and completed the run in the women's marathon, with 2:52:50. At her second Olympics in Beijing, on the other hand, she finished the women's marathon, just seven seconds behind Slovakia's Zuzana Šaríková, with 2:49:32.
Nyirabarame achieved her personal best at the 2009 IAAF World Championships in Berlin, Germany, when she completed the run in the women's marathon, finishing in twenty-sixth place, with a time of 2:33:59. In addition to her personal best, Nyirabarame also set her national record, which was previously held by Marciana Mukamurenzi with a time of 2:36:00, in the 1990s.
Of all the achievements, Nyirabarame is happy for having broken the record which was held by Mukamurenzi. She is also happy for having featured in the American documentary film, Spirit of the Marathon II, featuring her performance in the 2012 Rome Marathon.
One of the shocking news in her life, was in 2012 when she was preparing for the Olympic games. A few hours to the competition, she was sent a text message informing her that she would not represent Rwanda. There was someone else, and she said, "this was a case of corruption in the organizing committee."
Nyirabarame in her early 40s believes that she still can have a contribution to give in the area of athletics and so can fellow Olympians.
With this, she suggests that their federation should reach out to all legends to support upcoming athletes.
She said; "Some girls who ventured in athletics encounter problems but they sometimes have none they can entrust their grievances. It hurts me," she said.
In 2014 Nyirabarame called it quit following a knee injury. At her age of 42, she trains trains daily in order to remain fit. Joining her for the training is her eight-year-old son.
Nyirabarame is now a happy mother and wife and her records brought back her family into her life. "They used to accompany me to the airport whenever I was flying to represent my motherland. On my return, they would also welcome me with flowers," she said.