Inyange Industries, Tetra Pak in partnership with the Government of Rwanda has launched a campaign to promote the consumption of Ultra Heat Treated (UHT) Milk packages which have a long shelf life to enable Rwandans to improve their nutrition and conveniently consume milk for a longer time.
The UHT Tetra Pak milk which is highly pasteurized and sterilized to avoid bacteria and aflatoxins, has been on the market for some months; was launched this July 26, 2023, with a new campaign dubbed "Gahorane Amata Ku Ruhimbi" which aims at ensuring re access to milk.
The UHT milk is expected to benefit communities with no access to electricity and refrigerators but also complements Rwanda's drive to increase the number of persons consuming milk and ultimately reduce the current levels of child stunting cases.
Rwanda plans to reduce stunting cases from the current 33% to a 19% target as of the next year 2024, and also increase the amount of milk consumed from 75.3 litres to 120 litres per capita as required by the World Health Organisation (WHO) for Sub-Saharan Africa.
Maureen Maina, the Inyange Industries Commercial Director said the campaign is aimed at driving consumption of processed milk, which is safe and nutritious for Rwandan consumers, and demystifying a myth that processed milk has preservatives.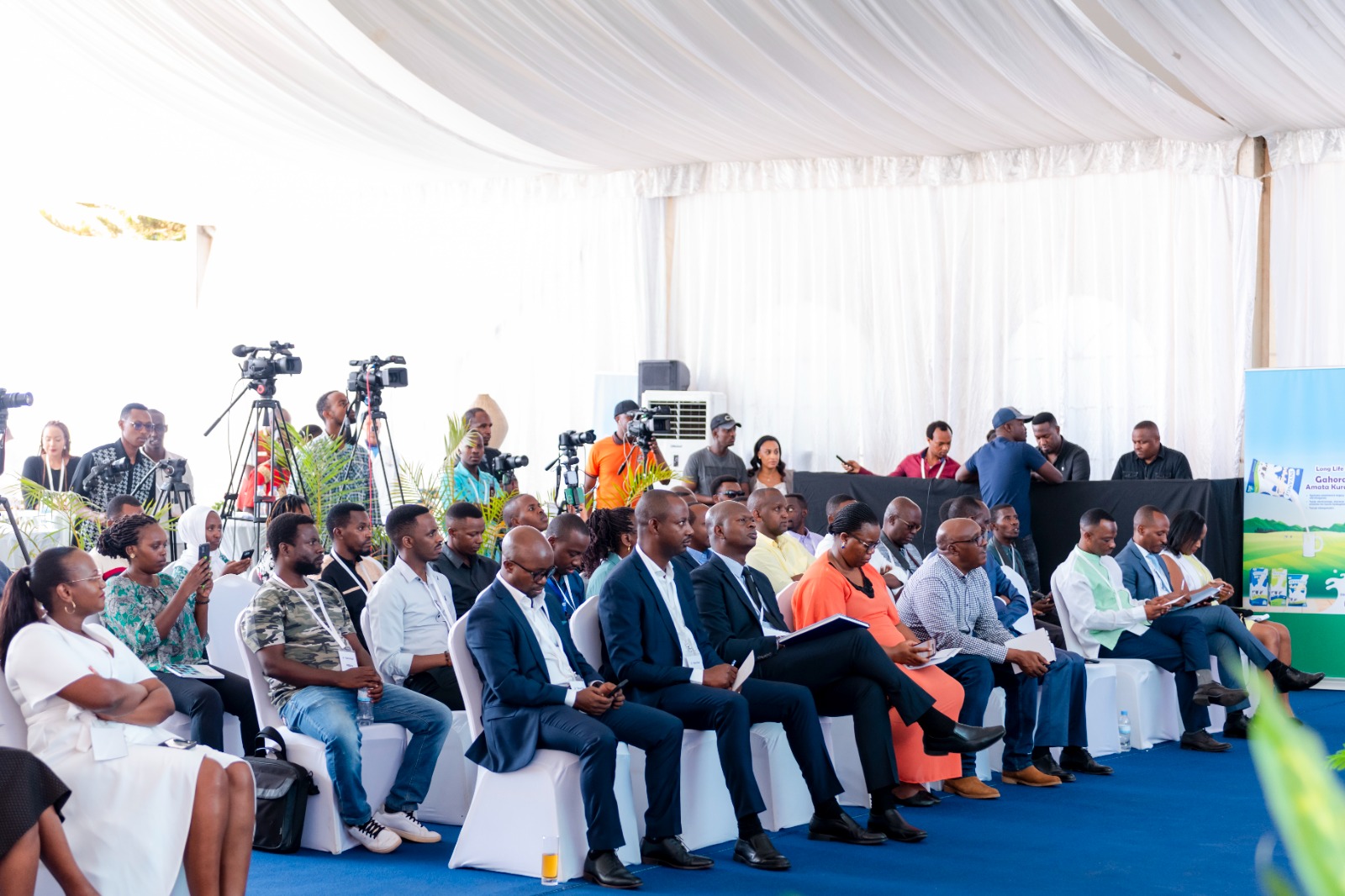 She showed that UHT milk production goes through a rigorous process which makes it safer than milk taken directly from the cow shed or sold in cans on bicycles.
For instance, UHT milk is sterilized through rapid heating at a temperature of at least 135°C, and quickly cooled down to ambient temperature, packed in Tetra Pak aseptic packaging that keeps it safe with no need to add preservatives.
The Tetra Pak aseptic packaging consists of 6 layers which act as a barrier against air and light ensuring no microorganisms enter or grow in the product.
Once the package is opened, the milk will be safe for consumption for three (3) days with refrigeration. If not opened the package can last 6-9 months on the shelves.
Maina said that at Inyange, the milk business contributes 60% of the company's annual turnover and the new product will boost its market presence and supply of milk to all.
"This is a cash cow when it comes to our business. Since we introduced the new product we have seen consumption. There is no need for refrigeration and our distributors have leveraged this technology to bring milk to our consumers across the country," Maina said.
Maina said that there has been a double-digit growth ever since the product was put on sale and having its long-life milk product is not a threat to their turnover, instead, it is good for the company as it creates more consumers for a long and sustainable period.
Inyange Industries Managing Director, James Biseruka showed that from 1997 when Inyange opened a shop there was no milk plant in Rwanda and they started with processing 500 litres, which has now grown to between 110,000-150,000 litres per day.
Biseruka said that this growth was because of the support from the government in terms of improving milk quality, collection centers, improving farmers' welfare but also because of adopting Tetra Pak technology.
"Few people knew about UHT milk because traditionally people couldn't believe milk can have a long milk shelf life, but with Tetra pack technology we are able to do this, to bring high-quality milk that lasts long to all Rwandans," Biseruka said.
Statistics from the Rwanda Ministry of Agriculture indicate that milk production has increased from 142,511 Metric Tons in 2005 to 999,976 in 2022 and the quality of dairy products is improving, the dairy sector is becoming more competitive, and there is increasing interest from foreign investors.
Tetra Pak's collaboration with dairy processors in Rwanda is expected to have a positive impact on the economy of Rwanda as the dairy sector remains an important contributor to Rwanda's economic growth as it is estimated to contribute about 37% in the Agricultural sector, which in turn contributes an overall 27% to Rwanda's GDP.
Tetra Pak Managing Director, Jonathan Kinisu said that they are committed to making milk safe and available everywhere for the health and wellness of Rwandans and the entire region, and distributing high-quality safe milk will contribute to the nutrition programs where they have so far distributed 30 million UHT Tetra Pak milk to school children.
Dr. Solange Uwituze, the Deputy Director General in charge of Animal Resources Development at Rwanda Agriculture Board (RAB) officially launched the campaign saying that the UHT milk could be the silver bullet to Rwanda's ambition to meet its nutrition targets.
"With 33% stunting levels against the NST1 target of 19%. We think this UHT milk is our silver bullet to do the magic for us to achieve the goal in the remaining few months to 2024," Uwituze said.
She said that because the UHT milk has no bacteria or aflatoxin dangers, its distribution will counteract the problem of having only 17% of the milk classified as safe and meeting standards.