The Prime Minister of Rwanda, Édouard Ngirente has received a delegation from the USA and China, who expressed interest in promoting Artificial Intelligence(AI) in Education and ways of strengthening bilateral cooperation on internet governance and cyber security respectively.
The US delegation from the Southern New Hampshire University (SNHU) was led by Dr. Paul J. LeBlanc, the SNHU President and Zhuang Rongwen, the Minister of Cyberspace Administration of China, who paid a courtesy call to the Premier this October 30, 2023.
The Southern New Hampshire University is a nonprofit, regionally accredited university with an 80-year history of providing high-quality education to students online and on campus.
The university is home to over 3,000 students and also offers affordable, accessible degree programs to over 90,000 students online.
The university has operations in Rwanda since 2013 offering US-based education to students at Kepler university (in Kigali and Kiziba refugee camp)- an education program that improves youth skills development, learning and employment opportunities.
Dr. Paul J. LeBlanc said that he held discussion with the Premier on the Progress made in the partnership with Kepler university but also the graduation class of 2023- which LeBlanc attended in-person in Kigali this Monday and witnessed 163 students put on the labor market).
"It was an amazing experience and lots of students were graduating. Ninety percent (90%) of them have jobs at graduation, which is extraordinary. So they are very proud of that partnership where we've been doing it for almost two years here in Rwanda," LeBlanc said.
LeBlancc also had discussions with the PM on the plan to launch AI in education, which the university intends to do globally but starting with a pilot program in Rwanda to test how this will change the education system in Rwanda and globally.
"We are launching a new thing around AI and the Prime Minister was very interested in how it will work, change learning, teaching and said we are entering into a whole new world there we are exploring new possibilities here in Rwanda,"
The SNHU AI program in Rwanda is expected to be piloted starting April next year.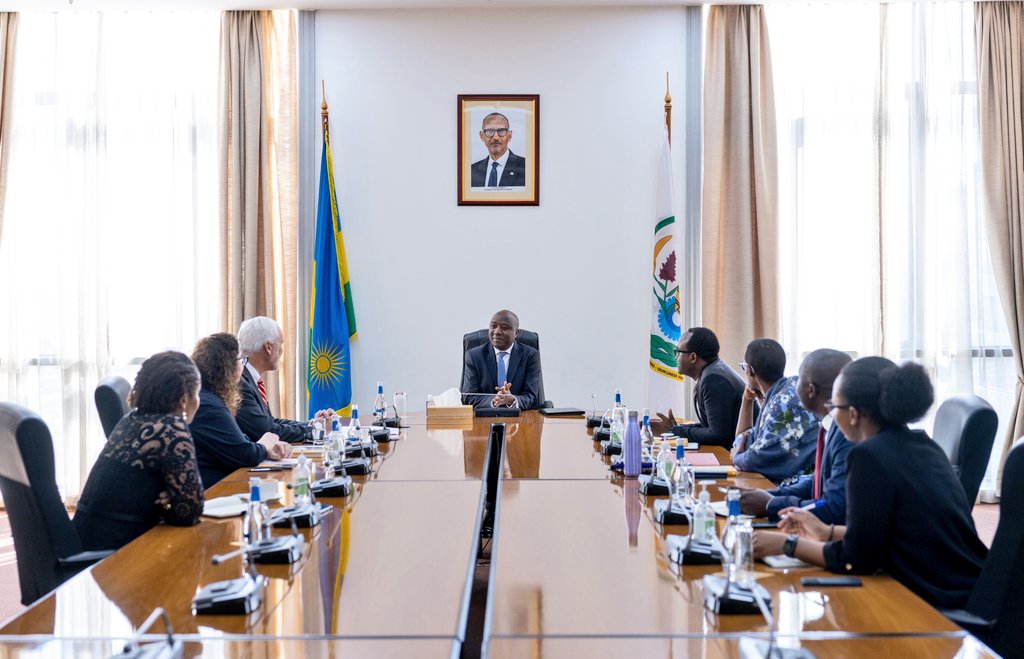 Following the success story of the university programs where at least 90% of the graduates are employed upon graduation and most of the Kepler students retained by employees upon completion of their internships, LeBlanc said that they plan to support the Rwanda program and also expand to Turkey.
The Minister of Education, Gaspard Twagirayezu said that venturing into AI will boost Rwanda's technology in education especially in using data to understand the student's education needs, performance and services.
"The baseline AI program activities have already started with collection of data that will be used, but we asked that this starts as soon as possible; however they suggested that we commence in April (next year)." Twagirayezu said.
The minister said that Rwanda has built a good foundation for adapting AI in education and this is visible in increasing access to broadband networks (to connect all schools by 2024), increasing access to infrastructure (IT equipment) and capacity building for teachers.
"We have not reached our goals but what we have is in a good direction towards adopting AI in our education," he said.
The Premier also held discussions with a Chinese delegation which expressed interest in collaboration with Rwanda on building bilateral cooperation on internet governance and cyber security and introducing 5G internet in the country.
Rwanda and China have since November 1971 enjoyed a long bilateral relationship and in terms of internet governance and cyberspace, the latter has been supporting (capacity building and training) Rwanda National Cybersecurity Agency (NCSA) on top of other investments in telecommunications (ZTE and Huawei), Television assembly plants among others.
The Minister of ICT & Innovation, Paula Ingabire said that the two days which the Chinese entourage has spent in the country, they have discussed ways of going beyond capacity building at NCSA.
"Our discussions have focused on going beyond training and capacity building. We are now looking at research in cybersecurity, 5G especially that many countries are on the move to adapt to 5G internet," Ingabire said.
Ingabire stated that 5G internet is highly needed in Rwanda especially in boosting the health sector, which is currently going digital in services and healthcare.
On cyberspace, Ingabire stated that Rwanda will be in a better position to seek support from China to ensure security of its cyberspace and this will be followed by signing agreements.
She said that so far technical teams on both sides are working on the paperwork ahead of the Global Internet Governance forum due in China next month- of which Rwanda will participate and possibly sign the agreement.