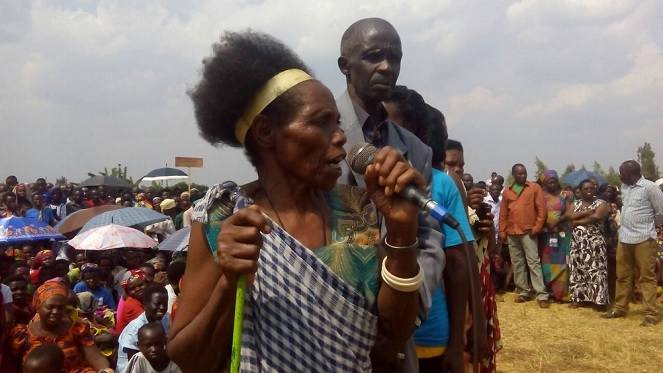 Pressure is mounting on parliamentarians as Rwandans from all parts of the country demand for an immediate decision on their petition to amend the constitution and scrap off presidential term limits.
"We want article 101 amended, and please don't leave this place before you tell us whether it is possible or not so that we find other means," one Eric Necromancer, from Huye district demand, attracting wild applause.
Emmanuel Musabyimana, an Irish Potato grower in Kinigi, Musanze district, says it is the people who voted the article in the constitution and they have the right to amend it.
"We locked ourselves with article, now we wish to unlock it," he said.
MPs and Senators have spent a full week in the countryside consulting Rwandans on the 3.7 million potions after both chambers endorsed the amendment.
But it has turned out to be a challenging task for the parliamentarians. The experience on ground is overwhelming and exasperating than anticipated.
In the first days, citizens were excited, eager and enthusiastic about the debates and consultations. The the news about what happened at the venue would spread like wild fire in the nearby sectors.
Wherever MPs went to another nearby sector, the number of residents declined. Most of them say MPs have heard enough of the views and its time to go back and amend the constitution.
"There nothing new to discuss," one resident said.
Points made clear 
Unless MPs are looking for something else, otherwise citizens across the country have given a long list of similar reasons they need term limits lifted.
And the demand to amend the constitution is specifically meant to create the possibility for President Paul Kagame to run for the third time once his second and last legal term ends in 2017.
They say Kagame has given them, security, ensured peace, built roads, schools, hospitals, provided health insurance and offered unbelievable subsidies to fertilizers and hybrid seeds to farmers.
Women, who seem to be more wild and aggressive in demanding for the amendment, say Kagame empowered them in all aspects and gave them freedom and ensured their rights are safeguarded.
"Who can lose such a chance of a leader who cares much about the poor? Kagame gave me land that is producing millions of money to feed my family today," a genocide widow from Gatsibo said.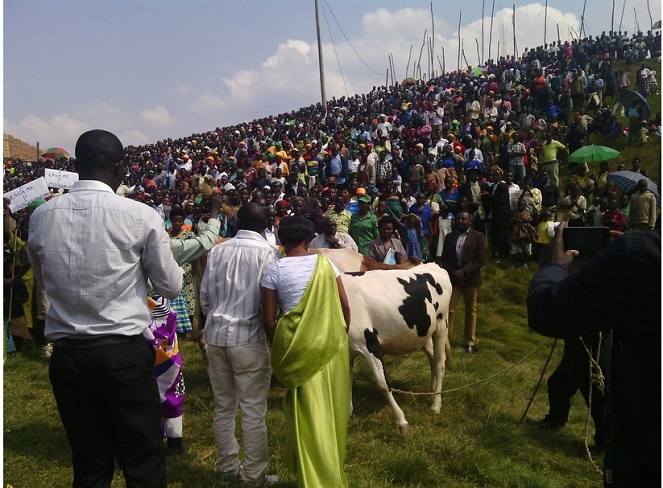 Some residents come with cows at the venue to demonstrate how Kagame has made them wealthy
Consultations have now turned into parties. Residents play loud music and dance uncontrollably before debates begin. There is even humor. "Kagame taught me how to treat my hair," old woman from Nyabihu said, causing laughter.
But others had painful and moving testimonies of how they will do whatever it takes to retain President Kagame.
"You see…we were hopeless, desperate and hungry here, but now the government feeds us. We thank the president, he is a statesman, he should stay forever." old man from Burera said, arousing emotions.
The main concern for the majority people now, however, is not about amending the constitution, but Kagame. "He has transformed this country than anyone else, we want him to lead us and retire when he can't read or write anymore," another resident told MPs last week.
As MPs continue the consultations, with over 350,000 Rwandans reached so far and the exercise expected to continue until August 11, the debate is starting to feel irrelevant and too obvious.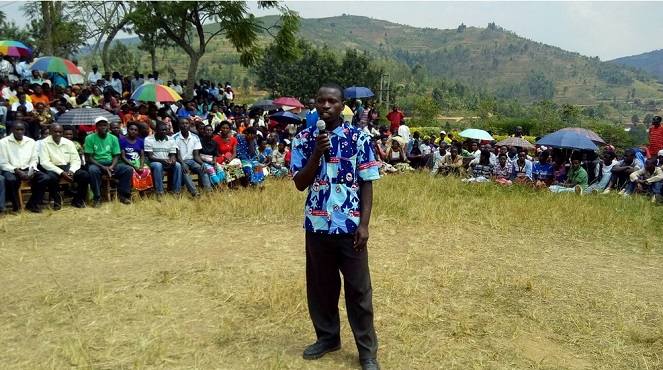 Before residents give their views, they first dance so much until the green grass almost turns into dust