Incumbent president Paul Kagame has completed traversing southern Rwanda for his re-election campaign. But as KT Press reports, the usual suspect districts are proving they won't disappoint.
On Friday alone, Kagame on Friday mobilized more than 300,000 supporters in two key places – Rulindo district (north) and Nyamirambo in Nyarugenge district, according to his party estimates.
The numbers are not the only change-maker here. Kagame spent more time and exerted more energy. He repeated "ndishyimye cyane" (am very happy) several times during his address at the Rulindo district rally. Using a tone not used before, Kagame shouted "Oyee" several times accompanied by words like RPF, development, political parties and security.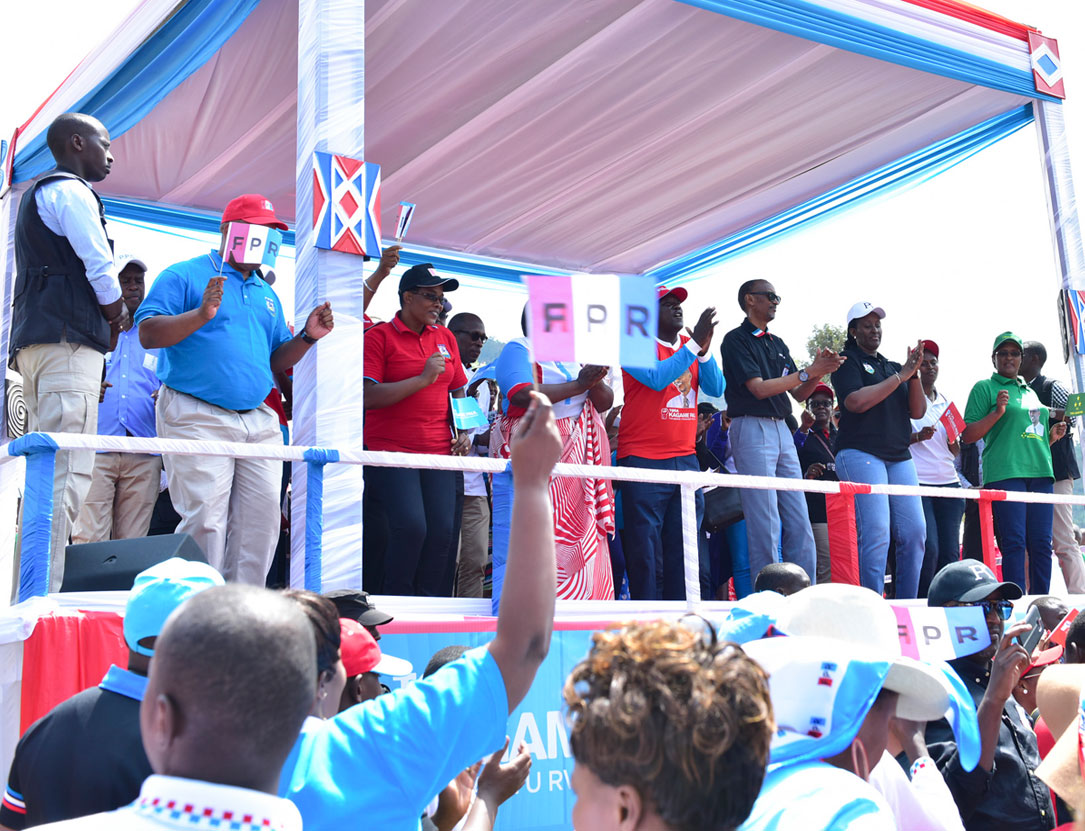 Rulindo was parked. At many of the previous rallies, all supporters have usually settled at their spots hours before Kagame arrived. In Rulindo, that faced years of insurgency by genocide militias, supporters were still trekking in an hour before Kagame arrived.
Kagame arrived towards noon, accompanied with First Lady Mrs. Jeannette Kagame and before taking the floor, was introduced by Dr Vincent Biruta, Minister of Natural Resources and president of Social Democratic Party(PSD) which had a flag-bearer during the 2010 elections.
Eight political parties, including PSD supported RPF, and, starting from July 19, they are given space during campaigns to say what they believe about the candidate.
Kagame recalled one thing about Rulindo; it was a center of many wars. He picked one immediate memory; the battle that the army he led fought with genocide militias that conducted attacks until 1998. "Rulindo district is known as a center of many battles that were won there," Kagame told a cheering crowd of supporters.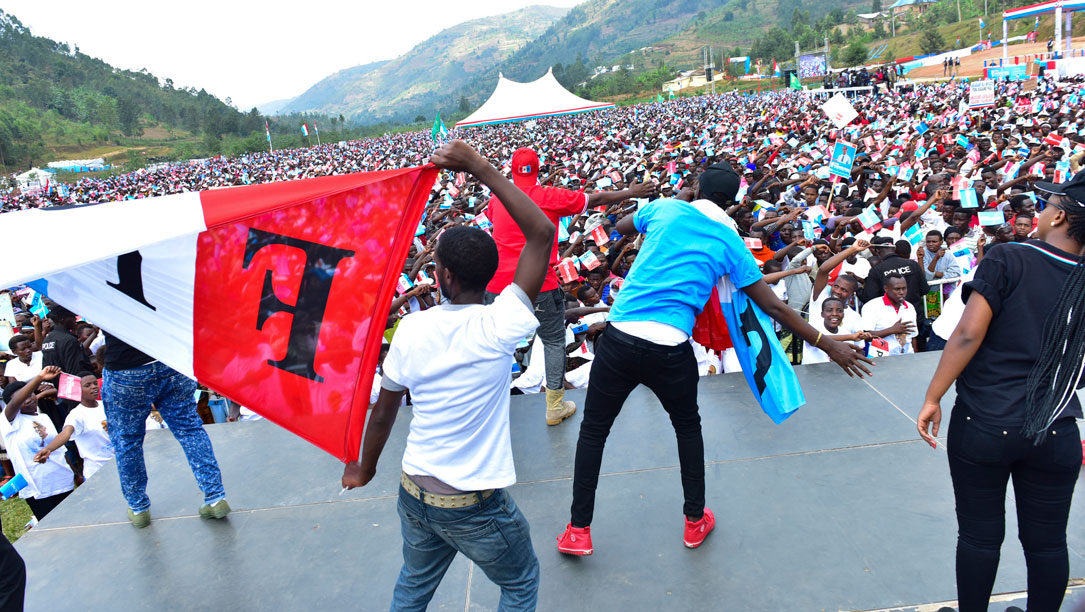 He said he has seen so much transformation in Rulindo district, and he still has trust in them.
"I have 100% trust and confidence in you."
This trust to walk hand in hand towards development was confirmed by Venuste Mugiraneza – Ex-member of the Democratic Forces for the Liberation of Rwanda (FDLR).
Mugiraneza was repatriated by Rwanda Defence Force from Congo Kinshasa where he was left with nothing. But today, he testified a long journey he went through to owning a big coffee factory in Rulindo district.
With Rwf70, 000 he worked hard and started a coffee factory that is worth Rwf800 million today, with an annual revenue of around Rwf100 million.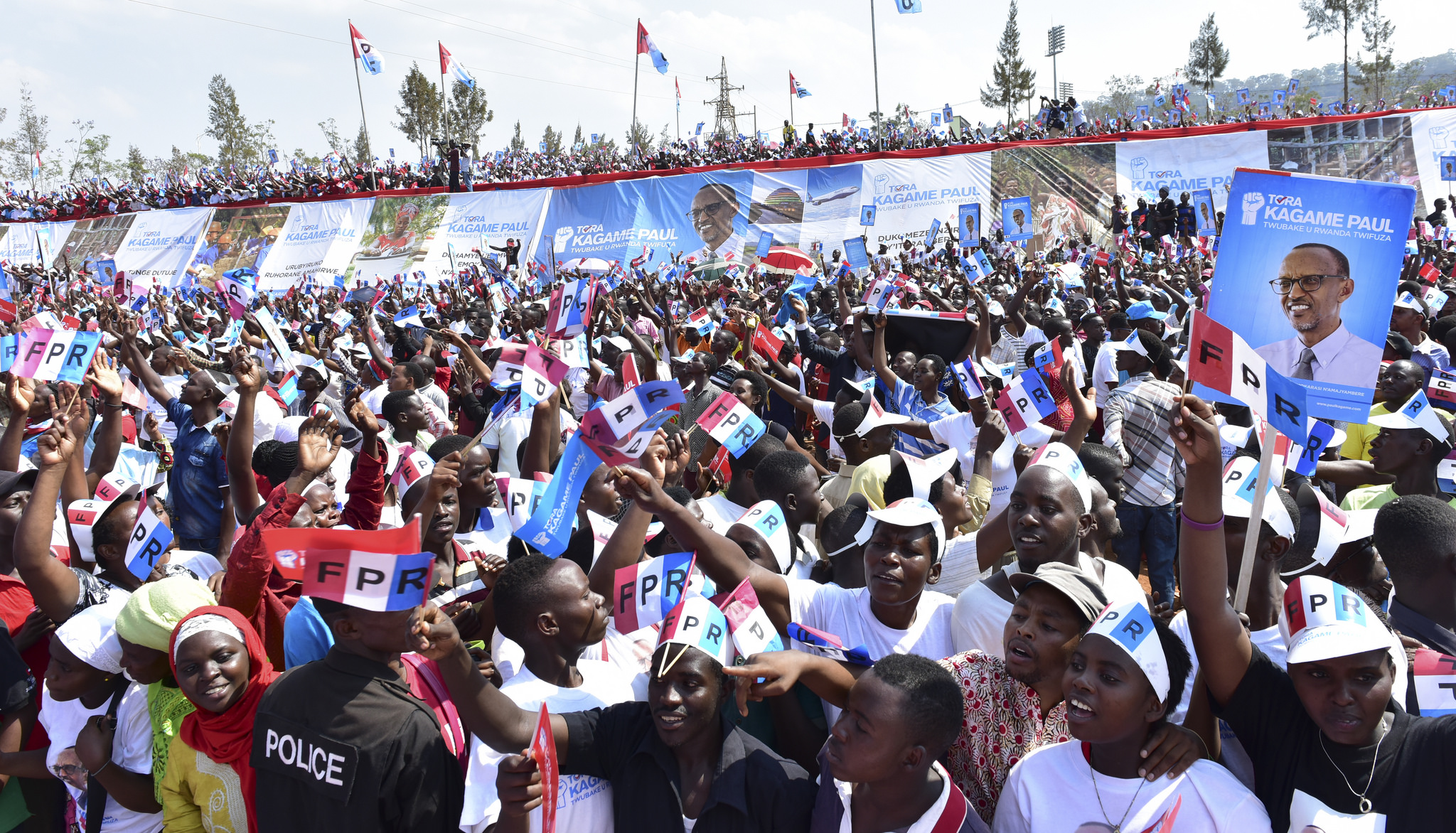 In Nyamirambo, a part of Kigali inhabited by muslims, Kagame used a specially designed transport van that carried him around the huge crowd. Here, Kagame also addressed issue of religious intolerance.
Before Kagame spoke, senior cleric and former minister Sheikh Musa Fazil Harerimana narrated the traumatic experience of Muslims since 1913 when Rwanda was under Germany. The colonial administration set up military camps around all areas settled by muslims to keep control, said Harerimana.
"Muslims required special ID to leave their areas. Such is the life our parents had to live through for decades up to our generation until RPF came," said Harerimana. The Germans considered Muslims very dangerous.
For Kagame, "RPF politics is not about dividing and destroying. It is about transformation and rebuilding."
Nyamirambo is an area of the capital that never sleeps. The part of the city has some of the most passionate Kagame supporters. He has turned its neighborhoods into livable areas, with 24h electricity and well paved roads.
Nyamirambo was until recently considered terribly insecure, as gangs roamed day and night: All that have changed.
Sheikh Harelimana, former Minister of Internal Affairs and chairperson of Partie Démocrate Integrée – PDI –spoke in Swahili repeatedly referring to Kagame as 'Baba wa Taifa' (father of nation).
He said Kagame eliminated all sorts of segregation; in schools, workplace, and "you are the one who transformed Rwanda into a nation. Before you, it was not a nation."
"We are a nation that respects rights of everyone irrespective of their religion or if they choose not to have a religion," Kagame said later in his address, that was disrupted over and over by the chanting audience.
"This country belongs to every citizen equally."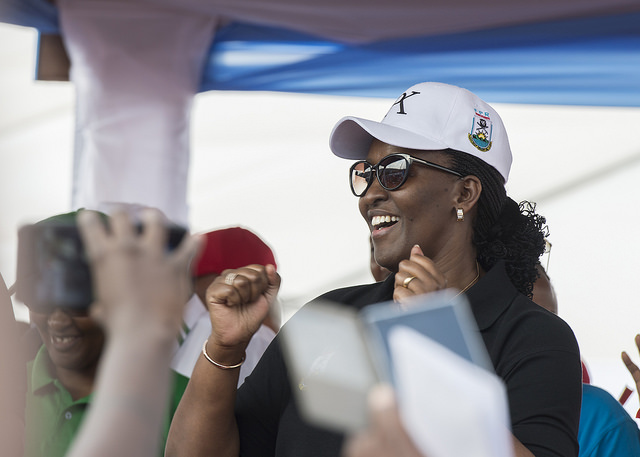 Kagame said Rwanda is exercising Democracy without copying from any other country.
"We cannot shape who we are in the image of others and based on standards that are changed to suit the initiators," Kagame said.
"Let us remain who we are, be proud of who we are and be the best version of ourselves."
Going back to 2010 campaigns when northern Rwanda and Kigali left a mark, these regions seem determined to keep their record. We can only wait for the remaining parts of the north such as Gicumbi and Musanze to prove otherwise.