President Paul Kagame and The First Lady joined dozens of Kigali residents in a fitness walk today during the Car Free Day.
Dressed in a black jumper, green baseball cap, Kagame walked alongside residents in Kigali city to work out as part of the monthly Car Free Day.
On the other side participants led by Minister of Health Dr. Diane Gashumba, jogged alongside the First Lady in the car free zone of the city designated only to pedestrians and social events.
Later on the president alongside other city residents arrived at Rwanda Revenue Authority compound for screening supervised by Rwanda Biomedical Center (RBC) as part of a fight against Non-Communicable Diseases (NCDs).
Kagame sat comfortably and smiled as a volunteer wound a gadget around his left arm to measure his blood pressure in a health screening exercise always part of the event.
Members of the Rwanda Pharmaceutical Students' Association conducted the screening exercise. Prior to this day, they had undergone a 3-day intensive preparation workshop
"We had prepared for today's Kigali car free day, nothing could hinder our performance," the association said in a statement.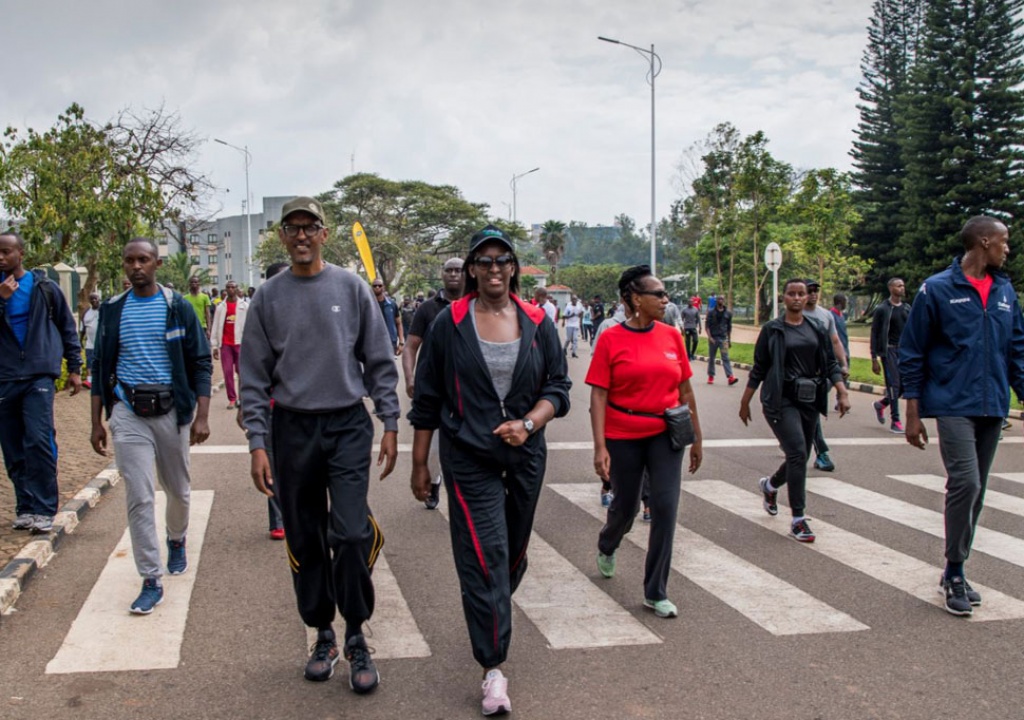 The Car Free Days are scheduled in the first week of every month dedicated to pedestrians, sports and cyclists to engage in physical fitness exercises in designated routes in the heart of Kigali city.
"We should also increase the awareness of regular sports not only in Kigali car free day," said Christian Mugabo one of the city dwellers.
The monthly Car Free Day was introduced on May 27th 2017, by the city of Kigali and Rwanda Biomedical Center (RBC) as part of a fight against Non-Communicable Diseases (NCDs) among city dwellers.
Car Free Day has its origins connected to Kagame when he first walked through KN4 Avenue street along the Bank of Kigali headquarters in 2016 and made a suggestion of having a similar walk for city dwellers.
According to World Health Organisation (WHO), NCDs kill 38 million people globally each year. Almost three quarters of NCD deaths – that is 28 million – occur in low- and middle-income countries.
The numbers respiratory diseases (among non communicable diseases) remain among the leading sicknesses registered in most hospitals.