President Félix Antoine Tshisekedi of Democratic Republic of Congo (DRC), on Friday hosted Rwanda's President Paul Kagame and Angola President João Lourenço to a tripartite meeting that focused on restoring regional security and enhancing economic cooperation.
The meeting took place in DRC capital Kinshasa.
The Great Lakes Region continues to face serious issues of rebels causing insecurity – mainly coming from their hideouts in the thick forests of DRC.
These rebels include, among others, the Democratic Forces for the Liberation of Rwanda (FDLR) – a terrorist group destabilising the Great Lakes Region for over 20 years now.
FDLR comprises of remnants of the genocidal forces that killed over one million Tutsi during the 1994 Genocide against the Tutsi in Rwanda, before fleeing to DRC.
Through collaboration with FARDC, the army of Democratic Republic of Congo, some FDLR commanders have been arrested and sent to Rwanda to face justice.
The latest was the force's Spokesperson – Le Forge Fils Bazeye, who was arrested in December last year.
Pictures of three leaders holding each other's hand were released by President Kagame's office – signaling renewed collaboration to deal with regional insecurity and restore peace and cooperation.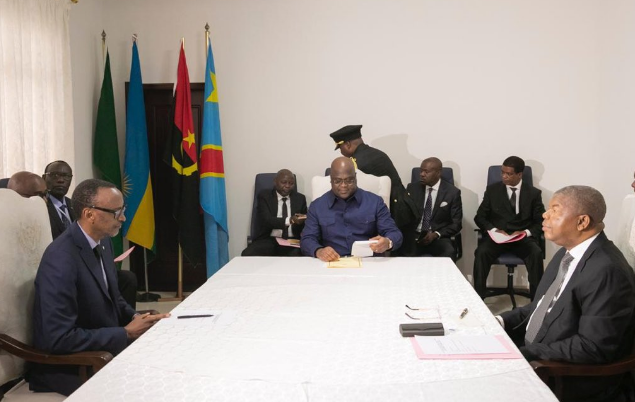 Their meeting comes at a time when relations between Rwanda and its two neighbors; Uganda and Burundi have gone sour.
Rwanda accuses both Uganda and Burundi of harboring self-exiled Rwandans, seeking to destabalise the country.
Callixte Nsabimana – the leader of a terror group 'FLN' that claimed responsibility of recent attacks in the Rwandan South and Western Province, pleaded to court last week that he was aided by top security officers in the Burundi and Ugandan army to organize attacks on Rwanda.