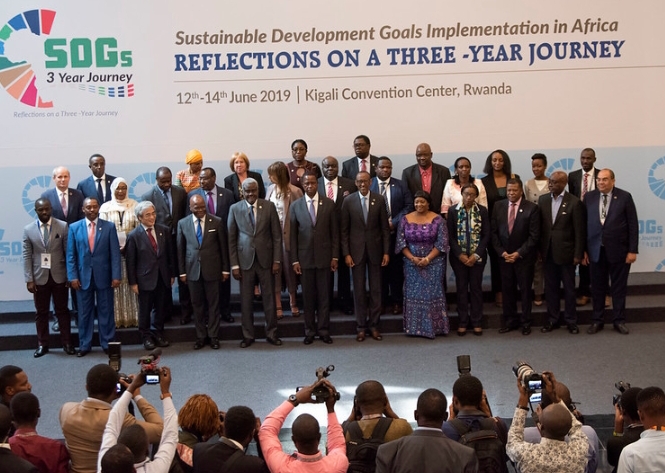 "As an African, this report makes for sober reading…" The opening sentence in President Paul Kagame's address to the Sustainable Development Goals (SDG) conference, just concluded in Rwanda's capital  Kigali.
The conference was organised by the Centre for Sustainable Development Goals in Africa, which is also based in Rwanda's capital, Kigali.
The three day event was to launch a report on progress of the SDGs, after three years.
Titled SDGs Implementation in Africa, Reflections on a three year journey, the two hundred page report is indeed sobering for Africa.
"On almost every goal" continued the President in his familiar, deliberate, measured tone, "our continent is not on track to achieve the 2030 targets.
"Even the best amongst us are lagging behind the rest of the world," he added.
"This would not be necessarily discouraging, if the rate of change was high, we all know where Africa is coming from, and how much catching up we have to do. However, on too many indicators, the pace is stagnant or even declining. The facts cannot be avoided and merit our full attention".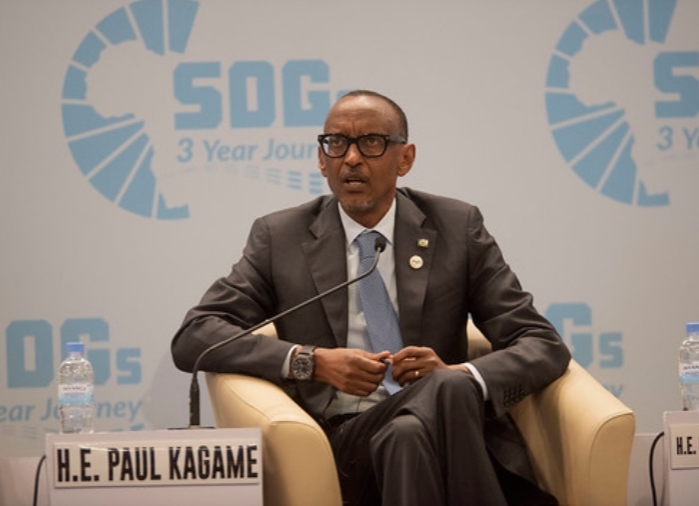 The report, dubbed "a three year reality check", takes a comprehensive in depth look at where Africa stands in delivering the needs of its people, and the picture it draws is worrying. As the report itself coyly observes, three years after the adoption of the SDGs, there remains "much unfinished business".
The SDGs are seventeen global targets to which the 193 members of the United Nations signed up.
For President Kagame, measuring Africa's performance globally, is an advantage. "In my view, it is preferable for Africa to aim high, even it takes longer to get there than aim low, and congratulate ourselves for doing the minimum".
He sees self confidence as one of the keys to success, "so long as we in Africa understand that it is within our power to achieve these goals, we are going to be fine".
"But" he added, "it is not going to happen by accident. We have to do the right things, and find the money to pay for it, including investing in national statistics agencies."
The SDGs range from poverty eradication, assuring food security, health and wellbeing, clean water and sanitation, gender equality, fighting climate change, good quality education and reduction of inequality.
The three year evaluation report shows that Africa is behind all other regions of the world, on almost all of the goals. The report puts forward reasons for this failure, many of them financial.
To get to where Africa needs to be, meeting these targets, it is estimated the continent needs to raise upwards of $2 trillion plus annually.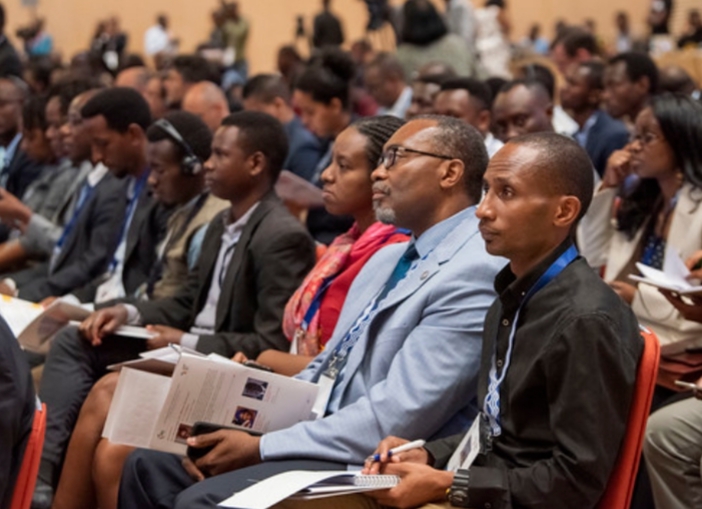 The report proposes setting up an SDG fund for Africa, to be managed by the SDG Centre for Africa, with contributions from Africa itself, as well as Overseas Development Assistance, or ODA.
If the idea of an Africa fund was one the SDG Centre for Africa hoped would get universal acceptance, they were not disappointed.
Not a single dissenting voice during the entire three day conference, was raised against the idea. And neither did President Kagame as he launched the report.
"The idea to establish a dedicated fund for Africa for education, water and health, has a lot of merit…"
But, he suggested that it be should seen as an opportunity to change the way things have been done up until now.
"This is an opportunity to work with Africa's partners in new and better ways, and deliver human scale projects, that directly touch the lives of farmers, families, and school children".
"We are already a quarter of the way to 2030" he added,
"Africa can definitely make up for lost time, but, we need a much faster pace".
And the man who is leading reforms for the African Union to better rely on its own resources, had this to say of the financing gap for meeting of the SDGs in Africa,
"whose problem is this? Development Assistance is not growing, and it is reasonable to expect the trend to continue, foreign investment is flat.
Speeding up progress towards the SDGs is first and foremost our problem and responsibility as Africans. The political leadership has to be heard most strongly from African voices. And yes, we also have to pay as much of the cost as we can with our own resources, which by the way, are not inconsiderable. We lack for nothing in Africa, except a sense of urgency".
Chairman of the African Union Commission Moussa Faki Mahamat also called for change. "The SDG baby is now three years old. It is walking, but, it is babbling, its language is not yet clear. The question is, are conditions in place for the child to grow?"
He urged for African integration, as one of the necessary changes to meet the continent's many challenges. "Without integration" he said, "there will not be progress".
Referring to the Africa Union reforms, led by President Kagame, he said Africa had made some good progress, but, much remained to be done.
As he often does, President Kagame delivered hard unvarnished truths, but, managed to find an uplifting vein within it all. He saw no need for despair, instead, he said, "we should look at the opportunities this brings."
"In a way, Africa is on two tracks, on the one hand, it has serious challenges, on other, it is endowed with not only resources, but, opportunities…"
"In some ways, Africa has been spoilt" he continued, to applause from the audience, "we have been spoilt because whenever there is a problem, we cry, and someone comes along and says, no, no, no, I can deal with your problem. It often happens" he said, with a chuckle.
Africa, he suggested, while working with its partners, would grow by standing on its own feet.