Rwanda's President Paul Kagame has rejoiced "significant improvement" to the health of Gabon President Ali Bongo Ondimba who has been sick for months.
The President, who visited the Western African country, met and held talks with President Ondimba at Palais de la Renovation.
On Saturday, June 8, President Ondimba made the first televised speech more than two months after his return to the country.
President Ondimba had spent five months in Morocco, where he was recovering from a stroke, according to media reports.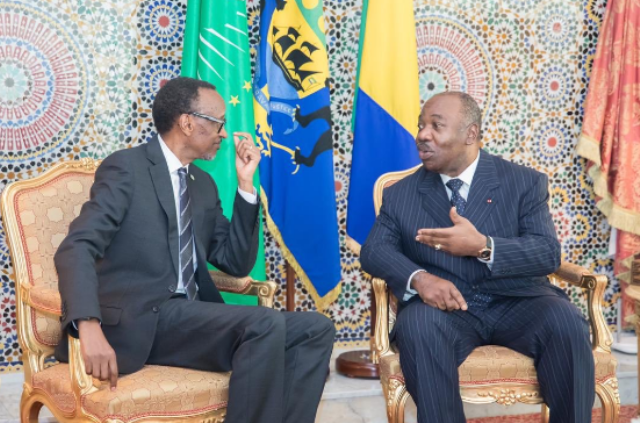 Addressing the press, President Kagame said it was an opportunity "to visit with my colleague who has not been feeling well."
"I am glad that there is significant improvement to his health that has led to the resumption of his responsibilities," Kagame added.
According to President Kagame, "In the African way, we visit friends when it is good times and when it is not so good times."
Kagame praised Gabon and its leader for playing a central role to promote African interests.
"Gabon has been central to African interests, vision and the strategy to achieve that vision. President Bongo has been very active working with other leaders on our continent to make sure we raise our level of development," he said.
AfCFTA's milestone
The President, who hosted and witnessed the historic signing of the Africa Continental Free Trade Area (AfCFTA) in March last year, said the process has since reached an impressive stage.
"We have seen significant progress since inception, we have reached the number of countries required to ratify for the agreement to take effect," Kagame said.
On May 29, AfCFTA officially came into force – following Burkina Faso's ratification of the agreement which brought the number of those who have ratified to 24 states.
Article 23 of the AfCFTA Agreement, stipulated that the free trade area comes into force, thirty days, after twenty-two states have signed the ratification.
Addressing the press, President Kagame said that even those countries that have not signed the agreement will eventually join the league.
"Even the others who have not ratified, it's not because they are not interested or don't see the necessity. It is just because they have difficulties, whether legal or technical, they need to overcome before they participate."
The agreement, which will be officially launched next month, seeks to create Africa's single market of 1.2 billion people.
The President called on African leaders to work together and cooperate in order to deal with conflicts.
For Kagame, "There is no other way to deal with these problems until we work together."