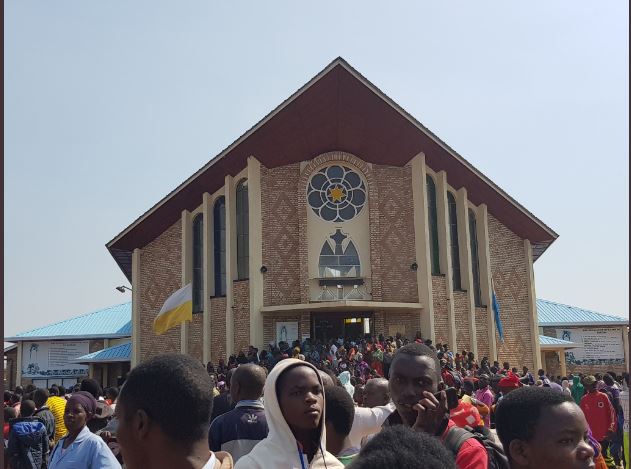 It is Assumption day when all Roman Catholics celebrate a day where they believe that Mary, mother of Jesus Christ, was taken bodily up into heaven.
The day is celebrated on 15 August each year and is a Holy Day of Obligation for Catholics in France and worldwide.
Kibeho, a town of Nyaruguru district – Southern province is particularly the biggest venue of the day. Over 50,000 pilgrims will flock to Kibeho for the holy mass and other proceedings that confirm their allegiance to Mary.
It is not by accident that such a big number gathers in Kibeho. In early 1980s, it is believed that Mary Mother of Jesus appeared to three school girls at Kibeho secondary school in their dormitory.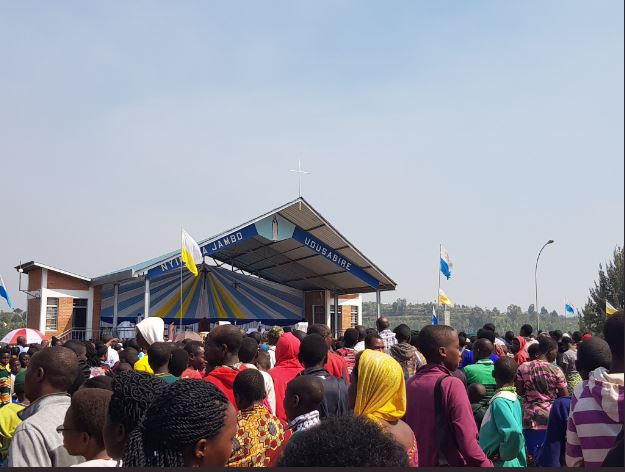 Nathalie Mukamazimpaka, one of the three is the only available to tell apparition stories. She has a permanent home at Kibeho holy land. She never got married though she is not part of a known family of nuns.
The apparitions were confirmed by Pope John Paul II in 2001, thus declaring Kibeho a Holy Land, and opening it for pelgrims like it is the case of Lourdes in France and Fatima in Portugal.
Ever since, the nomination Our Lady of Kibeho joined the long list of names/qualifications attributed to Mary, Mother of Jesus.
Kibeho apparitions anniversary is celebrated on November 28.
Huge Numbers, Hospitality facilities wanting
With 50,000 pilgrims, most of whom come two, three days ahead of the event, Kibeho Assumption gathering and apparitions anniversary are the two biggest annual gathering of the country.
Still on other normal days, pilgrims also come in thousands.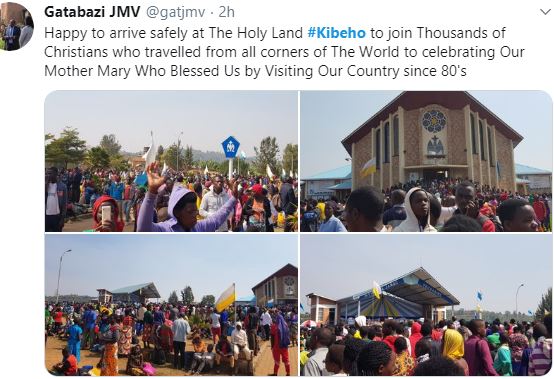 Overseas, the pilgrims come from Portugal, France, Belgium, Italy and other literally catholic countries, while thousands others come aboard buses from East African region – Burundi, Uganda, Tanzania, Democratic Republic of Congo and Uganda, a country already used with pilgrimage at Namugongo, the Martyrs' square.
Logistically, it requires a lot of preparations to host such a gathering.
According to Nyaruguru District mayor Habitegeko Francois, "the numbers are so huge to an extent that we are overpowered when it comes to catering them, making sure that everyone enjoys their stay optimally."
"The private sector, the church and us the district play different responsibilities," Habitegeko said.
For example, he said, we reinforce security so that every visitor feels safe during their stay. We also make sure that there is plenty of water and electricity at the site.
A source told KT Press, that in the last two days, the district warned Kibeho neighbors to store plenty of water since there will be water rationing on Assumption day, Kibeho site being a priority.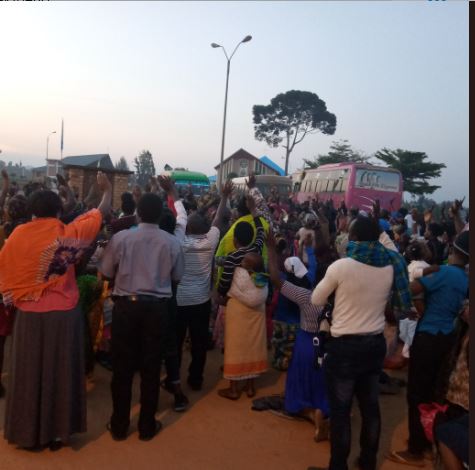 Moreover, the district installs a health post at the site. Already, on Thursday morning, four cases were registered, including a headache and a minor injury.
"We have first aid service, enough medicines for the crowd and medical practitioners who handle cases as they come," Habitegeko said.
Apparently, when it comes to the role of the private sector, it becomes very complicated.
Kibeho's hospitality industry does not match the numbers.
According to Habitegeko, the hotels in Kibeho have a mere 135 rooms which are fully booked through the year.
"You don't book a room in Kibeho within two, three months. You can't find any room," mayor Habitegeko said.
"Normally, pilgrims who come for this Assumption, they book rooms for the Apparition anniversary in November. In other words, after Assumption, rooms will be fully booked for the remaining months of the year."
However, the pilgrims are never left hopeless. The church installs a huge tent at the ground for them to sleep if needed be.
Among pilgrims, said Habitegeko, some prefer to stay in church to pray since it is the main mission.
Habitegeko encourages the private sector to consider coming and tap into this endless hospitality opportunity that offers Kibeho.
A source told KT Press, that Kibeho needs high end, middle and low cost hotels.
Meanwhile, in a few months, government will have done all it takes to prepare ground for investments to grow in Kibeho.
For example, construction of a tarmac road Huye – Kibeho which will be finished in the next 30 months is half way.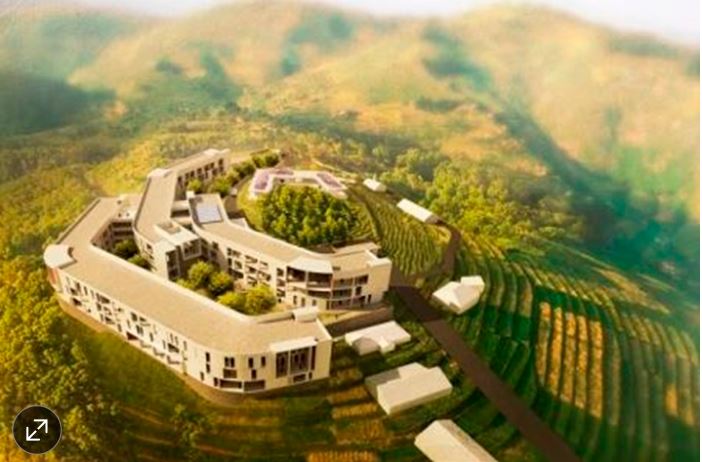 Moreover, state of the art Munini district hospital is at 70% of completion according to Habitegeko.
Spiritually however, investors increasingly know what it means to do business on a "Holy Land".
They are currently making good use of the 'Kibeho Holy Water', a fountain from Kibeho hill whose water, all pilgrims want to carry home.
Investors introduced a five liter container, with a sticker which include the picture of Our Lady of Kibeho.
"It is challenging to find this water on assumption, They sell like hot cakes," said a pilgrim.
A part from materials used by Christians in prayer and worship, you also find pens, clothes among other materials that pilgrims proudly pick with a belief, that Holy is everything from Kibeho.
Those who don'd have money will even pick some land, put it in small envelop which they keep jealously.
A part from Kibeho, other parts of the country held their mass in their respective churches.
"I never understand the mindset of Christians who do not celebrate this day. The meaning of our salvation started with Mary giving birth to Jesus," said Father Emmanuel Ndatimana, the priest of Nyagatare parish in Eastern Province.
Tuzabyina dushimire Imana tuzatamba cyane …….. nidusanga Mariya #Kibeho pic.twitter.com/8GF5QSSQXM

— Gatabazi Jean Marie Vianney (@gatjmv) August 15, 2019