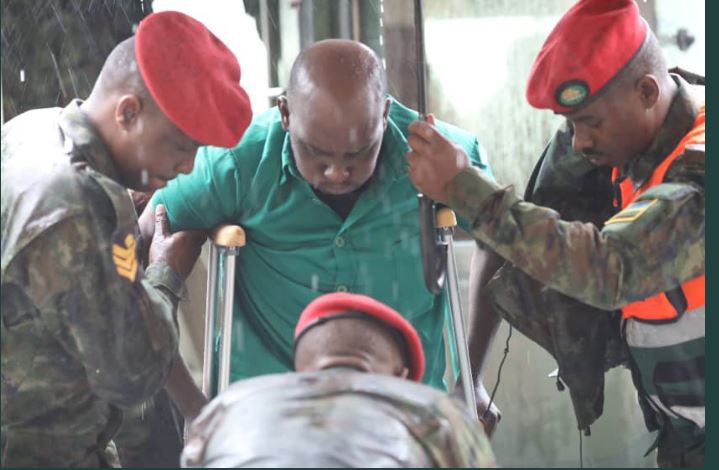 Lack of known addresses in Rwanda, being flight risks and facing charges of a serious nature are some of the reason the panel of judges led by Lt Col. Charles Asiimwe Madudu based on this Monday to deny bail to the 25 suspects linked to terror outfit Rwanda National Congress (RNC) and P5.
The Nyamirambo based Military tribunal ruled in favour of a 30-day provisional detention pending trial for the group of 25 who include Rwandans, Burundians, Ugandans and a Malawian who were arrested by DR Congo government forces in the Eastern party of the country where they trained and planned to launch attacks on Rwanda.
They are all charged with formation of an irregular armed group or joining it, conspiracy against the established Government or the President of the Republic, maintaining relations with a foreign government with intent to wage a war and formation of or joining a criminal group.
Judges ruled in favour of the Prosecution argument that there are strong reasons to believe that the individuals were involved in activities that were treasonous in nature, aimed at destabilising the country or harming its leadership or government, which makes the charges they face of a serious nature.
"The mere fact that the accused admitted to the charges and confirmed that they were members of an armed group that sought to destabilize the country is severe enough to not grant the accused bail on grounds that until their capture, they never voluntarily attempted to leave the group,"
"Apart from Maj (Rtd) Mudathiru, the rest argue that they had been promised many things by those who recruited them into the armed group but that is not reason enough because none of them attempted to dessert P5," the Judges said.
While all the others were not found to be liable of maintaining relations with a foreign government with intent to wage a war and formation of or joining a criminal group, Maj (Rtd) Mutathiru, who was discharged from Rwanda Defence Force (RDF) in 2013, will be particularly facing the charge when the trial reopens.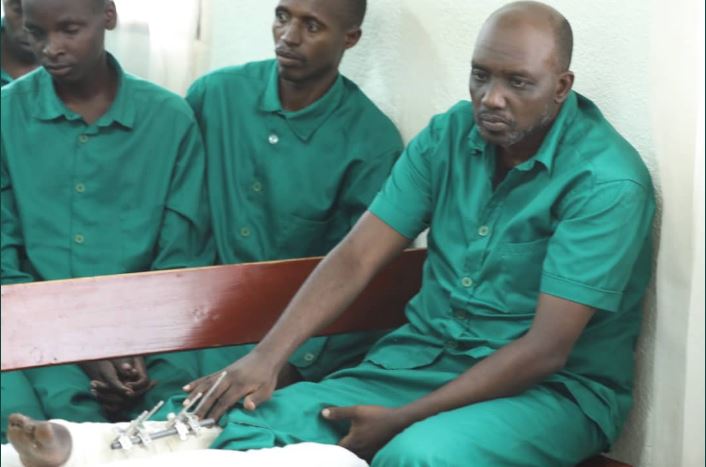 As it was heard in the pre-trial hearing, his errands in Uganda, Burundi and later DR Congo and his constant contact with RNC honchos as well as Ugandan and Burundian security agencies qualified the charge of conniving with neighbouring countries to destabilise another sovereign country.
"Court therefore finds that the accused must continue to be detained until the trial opens, on grounds that if they are released, they are likely to be a flight risk and escape the judicial process," the Judges said.
Court also said that during the pre-trial hearing, Maj (Rtd) Mudathiru confirmed relations with those countries but pleaded for a lenient decision from court, given his state of health and readiness to undergo rehabilitation.
Judges said that all the accused in one way or another were directly involved in P5 activities and therefore are liable to prosecution on their involvement, even after confessing so.
Judges dismissed that the argument that the recruits were given false promises by RNC and its facilitators in Burundi and Uganda, without their knowledge, citing their failure to act or abandon the groups to the extent of undergoing training, as a sign of their culpability.
Court found that none of them qualifies to be released on bail given the seriousness of the charges they're facing, which all carry sentences above two years.
Offences with sentences under two years under the law can automatically earn the accused bail while the decision to grant bail or not in cases that carry higher sentences depend on the discretion of the Judges.
Judges ruled that while the suspects pleaded guilty to all charges and said that they were lured into joining the armed group with promises, none of them attempted to leave RNC/P5 after figuring out that they were being recruited as fighters, until they were nabbed in an operation.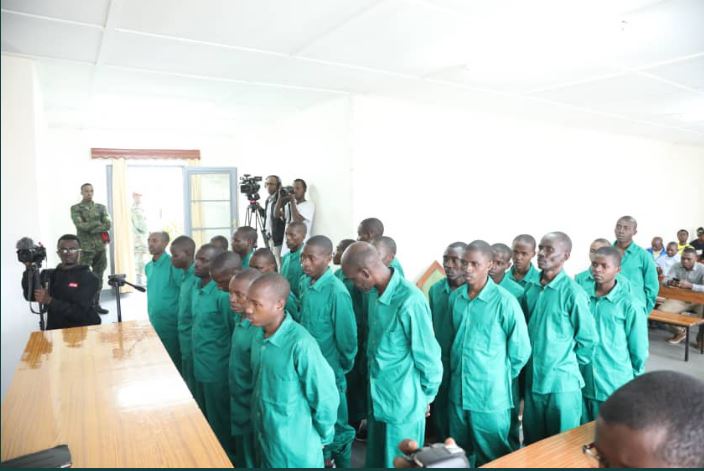 On his part, Maj (Rtd) Habib Mudathiru did not object to the verdict but instead thanked Rwanda's Ministry of Defense for the humane treatment they have been accorded in the military detention. He said since they were handed over, they have not been tortured nor have they been denied basic rights.
"I don't have any objection, much as nobody rejoices when sent to jail but again we don't condone impunity. We deserve it because we are guilty as we have said throughout the court appearances,"
"I won't dwell much on our actions but I just wanted to say that I am thankful to the government of Rwanda for the manner in which we have been treated and life in detention in general. We have been granted all our rights,"
"In other countries, if you have been identified as an enemy of the state, you do not expect to get any fair treatment but from where we are detained and the services we are able to access, I want to thank the leadership of the army and the President of the Republic for according us humane treatment regardless of our actions," the retired officer said.
Injured in the fighting between government forces and rebel groups operating in eastern DR Congo, Mudathiru who walks with the assistance of crutches arrived in the courtroom with the support of 3 military police officers who ensured that he is not rained on by the heavy morning downpour.
Mudathiru also mentioned that he is being accorded treatment for his damaged right leg. Prosecutors requested court to remand the 25 to allow investigations to continue and to ensure that they don't escape justice since they all don't have permanent addresses in Rwanda.
As the mastermind and coordinator of the recruitment, Mudathiru will face two extra charges than his peers, who were mainly young men promised 'heaven' upon toppling the government of Rwanda. They were captured as they made their way from South Kivu to North Kivu from where they planned to launch attacks on Rwanda.
Burundians suspects in the case have requested for asylum, claiming that they would be targeted if they returned to Burundi. Prosecutors maintain that they all have to be detained to facilitate further investigations.
They were all members of the P5 coalition, an alliance of Rwandan "opposition political organisations", including the Amahoro People's Congress (AMAHORO-PC), the Forces démocratiques unifées-Inkingi (FDU INKINGI), the People's Defence Pact-Imanzi (PDP-IMANZI), the Social Party-Imberakuri (PS IMBERAKURI) and the Rwanda National Congress (RNC).
UN Group of Experts in a report earlier this year confirmed the existence of the group. Last week, the Secretary General of Rwanda Investigation Bureau (RIB), Col. Jeannot Ruhunga confirmed that the recent attacks in Musanze and Burera districts in the Northern Province were linked to P5.