Rwanda Development Board (RDB) has moved to revamp the one-stop centre to improve service delivery to clients and investors following sharp criticism from President Paul Kagame during the 18th National Dialogue Council- Umushyikirano 2023.
The Head of State pointed out that the one-stop centre was not doing what it was established for -putting all services local and foreign investors needed to do business in Rwanda in one place.
President Kagame pointed out that it was meaningless if investors have to hop from one institution to another, yet there is a one-stop centre that is supposed to offer them all services in one place.
Following the criticism, RDB has moved to expand the one-stop centre, revealing on Friday that clients and investors can follow up on or pick up their licenses and permits at the One Stop Centre.
The institution now says that all licenses and permits required for business setup or import and export operations will be issued at the RDB One Stop Centre.
Since its inception in 2008, the One Stop Centre has been processing licenses and permits for investors during the business setup phase. Currently, the expanded One Stop Centre offers over 23 licensing services.
According to Clare Akamanzi, CEO of RDB, the expansion is a significant milestone in improving the ease of doing business in Rwanda.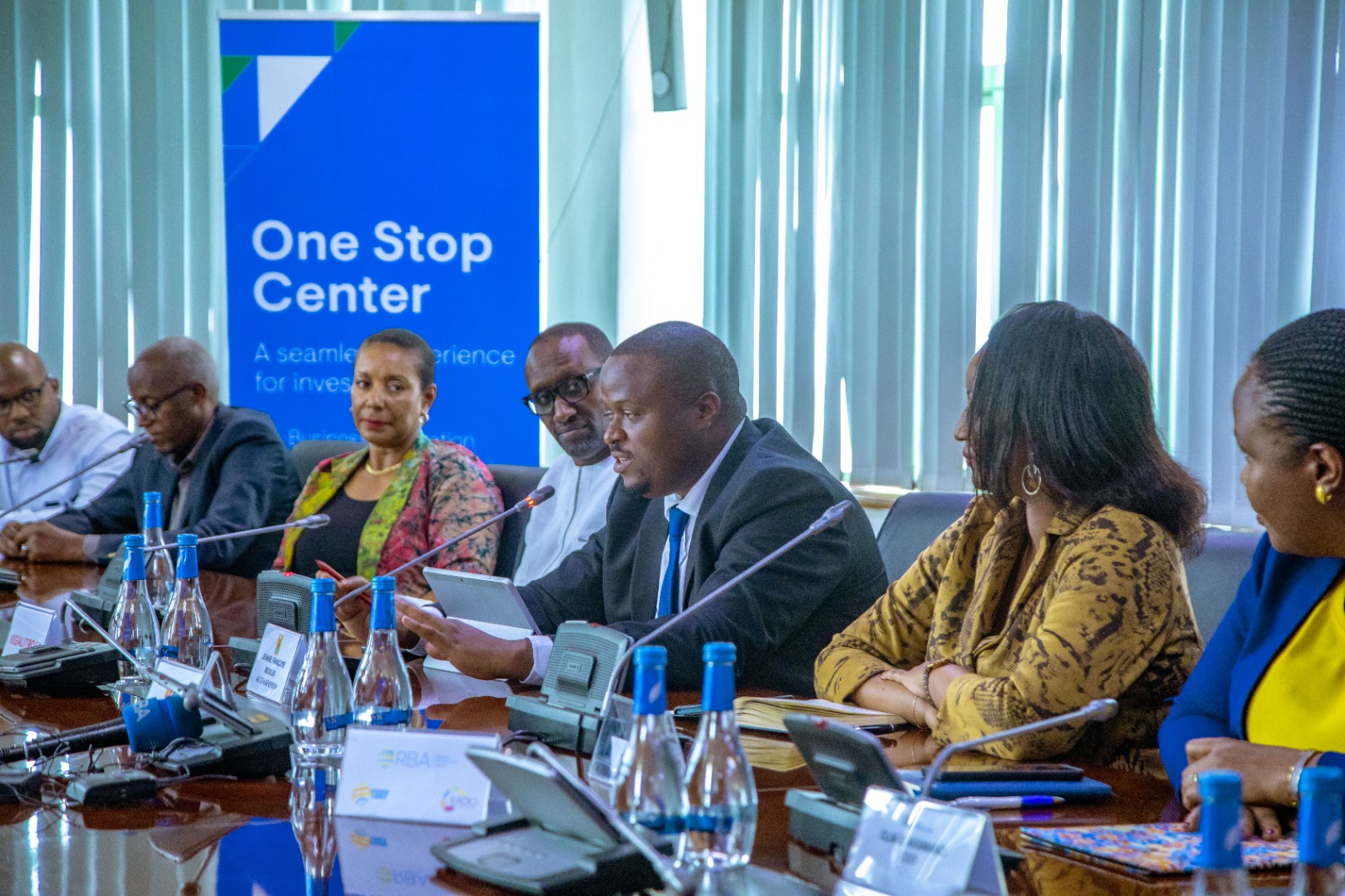 "The One Stop Centre will reduce the time spent moving between institutions for licensing and enhance the investor experience. RDB encourages investors to take advantage of the services provided at the centre," says Akamanzi.
Centralizing services
RDB established different desks in the revamped One-Stop Centre to issue different licenses and permit services, including the Africa Continental Free Trade Area (AfCFTA) Desk, where investors can get information on navigating the AfCFTA agreement and how to take advantage of the benefits it provides.
They are also facilitated to apply and collect all licences and permits required for exporting products under the AfCFTA. The Agriculture (Export) Licensing desk will help investors to get information and facilitate them to apply for and collect licences and permits from the National Agricultural Exports Board (NAEB), including certificates of origin, certificates of quality, export operation licences, and other permits for opening industries.
The Aviation and Drone Permits desk will be helping investors to apply for and collect licences and permits to operate manned and unmanned aircrafts, such as UA registration, pilot certificates/licences, Unmanned Operator Certificates, activity permits, and de-registration certificates for unmanned aircrafts (drones).
The Minister of Trade and Industry, Dr. Jean Chrysostome Ngabitsinze said that the expansion of the One-Stop Centre will enhance service provision and help attain the government goal of improving service delivery.
"We believe this centre will transform how investors and the business community have been accessing these services and it will save us a lot of time. People will be able to get services in one place and quickly," Ngabitsinze said.
Aimable Kimenyi, the vice chairperson of the Private Sector Federation (PSF Rwanda) urged Rwandans to take advantage of the One-Stop Centre and take advantage of the enhanced services.
"We want Rwandans to know that this One-Stop Centre was not established for foreigners. First and foremost these facilities are for Rwandans and they should feel free to come and enjoy these services. We are the first beneficiaries and as taxpayers we deserve quick and efficient services," Kimenyi said.
Under the new changes, investors will be able to acquire all licenses and permits relating to building and construction from the Building Permits desks. The desk will be proving information building regulations, housing projects, and the rules and guidelines to follow when building and renovating.
The desk will also facilitate them to apply and collect all necessary building permits, both in the City of Kigali and other districts.
The Capital Market Licensing desk will be furnishing investors with information to apply for and collect licences essential for the regulation of the financial industry and ensuring investor protection.
"These include, but not limited to licences for investment management, investment advisory service, set up investment funds, security exchange licence, commodity exchange trading licence, depositary licence, credit rating among others," RDB said.
Other services will include consumer protection, inspection and registration licensing. The desk will facilitate investors to apply and collect import permits for items such as agricultural commodities, general purpose chemicals, and construction materials; and export permits and phytosanitary certificates for plants and animal products, as well as international veterinary health certificates.
Other services include customs tax exemption services, domestic taxes services, Environmental Impact Assessment (EIA), financial services, food and drug inspection, registration and licensing services, forestry permits, immigration business permits, incentives management services, investment registration services and mining licenses.
The One-Stop Centre will also be able to provide private education facility licensing, private health facility licensing, public utilities licensing services, standards services, water use permits, public notary services, among others.