Stefan Löfven, the former Prime Minister of Sweden has officially started a three-day visit to Rwanda to learn more about Rwanda's unity and peace-building efforts made in the last 29 years.
Löfven, also the current Chair of the Stockholm International Peace Research Institute (SIPRI) Board and co-chair of the High-Level Advisory Board on Effective Multilateralism, arrived in Kigali yesterday alongside his brother Ulf Löfven.
The two Swedish officials will be in the country from 3- 6 September 2023 to explore possible areas of cooperation and collaboration with the Rwanda Peace Academy (RPA).
The duo visited Kigali Genocide Memorial Site in Gisozi this September 4, 2023, where they were given a guided tour of the site where over 250,000  victims of the 1994 genocide against Tutsi are laid to rest.
Stefan Löfven and his brother were accompanied by Johanna Teague, the Swedish Ambassador to Rwanda, and Col. (Rtd) Jill Rutaremara, the Director of the Rwanda Peace Academy (RPA) to pay homage and lay wreaths on the grave of the victims.
"We are very impressed by the way the country has gone forward after this horrific genocide against Tutsi," Stefan Löfven said.
He noted that the memorial site visit reminds him of what happened in the former Yugoslavia saying that these incidents should be lessons to humanity.
As a take-home lesson, Stefan Löfven said that he was impressed with what Rwanda has done after the genocide to deal with it in a way that made it possible for the country to unite.
"I think that is what my brother and I have learned about Rwanda," he said.
The former PM Löfven paid a courtesy call to Rwanda's Minister of Defence (MoD), Juvenal Marizamunda, where they discussed potential partnerships including peace-building efforts between RPA and SIPRI.
"We discussed many possible institutional partnerships from Sweden, including one between SIPRI and RPA. At the end of their visit we will be able to look a way forward in terms of resolutions, but the outcomes will be tabled (by the embassy) to their government," said Col. (Rtd) Jill Rutaremara.
On September 5, 2023, Stefan Löfven will travel to Musanze district to hold two lecture sessions at the Rwanda Peace Academy where security and peacekeeping forces are under several training.
A total of 25 military, police and civilian personnel, from 3 Eastern Africa Standby Force member states, namely: Rwanda, Somalia and Uganda.
The official will lecture on: "Transformative Shifts for an Effective Multilateralism: Bridging the Gap between North and South" and "Cybersecurity Considerations when Digitizing a Nation"
He will then hold a meeting with the Director of RPA on Partnership and the Way Forward.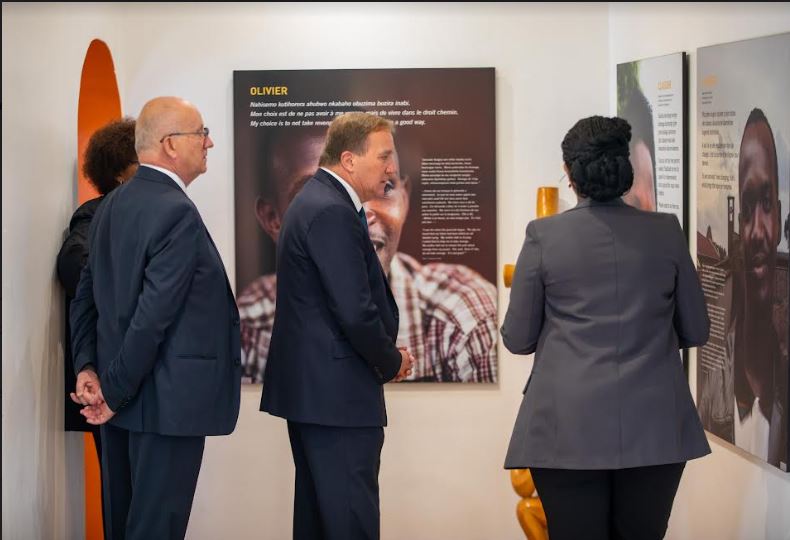 Stefan Löfven will meet with companies on cyber security, hold talks with civil society and development partners on the High-Level Advisory Board on Effective Multilateralism (HLAB) report with special focus on peace and security.
He will also visit the Norrsken innovation hub in Kigali before closing his official tour by holding talks with the Swedish Ambassador.