The Chief escort of the Supreme commander of FDLR rebel group operating in DR Congo has this Friday defected to Rwanda ending over two decades of rebel life.
Captain Nyirimpeta Aphrodice a.k.a Prince was the chief  escort of Maj. Gen Iyamuremye Gaston a.k.a Rumuri Byiringiro Victor, the supreme leader of FDLR.
He arrived in Rwanda accompanied by four other combatants and their families.
"For 31 years, I have been a combatant. There is no future in FDLR," he told KT Press.  He said his children are still young and "I want to give them a better future."
Nyirimpeta who says "FDLR is facing tough times", the rebels recently came under fire forcing the supreme commander to escape to Makomare village at Groupement Bukombo in Masisi.
For Nyirimpeta, this was the best time to ask his superiors to grant him a leave to check on his family at a location he declined to reveal due to security reasons.
He was issued the permission and trekked to meet with his family. This is when he escaped to a UN base for stabilization of Congo (Monusco).
Monusco today brought Nyirimpeta together with the four other combatants and handed them to Rwandan authorities.
Excited Nyirimpeta was overwhelmed by the visible development on the Rwandan side saying, "Rwanda looks really good. There has been great change."  Nyirimpeta was born in Gatonde village in Gakenke district, Northern Rwanda.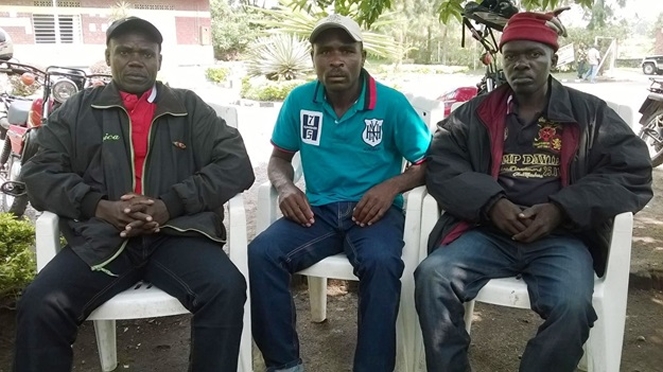 FDLR combatants all at rank of corporal arrived in Rwanda in company with chief Escort Nyirimpeta