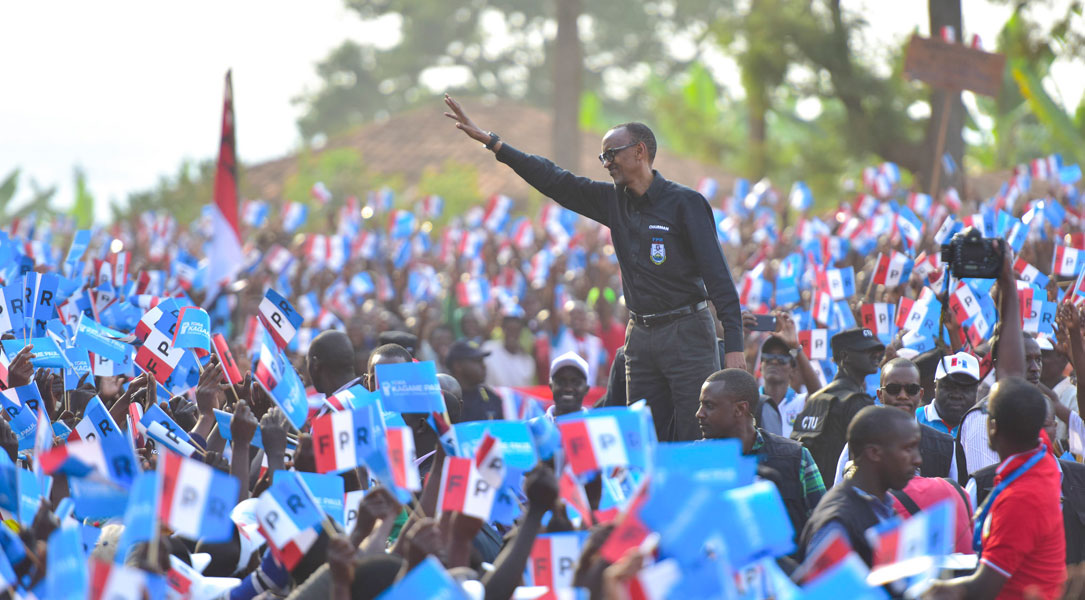 Paul Kagame the flag bearer of the Rwanda Patriotic Front (RPF) Inkotanyi continues to attract hundreds of thousands of supporters at campaign rallies.
After a brief speech before supporters in Nyaruguru district, Kagame drove to the nearby Gisagara district where an enthusiastic crowd estimated to be more than 80,000 supporters had been waiting since morning.
Kagame said his party chose him as a flag-bearer for the August3-4 elections, and so did the voters during a referendum in December 2015.
He however said that development reasons that pushed them to choose him may not be achieved, unless they join hands with him.
"We cannot achieve more if we do not work together and we cannot go faster if we do not each play our part," he said.
He told his supporters he needed them just like they need him; "You want me just as much as I want you but nothing can be achieved without working together."
Before addressing supporters, Kagame was introduced by Alphonse Munyentwari, the campaign manager and governor of Western province. Before his appointment to the West last year, Munyentwari was governor of Southern province where Gisagara is also located.
He narrated how the district raised from rags to riches, and is now performing well in many areas, including sport, industry and many others.
A supporter who recited a poem compared Kagame to a driver and captain of a winning team. The poet narrated many achievements in the district thanks to the leadership of incumbent president Kagame.
About 10-years ago there was only one road in Gisagara, and the district had the poorest sector in the country – Gishubi sector. However, today there are many feeder roads and the district is connected to electricity and piped drinking water.
Supporters said electricity access increased to more than 20% this year, from 2% in 2010.
Definitely with all these developments in the district, the RPF party enjoys massive support and this is evident with the large turnout of voters at campaign rally.
Government recently launched a new peat power plant in Mamba Sector, Gisagara District- the target is to increase national energy production capacity by up to 40%.
About $400 million has been injected into extraction of 80MW of peat energy from Akanyaru valley in Gisagara district, Southern Rwanda.
Rwanda targets to generate 563 megawatts by 2020 from the current 208MW; the remaining 355MW of electricity will be generated in the next three years.
Kagame said "when you believe in us, we feel there's a responsibility we have which is to transform everyone's life."