Young graduates that support the Rwanda Patriotic Front (RPF) Inkotanyi have joined campaigns and giving testimonies on the party's achievements.
In Rutsiro district candidate Paul Kagame  on Thursday was received by a moving testimony of Jean de Dieu Maniraguha.
Maniraguha, was the overall best student from the National University of Rwanda (2016-2017) with distinction (81% score) in Mathematics.
Hailing from one of the poorest families in rural Rutsiro district, Maniraguha is now a hot cake for global top science Universities such as US-based Oklahoma Christian University and Africa Institute of Mathematical Sciences (AIMS) among others.
Maniraguha, on top of being the only University graduate in his family, he is still making choices to which University he should go to for his Master's program.
From primary school to University, Maniraguha has been fully depending on government scholarships and other allowances.
The scholarship included transport from his rural village to school, clothes, books and other scholastic materials.
Speaking of his long journey to attract interests from American Universities, Maniraguha left thousands of Rwanda Patriotic Front (RPF) Inkotanyi supporters in Rutsiro district emotional.
"It was a tough journey. But I had a strong guardian in RPF. I have no doubt I will even complete my masters and come back to serve my country," Maniraguha told the crowd.
When he held the microphone, Kagame thanked his supporters, reflected on the achievements but said a lot will be done.
"You listed a number of achievements, but we have just started. A lot more will be done,"Kagame told thousands of his supporters.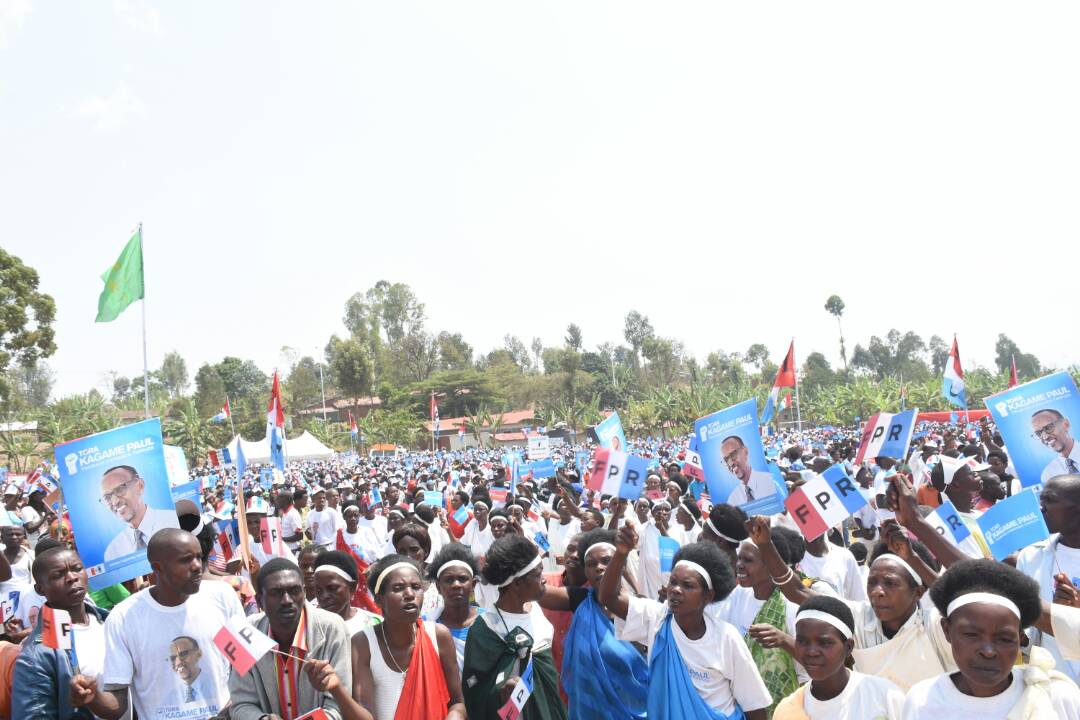 One of the biggest projects in Rutsiro district is the tarmac road connecting the district to other regions.
Until early this year, residents of Rutsiro district travelled between 5 to 8 hours to connect to other neighboring districts. With the new road that is part of the "Kivu belt" road network project, it only takes less than 2 hours from Rubavu district to Rutsiro.
Rutsiro is also known for huge mineral resources which Kagame said, will be exploited for the good of the region.
Kagame who was overwhelmed by Maniraguha's story, said "The best are yet to come…we know there are more from you who are like him. We shall keep helping you."
Kagame said that Rwanda's youths contribute over 70% of the population. He said if elected, his government will continue everything possible to set a better ground for them.