Officials of Nyagatare district in Eastern Province on Tuesday morning handed over two bodies of Ugandans who were shot dead on Sunday morning as they allegedly smuggled goods into Rwanda.
The Rwandan team, led by the Mayor of Nyagatare district David Claudian Mushabe, handed over the bodies of Job Ebindishanga and John Bosco Tuheirwe to Rukiga district officials led by Prikeria Muhindo Mwiine, the Rukiga Resident District Commissioner (RDC).
The handover took place at Buziba border post, at Kamwezi Sub-County, where officials from both sides signed documents confirming receipt of the bodies.
Rwanda National Police (RNP) said the two men were shot dead in the wee hours of Sunday morning in Tabagwe Sector, Nyagatare District, Eastern Province after they were intercepted smuggling goods into Rwanda through an ungazetted border point.
Police said the two men, who turned violent when approached, were part of a larger group of smugglers that was intercepted by a police patrol in the area on Sunday.
Three more Ugandans identified as Aron Ainebyoona, Christopher Byamukama and Emmanuel Niwamanya were also part of the smuggling racket and reportedly fled back to Uganda following the incident.
During the handover, the Mayor of Nyagatare district urged his Rukiga counterparts to caution residents of the border district from using illegal entry points and smuggling banned substances into Rwanda.
Mushabe said that on November 10, the group entered into Rwanda through a porous entry in Tabagwe sector carrying tobacco and other smuggled materials and fought the police when they were stopped, prompting cops to shoot, killing two of the suspected smugglers in the process.
"I want to request you to caution citizens in the meetings you hold with them from using illegal entry points. There are known border posts which they can use and you can also remind them that we don't tolerate smuggling," Mushabe told Rukiga leaders.
On her part, the Rukiga RDC commended Rwandan authorities for handing over the bodies in a decent manner, highlighting that Uganda does not condone smuggling and other cross border crimes.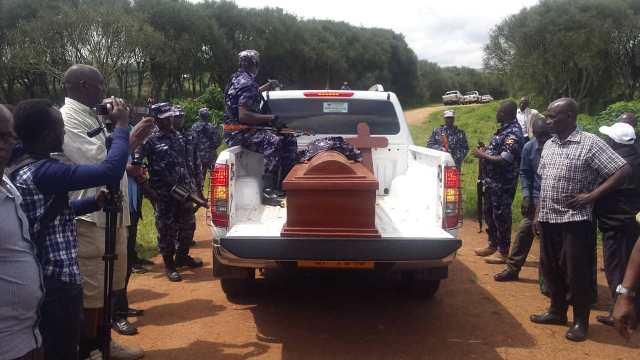 "We strive to continue co-existing as brothers and sisters. We also don't support wrongdoers," Muhindo said.
RNP said an investigation into the incident was started, warning smugglers against violent behaviour and urged the public, especially those residing along the common border to focus on legal commercial activities using official border points.
The porous border between Rwanda and Uganda on the side of Nyagatare district is a common entry point for smugglers and drug traffickers. There are over 80 routes along the Rwanda-Uganda border that are regularly used.
Last month, the Inspector General of Police, CG Dan Munyuza said that police officers observe high levels of caution when using arms but said that the officers are prompted to use force when the suspects react violently.
He said each case is investigated and dealt with in line with the law. IGP Munyuza said that when a police officer is found to have used excessive force, legal procedures apply.
In June this year, in the same sector, Pierre Nkerenke, a Rwandan, was also shot dead while smuggling goods into Rwanda. Ugandan media claimed Nkerenke was shot on Ugandan soil, claims which Rwandan authorities denied.
Since February, several border incidents involving smugglers and police have been recorded. The incidents increased with the temporally closure of Gatuna One-Stop Border Post.
On Friday, President Paul Kagame gave a background of the closure of the border post, stating that it was for the safety of Rwandans who get arrested in their numbers when they cross over to Uganda.