Supporters of the Rwanda Patriotic Front (RPF) Inkotanyi in Bugesera district have received their candidate Paul Kagame with testimonies of recovery, 23 years after the party stopped the Genocide against Tutsi.
In 1960s, the then government ferried Tutsi from across the country to Bugesera, then a wield forest with deadly flies – Tsé-Tsé.
Many died of the flies and 30 years later, another plan was made to exterminate survivors.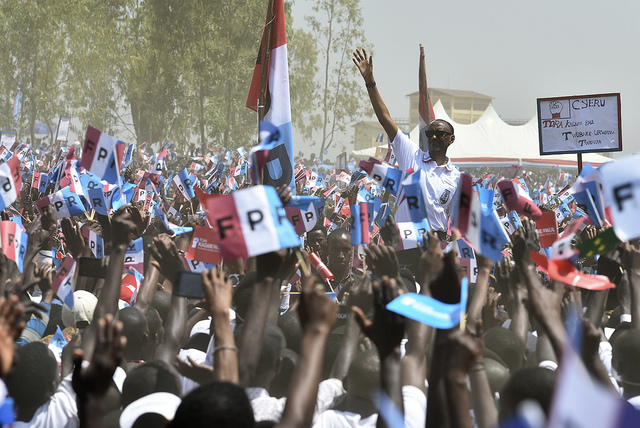 In 1992, a genocide against Tutsi was tried in Bugesera where many would be massacred, others fleeing the country, but the worst was yet to come.
During the1994 Genocide against Tutsi, thousands Tutsi were killed at Nyamata and Ntarama catholic churches in Bugesera, and others in their neighborhoods.
As Kagame was campaigning at Mayange, survivors of this tragedy told him that when they think about a president, he is the only one that comes into their mind because he led the struggle that stopped the genocide, and drove country to development.
"And who would not support constitutional amendment to allow him to bring more transformation?" said the Speaker of Parliement Donatile Mukabarisa, the campaign manager of the site.
Mukabarisa who doubles as chairperson of the Liberal Party (PL) is also a genocide survivor from Bugesera district. Her party supported Kagame as their candidate.
She was born and grew up in Bugesera and when the Genocide was first tested, her relatives were victims.
Honorine Uwimana – an orphan whose siblings and relatives were also killed during the genocide said the memory of a RPF soldier who retrieved her from the dead keeps her going.
This memory is what has made her stand up and work had.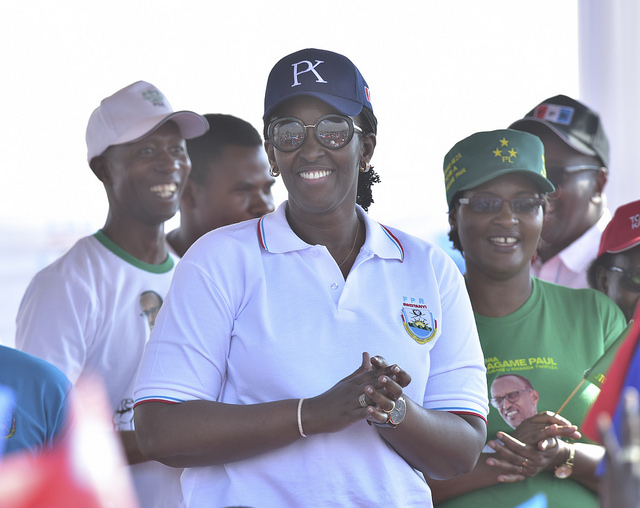 She currently owns 9 cars and a driving school that trained more than 5000 drivers.
Former governor of Eastern province and current Permenant Secretary in local government ministry Odette Uwamariya listed a number of achievements that have changed Bugesera.
She said special attention transformed a – once drought hit region into a fertile land, a country food basket of rice and cassava.
There are also infrastructure, like Kanyonyomba water treatment plant that will generate 5000 m3 – two times the current water capacity in Bugesera district.
She also mentioned hotels, schools, markets, model villages, without forgetting an international airport under construction.
At a tune of $840 Million, Bugesera airport will be one of the biggest projects in Rwandan history.
"When people of Bugesera were assaulted by government soldiers, the world called this democracy. And today, they question our democracy because of our uniqueness," Kagame said.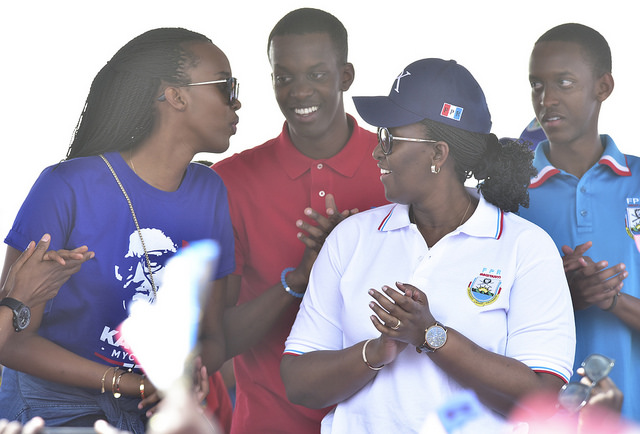 "They cannot understand how a country they wanted to be divided has transformed itself into a strong and unified nation."
For incumbent president Kagame, there are those that chose to ignore Rwanda's transformation because of the role they played during the genocide and the disappointment to see Rwandans' confidence.
RPF candidate added that the transformation of Bugesera region is a testament of what is happening across Rwanda, thus calling supporters choose him during August 4 polls, "so that we can achieve much more together."