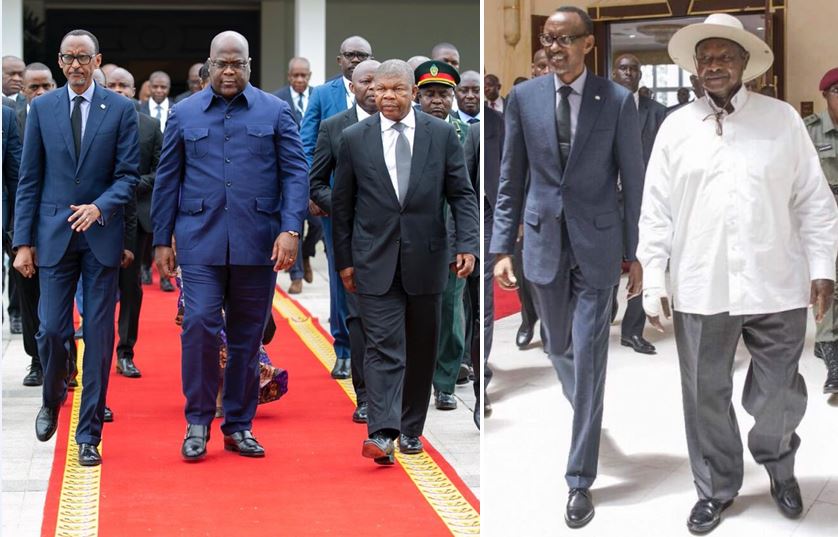 The Angolan capital Luanda will this Friday host a regional summit expected to bring together the Presidents of Angola, Rwanda, Democratic Republic of Congo (DRC) and Uganda.
According to reports the meeting which was called by Angolan President João Lourenço will be attended by Presidents Paul Kagame, Felix Tshisekedi and President Yoweri Kaguta Museveni and will discuss security in the Great Lakes Region and regional cooperation among other things.
According to Olivier Nduhungirehe, Rwanda's State Minister in charge of the East African Community, the meeting will focus on regional issues but no more details yet.
"It will discuss security issues in the region. No details for now," Minister Nduhungirehe said.
It is not yet clear if the issues concerning Rwanda and Uganda will be brought to the table but a reliable source confirmed to KT Press that the issue will also be discussed since it also concerns regional security.
Rwanda maintains that Uganda is harbouring groups with intent to destabilize the country, mainly Rwanda National Congress (RNC), a subversive group which Rwanda says has heavy presence in Uganda and the backing of Kampala.
A press note released by the Civil Office of the Angolan Head of State announced that the meeting will happen under an initiative of President Lourenço, who has made the invitation to his regional counterparts.
The meeting will among other things discuss how to uproot all negative groups operating in DRC responsible for insecurity in the region.
President Kagame at the beginning of this month said that Rwanda would not hesitate to support DRC if called upon in efforts by the vast nation to fight the rebel groups that have operated in the eastern part of the country for decades.
Last month, President Tshisekedi said that he will be sending the army to fight rebel groups operating in the country and to end communal violence which has plagued the country, claiming hundreds of lives.
President Tshisekedi said the "large-scale" military operations would focus on eradicating foreign armed groups –a move President Kagame said is welcome because the negative rebel groups have been a problem for so long.
Kagame said that Rwanda would go as soon as 'yesterday' if DRC asked for support and that this is something Kigali has been waiting for.
Rwanda maintains that different negative groups including the Democratic Forces for the Liberation of Rwanda (FDLR) and the P5 alliance which includes Rwanda National Congress (RNC) continue to operate in DRC where they have bases.
"I am glad that we have a person [President Tshisekedi] who is saying that he wants to work with the neighbours to get rid of this problem, because this problem has been there for too long and it affects Congo, it affects the neighbours, it affects all of us,"
"There is no need to sit with that problem, allowing that problem to get in the way of the progress we should be making," President Kagame said.
President Kagame, who in recent months has strengthened ties with his Congolese counterpart, said that he is happy that President Tshisekedi is looking at things in this perspective and willing to address the longstanding conflict that has ravaged the vast nation.
At the end of May, during a visit to Kinshasa, Presidents Kagame, Tshisekedi and their Angolan counterpart Lourenço agreed to work together to uproot negative groups operating in the Great Lakes Region in a bid to create sustainable peace.