In Rwanda, it's difficult, even impossible to find a person who hasn't lost a relative or a close friend either during the genocide or in other circumstances, but both losses weigh differently without mentioning psychological consequences they may cause to the person who bears the loss.
I was 22 years old when the Genocide against Tutsi happened; the seventh child in a family of nine now the fourth after five of my siblings (including my first born sister Kayitesi) were brutally massacred.
Kayitesi was married and had two daughters (4 and 2 years old) back then, and was expecting twin baby boys as she had an eight-month pregnancy. 
How I survived that's a long story, but let me tell you about my sister's death which still gnaws at my heart 27 years later. I didn't see her die of course for I was running and hiding like all Tutsis hunted down. Besides, her family lived in Kiyovu, a small suburb (about 1 km from Muhima, our neighborhood in the capital Kigali. 
My sister was a primary school teacher at Ecole Sainte Famille de Kigali, a Catholic school located not far from Kigali main round-about, adjacent to Sainte Famille Church. Let's remember that in the early 90s, when the Rwanda Patriotic Army(RPA) Inkotanyi liberation struggle was taking place, all Tutsis were considered as accomplices of RPF Inkotanyi fighters. 
Angeline Mukandutiye, a genocide convict and former inspector of schools for Nyarugenge District knew my sister as her employee. She often accused her of teaching songs praising Inkotanyi at school and wanted her to pay for the so-called crime.
Mukandutiye was a notorious killer and she is responsible for the killings that occurred in different parts of Kigali, especially around Sainte-Famille Catholic Church, where thousands of Tutsi lost their lives, including my sister and her workmate.
A few days after the genocide started, my sister, her husband and their two daughters sought refuge in a neighboring area. She could barely walk because she was expectant (eight months pregancny or so).
A family relative of people who tried to save my sister told me that Mukandutiye was informed about the hideout and sent Interahamwe militias to kill her. Her husband and her two daughters managed to escape. 
The killers took my sister out of the house, forced her to walk to the slaughtering site, about 200 meters away.
As she was struggling to move with her eight-old twin baby boys in the womb, killers started  beating her on the womb and head all the way and while at the slaughtering place, they concluded the torture of the innocent three creatures that were my sister and her twin baby boys who were to see the sun in a couple of days.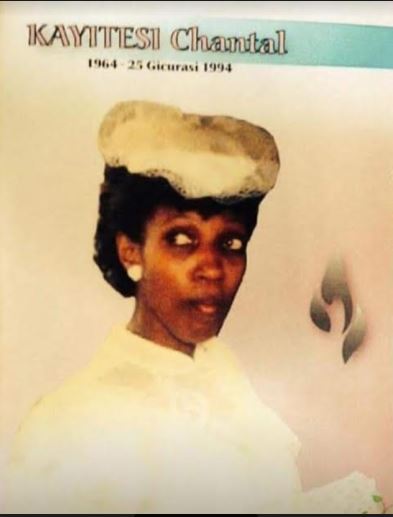 They brutally and coldly finished her after long hours of agony. 
A boy called Toto, one of my sister's pupils, was 12 years old then and was living with his grand-parents who were also targeted because they were Tutsis. Toto's grand-father was killed. Their home was close to the place where killers gathered Tutsis, raped girls and women before killing them alongside men and boys.
While they were killing my sister, Toto could see the whole scenario from his home through the window. I met Toto two weeks after the genocide. Only God knows why I accepted to listen to his testimony.
"I saw three men in uniforms with guns, dragging your sister to the slaughtering place and they ordered her to sit down," Toto narrates.
"As she was trying to reach the ground, they pushed her violently down to the ground and they started kicking her on the womb. She was too tired to screem. She didn't scream or beg for her life, she just bled until one of her babies (twins) came out."
"They didn't wait for the second baby to come out, they cut her womb open instead and removed the baby, threw him on the ground next to his brother. A man with a machete grabbed them, cut them into pieces, and he told your sister: "hey, look at your cockroaches, they're no longer harmful to us", before throwing them in a garbage container full of bodies of people they had killed", Toto recalled.
It was early in May 1994 when memories and pain were still fresh, but I managed to listen to Toto's testimony about my sister until the end. "Your sister was lying unconscious in her own blood on the ground, while they went on stabbing her until her last breath", Toto concluded.
I lost many relatives during the genocide in most inconceivable ways, and I see my survival as a miracle of God, but Toto's testimony about my sister's death after long hours of pain has haunted me since 1994. 
No single day passes without me revisiting those unseen images as if I was there myself. The most difficult time is when I go to bed and it's been like this for the last 27 years; I wonder if there's a least hope for advancement. 
If there exists any therapy that can help people remove bad memories, I'd give anything for that so I can be able to let my sister's soul to finally rest in peace.